Park City, UT -- My wake-up alarm this morning was quivering nerve endings and parched desert mouth. In the mirror stood a 5 feet 10 inch white sheet. My brain, I would soon find out, was a Southern California hillside in summer - burnt. High altitude and free alcohol is a dangerous combination turning this delightful film festival into a war for morning survival.
But duty calls, the next film -- yuck! Few things on this planet can top the unpleasantness of trembling nerves and desert mouth, but a sappy love story can. Easily. Wait! This is the Duplass brothers, their latest, Cyrus. That's different.
John, played by John C. Reilly, understates his condition when he says he is "borderline desperate." Mug face and flabby body, social skills nonexistent and home body to the extreme, when his ex-wife announces she's getting remarried John takes a dive like the Titanic.
Then John meets a real brunette dish, Molly, played by Marisa Tomei. To say that Molly is perfect for John is another understatement -- Molly is perfect for every guy! So life for John flips from the icy waters to paradise on earth. Everything is pulsating in living color. Until, that is, Molly's 21 year old son, Cyrus, played by Jonah Hill, who comes across like your friendly local psychotic, decides John is not good for his mother. Actually, no man is good for his mother.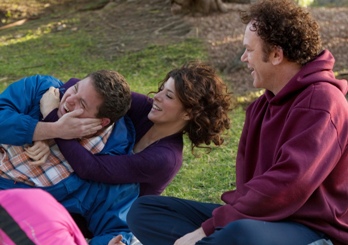 The love affair between John and Molly morphs into a war between John and Cyrus. As the romance retreats, backfield tactics roar forward and soon it's a battle to the end. A hilarious battle to the end.
Everyone in this triangle of love and hate has what you could call significant faults -- the depressing John, the creepy Cyrus, the rather clueless Molly -- turning Cyrus into a comical film of brutal manipulation and outright dysfunctionalism and of course love. So, does the romance between the mug and the dish survive? Or does the psycho sink their relationship?
Screenwriter-directors Jay Duplass and Mark Duplass have done it again - twisted a human relationship into a litany of crowd chuckles inter-spaced by hardy laughs with some fine insights into the human condition.. If you want a love story stratospheric above the typical love gush, check out Cyrus. It certainly got rid of my hangover.
Meira Blaustein interviewing the Duplass brothers:
FOLLOW HUFFPOST