Good film festivals are intense experiences that drain your brain and relax your body. Actually, they can slam you into a mellow lump and leave you more than a tad depressed. No problem, I've been there many times, and I know what happens next. The "aftermath blues" will get whacked aside by a heavy rush of nostalgia, a deep sentimental yearning to return to my last film festival. Then my mood really turns sour.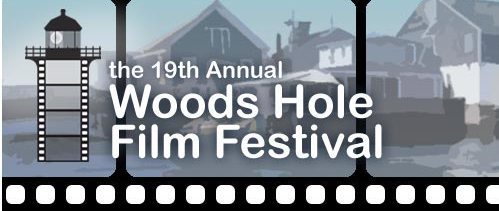 The Woods Hole Film Festival is a venerable festival in an idyllic village on Cape Cod by Buzzards Bay. I did not like all the films screened, which is good. Serious festivals include edgy and risky films, films that challenge when you might not want to be challenged. Films that fly off to another universe when all you want is to stay at home. Good films don't necessary give you what you expect or what you want, which is good. And good film festivals know this.
Besides films that push and delight and challenge and pull your hair out, the other pillar of good film festival is an intimate and intelligent community of festival attendees. This requires no risks, only good planning. At Woods Hole the Q&As following the screenings were excellent, possibly the best I have ever witnessed. The nightly parties were inclusive with filmmakers and film buffs and film professionals wrapped in intense dialogue. The town's tiny sidewalks were impromptu settings for more discussion. The synergy of art and social turned Woods Hole an excellent film festival.
After a few nights of good sleep -- no film junkie sleeps well at festivals -- my nostalgia will confront a rising wave of excitement. My nerve endings will tingle, stomach tighten, adrenalin will again pump strong. I will be thinking about my next festival. This exhilaration will co-exist with my lingering nostalgia, yanking me to very different moods, until the crossover point when the excitement for my next festival will overcome my longing for the last festival. Woods Hole Film Festival will then slip into my memory, camping there as a warm glow.

With thousands of film festivals throughout the world -- there is probably not a second on this planet when there is not a film festival happening -- there is always a next festival. For hard core enthusiasts, life swings on a pendulum of recovery from the last festival to anticipation for the next one. There is no methadone for festival junkies to handle our withdrawal pain.
For those who create these thousands of film festivals, and for the filmmakers who supply the many thousands of films, their life has a different tempo, a different series of markings.

"The Festival itself does not end when the screenings stop," Woods Hole Film Festival executive director Judy Laster writes in an email to me. "We are still shipping prints, wrapping up invoices, contacting folks -- albeit on a bit less hectic schedule."

It takes time to wrap-up a festival. More, today film festivals often have events throughout the year. "We host a winter film series, Dinner & a Movie, filmmaking and screenwriting workshops throughout the year, special screening events in collaboration with other organizations, both on and off Cape Cod, a 'Best of the Fest' weekend, Filmmaker in the Schools project, and special science related screenings. We also have a collaboration with Global Post to host Documentary Works in Progress on Global Post's website."
Filmmaker Geoff Edgers, who produced and starred in the hilarious Do It Again, which is about his quest to reunite the British band the Kinks, explains a current filmmaker's dilemma. "In this day and age, when it is so hard to get theatrical distribution, a film festival run might be your theatrical run. Also, if a festival like Woods Hole, Cleveland, Independent Film Festival Boston is run right -- and those three are -- then you also get to meet filmmakers and learn how to properly sell your movie."
David Binder, whose stirring Calling My Children won the Woods Hole's jury award for Short Documentary and the festival's award for Emerging Filmmaker, reflected on the spirit of the festival. "What I liked was the wonderful energy of the films, filmmakers, audiences and organization. I came out of a screening of the Aristocrat, standing outside in the night air, and felt this great energy."

"The Woods Hole Film Festival attracts an extraordinary number of filmmakers," wrote Nina Adams, a festival programmer, "often traveling on their own dime. In this more intimate setting, they are able to evaluate their work with audiences, colleagues, and occasionally an invited agent or distributor. The supportive and embracing atmosphere, which their audiences and festival producers gladly provide, is what they need to reinforce their sweat and tears and, perhaps, to continue their work."

Like every film does not appeal to every viewer (some films are downright bad) the same is true for film festivals. Having spent a frantic year on the film festival circuit, I've been to high profile festivals that had watered down programming, pretentious festivals that had barriers between their privileged groups -- usually filmmakers and industry people -- and regular festival goers, cheap festivals that refused to cover the basic expenses of struggling filmmakers....
And the pendulum shoots me back to Woods Hole: "What gives me the most enjoyment," director Laster wrote, "is that light in someone's eye or the smile on their face right after they have seen an amazing film."
Yes, the enjoyment of watching good films -- especially when mainstream films have abandoned the good -- the stimulation when embedded in a temporary community of smart and rambunctious filmgoers, the exhilaration and recharging of the human spirit ... the pure joy of seeing light in the eyes and broad smiles on the faces. Yes, but there is more. There is serious more:

"And providing these real experiences for people to have and hold onto into the future, knowing that there will certainly be ripple effects of the Festival out into the world, hopefully doing our part to make the world a better place."
Yes, with American journalism on life support and investigative journalism dead, with our sense of community shrinking and atomistic society expanding, good films and good film festivals can help fill a dangerous void in America. They can make us happier, smarter, and better people. Good film festivals are important.

FOLLOW HUFFPOST