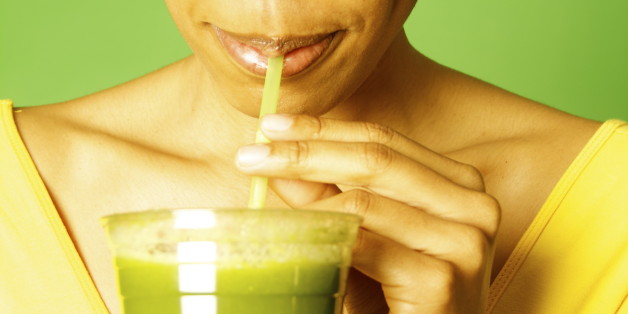 We have now all spent some quality time with the fam, stuffed ourselves to capacity, maybe had one too many drinks and were possibly stressed beyond belief. After all of the food and fun we are left with a lot of good memories, a house to clean and maybe just maybe some digestive issues like, constipation, diarrhea, or upset stomach!
Well, here's a quick and simple smoothie The Smooth Operator, to keep on deck instead of Rolaids or Pepto Bismol. It helps to keep you regular, reduces bloating and gas, hydrates you and soothes your digestive tract!
What's in it and how to make it:
1 apple
1 pear
1 cup aloe juice
8 oz unsweetened coconut water
1 inch piece of ginger
1 tsp spirulina (optional)
8-12 oz water
Cut the apple and pear into chunks and add all ingredients to the blender. Start off with 8 ounce or 1 cup of water if you would like it thinner add more. Blend.
How it works:
The Smooth Operator contains apples and pears, both high in fiber, which helps to reduce constipation. Aloe is a natural laxative and helps relieve heartburn. Ginger helps to soothe upset stomach and coconut water hydrates the body. Spirulina is an awesome source of protein, vitamins and minerals and also helps to boost the immune system.
As sure as Sade's voice is smooth; it's comforting to know nature has the remedy.
For recipes and health tips, visit Afya Ibomu's website www.nattral.com and follow her on Twitter: @Afyaibomu.
Learn more about why Healthy Is the New Gangsta at Stic's website www.rbgfitclub.com and follow him on Twitter: @STICRBG
SUBSCRIBE TO & FOLLOW LIFESTYLE
All the meal hacks and indulgent snacks. You're welcome. Learn more