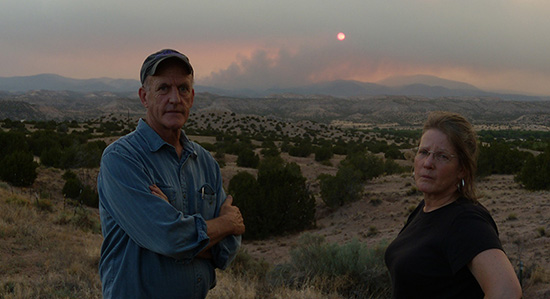 Joni Arends and David Bacon with smoke from the Las Conchas Fire in the background
(Photo by Subhankar Banerjee).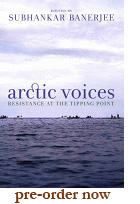 On February 17, as I was getting ready to give my talk on the arctic at Fordham University in New York, the news came in that the Obama administration had just approved Shell's spill response plan for the Chukchi Sea in arctic Alaska. My heart sank. That project is moving forward without a thorough Environmental Impact Statement, and the government knows full well that Shell does not have either the technology or preparedness to respond to a BP-like spill in the harsh environment of the frozen arctic seas. I just completed editing a 384-page anthology titled Arctic Voices: Resistance at the Tipping Point that will be published by Seven Stories Press on June 19, but you can pre-order it now. In the book nearly 40 contributors--conservationists, indigenous activists, writers, and scientists, tell the story with stunning urgency and groundbreaking research why we must fight to protect the arctic now, for all of us. I hope you will join us in that campaign in urging the President to stop Shell's drilling plan in America's Arctic Ocean. You can also check out the ClimateStoryTellers.org Special Series on Shell's Arctic drilling here.
SUBSCRIBE AND FOLLOW
Get top stories and blog posts emailed to me each day. Newsletters may offer personalized content or advertisements.
Learn more