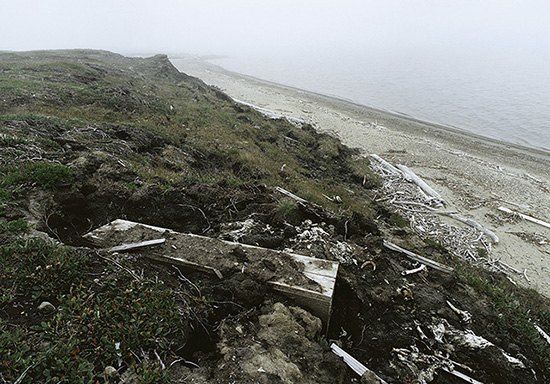 Permafrost melted away and exposed the coffin, Barter Island, Alaska.
Photo by Subhankar Banerjee, August 2006.
"The rate of climate warming over northern Alaska, Canada, and Russia could more than triple during periods of rapid sea ice loss ... The findings raise concerns about the thawing of permafrost ... and the potential consequences for sensitive ecosystems, human infrastructure, and the release of additional greenhouse gases [CO2 and CH4]."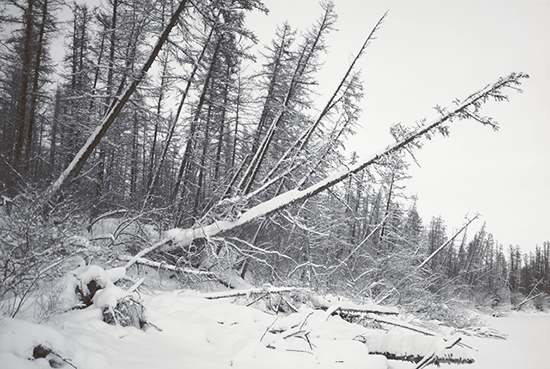 Drunken Forest of larch trees, upper Kolyma River valley, Yakutia, Siberia.
Photo by Subhankar Banerjee, November 2007.
"The ghoulish cruelties in The Disasters of War are meant to awaken, shock, wound the viewer. Goya's art, like Dostoyevsky's, seems a turning point in the history of moral feelings and of sorrow -- as deep, as original, as demanding. With Goya, a new standard for responsiveness to suffering enters art."
Shell's drilling in the Beaufort and Chukchi Seas in Arctic Alaska (in 2011 I wrote that permits were rubber-stamped, and despite repeated appeals, the Obama administration refused to do an Environmental Impact Statement (EIS) -- a blatant violation of the National Environmental Policy Act).
Massive expansion of gas fracking -- onshore that Tara Lohan of AlterNet has been writing about all summer, and also offshore off of the coast of California that we learned last week from a Truthout investigative report (no EIS was done for the California offshore fracking project either).
Hyper-deepwater drilling in the Gulf of Mexico (earlier this year Shell announced plan to drill the deepest offshore oil well in the Gulf of Mexico -- almost two miles below the water surface, which is twice the depth of BP's Deepwater Horizon well that caused the worst oil spill in U.S. history).
Expansion of coal mining in the Powder River Basin of Wyoming.
"There were two deaths here that I attribute to climate change. Thomas Gordon and his son, Simon, were carried away by a big wave down the coast as they were crossing a low place on a spit. We never used to have such big waves. There is 700 miles of open water. With that, waves get bigger. When I first came here [in 1988] we could see the pack ice, all summer long."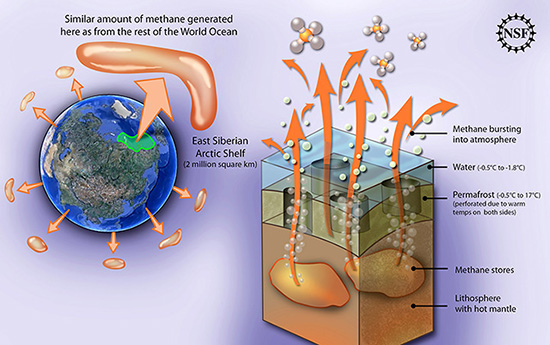 Methane release from the East Siberian Arctic Shelf.
Credit: Zina Deretsky, National Science Foundation.
FOLLOW HUFFPOST