After 14 long months of preparation, Ania Lichota is on her way to begin her journey to scale Mt. Everest to help build the Sarswati Peace School in Arupokhari village, Gorkha, a remote village in western Nepal. The challenge also carries special significance to Lichota as it will complete her seven summits challenge of scaling the highest peaks on every continent. Born in Communist Poland, where traveling abroad was unimaginable, she has now traveled to more than 50 countries and worked extensively in 16 countries. She encouraging the public to help her mission by contributing to the Peace School.
The Peace School hopes to secure a more vibrant, open and promising future for Nepal by investing in the social and emotional recovery and development of the country's war-affected children. The Sarswati Peace Schools will help children aged 4-15 years affected by the violence of civil war (1996-2006) reclaim their passion and joy while providing the academic and psychological support they require to lead whole and healed lives. Drawing on the resources of our rich cultural heritage and play-based curriculum from around the world, it will integrate visual arts, music, dance, story and sports as a way to facilitate reconciliation and trauma healing.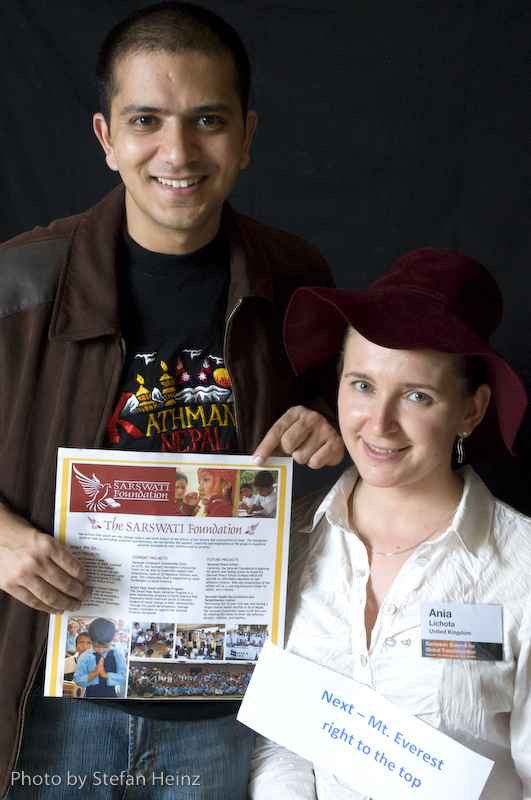 With the Mt. Everest expedition, Lichota is also commemorating two outstanding and world-renowned Polish climbers; Wanda Rutkiewicz and Jerzy Kukuczka, both of whom died while climbing mountains in Nepal. Rutkiewicz was the first European woman and the first Polish person to climb Mount Everest successfully in 1978. She died while descending from K2 in the summer of 1986. Jerzy Kukuczka became the second man, after Reinhold Messner, to climb all 14 mountains higher than 8,000 meters. He died while attempting an alpine style climb of the unclimbed South face of Lhotse (8,516 meters) in 1989 in Nepal. The Peace School will also bear their names.
Lichota, apart from working full time for an investment bank in London, is a motivational and inspirational public speaker, mentor to high performing teams and a personal and executive coach. Through climbing the highest peaks on every continent, she's gained unprecedented insights into individual and group performance and psychology and how people deal with complexity and adversity in extreme environments. Lichota translates her findings into a framework of self improvement and leadership development strategies. She trains others to achieve what they think is not possible by enhancing their beliefs, building self and cross-cultural awareness and empowering people to explore their true potential. Coming from Communist Poland, which underwent an economic and social transformation, she understands the need to give young people a chance to develop and learn in a loving, free and supportive environment.
Lichota's climbing adventures have always been motivated by humanitarian causes. In the past, she raised more than $30,000 for UNICEF and for a Polish Orphanage. I met Lichota at the European Summit for Global Transformation (ESGT) in Rotterdam in November 2009. After my 19 minute presentation at the summit, she announced that she would be supporting my plan to build the first Peace School in Nepal as a way to help Nepalese children navigate through the post-conflict society.
Lichota's conviction and determination speaks volumes about her selfless desire to help people and communities that are languishing in remote corners of the world. Her attempt to scale Mt. Everest carries immense importance to the people of Arupokhari, Nepal and to the people of Poland. She will make us all proud.
We wish her all the best!