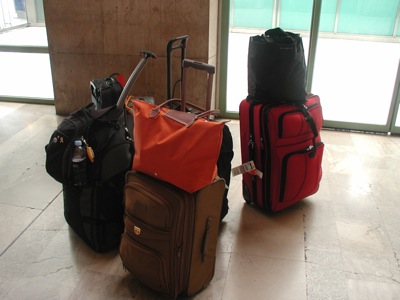 Gare due Nord train station in Paris. Sue Frause photo.
I'm sure by now you've read about the guy who is traveling around the world with no luggage. The only reason it's on my mind is I'm off to Italy for two weeks, and there's no way I could go there without any luggage.
The brave chap's name is Rolf Potts, and according to his blog, in late August 2010 he embarked on an adventure that will take him around the world without using a single piece of luggage.
"For six weeks he will explore 12 countries on five continents, crossing the equator four times, without carrying so much as a man-purse. The few items he does bring (including a toothbrush, an iPod, and a few extra items of clothing) will be tucked away in his pockets."
So good for Mr. Potts, who is a veteran travel journalist, but I'll pass on the challenge. I did manage to pick up some new wheels at REI, a cool Osprey bag in pepper and orange that looks sort of like a frankfurter in a bun. My old wheels, which I'd had for more than a decade, finally succumbed to one too many bad baggage tosses along with those pesky cobblestones and curbs that are tough on wheels.
While at REI, I also picked up some underwear. Since a week of our trip involves a walking adventure (7-10 miles a day) with La Dolce Vita Wine Tours in Piedmont and Cinque Terre, I opted for ExOfficio's Give-N-Go brand ($18), although I'm not sure about the tag that accompanied them: 17 countries. 6 weeks. One pair of underwear. But on ExOfficio's website, the tagline was: 17 countries. 6 weeks. One pair of underwear. Maybe two?
SUBSCRIBE TO & FOLLOW LIFESTYLE
HuffPost Lifestyle is a daily newsletter that will make you happier and healthier — one email at a time. Learn more