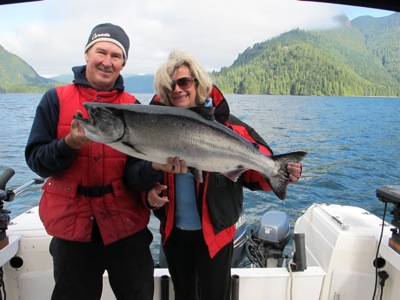 With my fishing guide Tommy Thompson at Sonora Resort on Sonora Island, BC.
I've spent time in British Columbia's Discovery Islands on a number of occasions. My debut was aboard the M/V Aurora Explorer, a Marine Link Tours freight boat cruise out of Campbell River on Vancouver Island.
Two summers ago, I was back in the 'hood, this time staying at April Point Resort and Spa on Quadra Island. Although I didn't go fishing on that particular getaway, my friend and I spotted a black bear cub while out on a three-hour Zodiac trip. Not to mention eagles, seals and deer.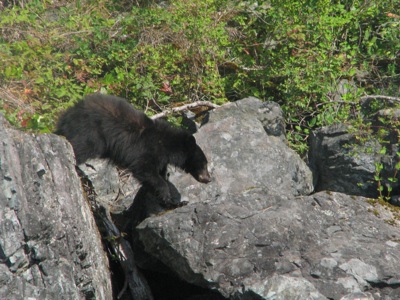 A black bear cub in the Discovery Islands, 2008. Sue Frause photo.
My July 2010 recent visit to Sonora Resort on Sonora Island resulted in the biggest victory of all: Catching an 18.5 pound Chinook/King Salmon. As you can see from the photograph at the top, I was pretty pleased (note that the photo hasn't been retouched, even though it looks a bit surreal). That catch of the day, along with some pretty fabulous meals, a water wilderness tour and a yummy massage at the resort's spa, added up to me being one happy camper. Plus the accommodations were plush with stunning views out to the sea. And the sweet frosting on the three-day getaway was arriving and departing by helicopter, a 50-minute trip from Vancouver International Airport.
Like a number of the remote lodges in British Columbia, celebrities have been known to frequent them. Scarlett Johansson and Ryan Reynolds were wed at Clayoquot Wilderness Resort, located off the west side of Vancouver Island.
So I wasn't surprised to hear that actress Michelle Pfeiffer and her husband David E. Kelley, a screenwriter and TV producer, lived in the vicinity of Sonora Island. I have to respect our wilderness tour guide who, when asked where their house was located, hesitated, saying it was in the direction we'd just come from. Good for him, people need their privacy.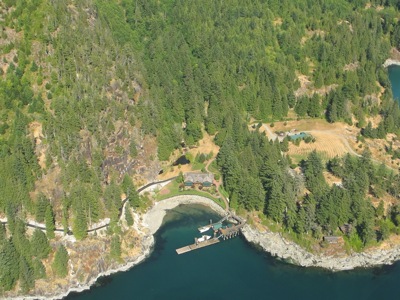 I have no idea who lives in this house, but it looks pretty swank. Sue Frause photo.
SUBSCRIBE TO & FOLLOW LIFESTYLE
HuffPost Lifestyle is a daily newsletter that will make you happier and healthier — one email at a time. Learn more