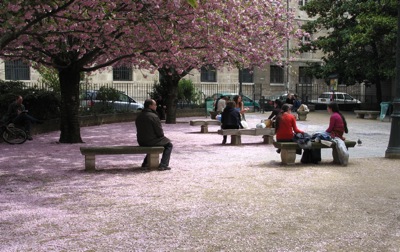 My favorite time to visit Paris is springtime. It's just the opposite of March Madness here in the states. Springtime in Paris is early morning walks along the Seine before the city wakes up. Lunch at an outdoor cafe in Le Marais. Taking in a free fashion show at Printemps or Galeries Lafayette. Searching for the best bakeries, chocolate shops and pastry shops. Visits to the Louvre, d'Orsay and Centre Pompidou. It's a hard city not to love. Or as Cole Porter so aptly put it:

I love Paris in the springtime.
I love Paris in the fall.
I love Paris in the winter when it drizzles,
I love Paris in the summer when it sizzles.
But springtime's still the best of all.
Cherry blossoms in bloom in Paris. Photo by Sue Frause.
Springtime in Paris (SLIDESHOW)
Non-French speaking tulips in the Latin Quarter.

The Minerve Hotel is located in the heart of the Latin Quarter.

A park near the Cathedrale Notre Dame de Paris.

The music of Django Reinhardt lives on.

I.M. Pei's addition to the Louvre was added in 1989.

An artist from the Czech Republic alongside the Seine.

Inside an American artist's apartment.

Lunch at a cafe near the Centre Pompidou.

Free fashion show at the department store Printemps.

French chat preparing for an afternoon cat nap.

A curious dog in Le Marais.

People watching in Le Marais is the best.

The colors of Paris in springtime are ablaze.

Visitors to Paris appreciate the many benches.
All photos by Sue Frause.
Follow Sue Frause on Twitter: www.twitter.com/suefrause