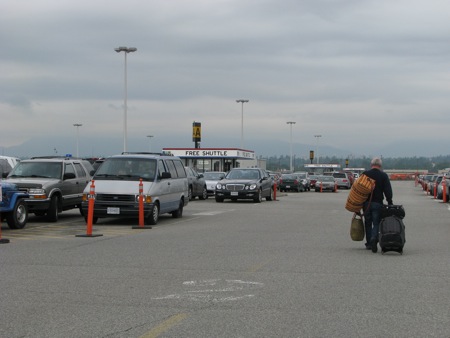 Arriving at YVR after a long flight from Bali. Photo by Sue Frause.
My email box is continuously jammed with press releases touting the latest travel tips, trends and products tweaked for travelers. Now that the hysteria of Eat Pray Love has somewhat subsided, and the reviews are less than stellar ("In the golden turd that is Eat Pray Love, everyone helps Julia Roberts find herself so she can then experience true love." David Edelstein, New York Magazine), we can move on from Italy, India and Indonesia to more important things like skin, cougars and kids.
Airplane Skin: Sure, I know skin dries out in the air, and we're supposed to hydrate, hydrate, hydrate. Meaning drink lots of H20, and cool it on the booze. I'm sorry, I like to have a cocktail when I fly, and maybe a couple mini-bottles of red wine with my non-existent lunch. But according to no! no! Skin, they have the perfect solution for airplane skin (dryness, breakouts, dullness). Using Light & Heat Energy (LHE® technology), a 10-second zap clears acne in 24 hours, and can be used "in an airport bathroom, an airplane seat or the cushy first class lounge." Cost of the battery operated device? $180. I'll have another G&T, please.
Cougar Casinos: An online poker and casino games website called GR88 has put together a list of the The Top 8 Casinos For Men To Meet The Ultimate Cougar. I've read about cougar cruises, but didn't know that casinos are now in the mix. According to 5W Publication Relations:
Cougars are usually divorced, very wealthy and travel in packs, on the prowl for young and helpless men. She is more than likely in her late thirties to late forties, and is ready to buy young guys a drink, and persuade them to come to their rooms.
Oh, here are the octet of cougar-friendly casinos "to meet the hottest older women." I'm happy being over the hill.
Carnival Cruise Line
Mohegan Sun, Uncasville, CT
Wildhorse Pass Casino, Chandler, AZ
Casino de Monte Carlo, Monaco
Atlantis, Paradise Island, Bahamas
Tryst at Wynn, Las Vegas
Mandalay Bay Hotel & Casino, Las Vegas
The Seminole Hard Rock Cafe Casino, Hollywood, FL

Families Only Sections on Airlines: Skyscanner, a travel search site, recently conducted a poll that revealed a majority of travelers would like a families only section on flights, with child-free passengers far more in favor of the idea than parents. No surprise there. In July 2010, a passenger on a Qantas flight claimed a baby's screaming made her ears bleed, leaving her "stone cold deaf." 2,000+ people voted in the Skyscanner poll, with 59% liking a families only section on flights, particularly non-parents (68% voted in favor; less than a third of parents were in agreement). Only 8% of child-free respondents thought people should be entitled to sit where they like, while almost 70% "wanted to sit as far away as possible from children." Almost a quarter of non-parents went one step further, saying that they would prefer flights that were free from children altogether. Of those who were parents themselves, 45% said they didn't want a families only section because they didn't want to sit next to 'other people's horrors,' while 24% disagreed with the idea because they felt that people should be able to 'sit where they liked.' Just 31% of parents were in favor of the allocated section.
SUBSCRIBE TO & FOLLOW LIFESTYLE
HuffPost Lifestyle is a daily newsletter that will make you happier and healthier — one email at a time. Learn more