Top Models such as Marilyn Monroe, Jean Shrimpton and Cindy Crawford wore dress sizes 16, 8 and 6 respectively. These women are seen as the perfect beauties in the last 50 years. Today stick thin body images created with photography software are the standard that many people try to attain. The unnaturally thin view of attractiveness is blamed for causing the increase in cases of anorexia and bulimia nervosa.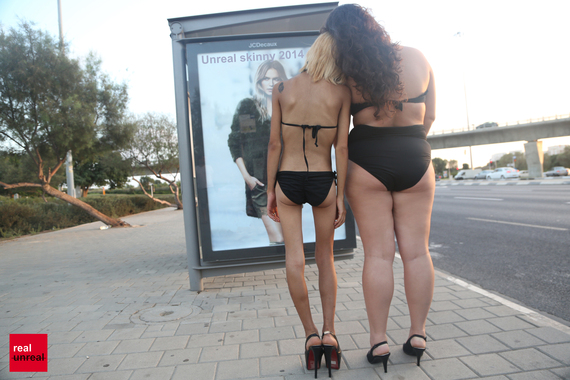 Photography: Adi Barkan Models: Shoshi Pekin, Loren Izraelov

We know of public figures such as Calista Flockhart, Mary-Kate Olsen and Diana, Princess of Wales as well as dozens of male and female stars who revealed their struggles with eating disorders. The disease affects a surprisingly large population. According to National Eating Disorders Association (NEDA) 20 million women and 10 million men in the US suffer from a clinically significant eating disorder at some time in their lifetime. This number has increased significantly over the past decades.
As specialists look to for correlations to the outbreak, the fashion industry is beginning to realize that media images can be the catalyst of the mental and physical illnesses of anorexia nervosa, bulimia nervosa and binge eating disorder. "The social epidemic that has developed in the last 20 years is a direct result of body image issues," explains Adi Barkan, international fashion photographer, model agent and chairman of the Simply You -- Monitoring Body Image Perception Association.
One leading global specialty retailer, American Eagle Outfitters, is putting its Aerie stores in the vanguard to revise the fashion industry with the #aerieREAL campaign and by becoming a key sponsor of the NEDA. "We applaud Aerie for taking the lead in healthy body image through its #aerieREAL and #LoveYourRealSelfie campaigns," commented Lynn Grefe, president and CEO of NEDA. "This can be a significant game changer for the fashion and advertising industries."
Media images have been the suspects trigger the fatal mental health disorder. A couple of years ago photographer, Adi Barkan, international fashion photographer and model agent engaged his Ministry of Health to test the girls responding to a modeling announcement and found that 25 percent of them were "so anorexic that they needed to be hospitalized." Experiencing the connection between his work and the epidemic Barkan determine to steer the industry back to stimulating positive self-image and arrest eating disorders.
In the end of 2014 Barkan launched the Simply-You organization, which has created a "REAL" stamp of approval for the industry. The requirements for being able to use the seal are: a commitment to not employ models that are underweight (according to the World Health Organization this is a BMI below 18.5 ), to avoid digital body shaping, and refrain from scale constricting. These are the same criteria that were made into law in Israel after Barkan's pressing. Aerie and other leading designers could be eligible for the REAL stamp. This will verify that advertisers and companies are showing the natural body, as the ORGANIC seal verifies foods are grown without chemicals.
Many people are not aware that body images are being distorted in media, just as formerly consumers were unaware of toxic chemical uses on foods. The effort to bring information forth helps individuals make better choices. The annual Eating Disorder Awareness Week occurs in both the U.S. and U.K. , February 22- March 1, 2015. The theme in the U.S. is "I had no idea..." pointing out that so many people who believe the ideal body images that they see are actual and not manipulations by photoshop.
As cancers increased with "better living by chemistry," anorexia, and bulimia went on the rise with the use of computer-enhanced images.
While eating disorders existed prior to the 90's, the current epidemic is increasing over the population including younger children. "Of American elementary school girls who read magazines, 69 percent say that the pictures influence their concept of the ideal body shape and 47 percent say the pictures make them want to lose weight," states NEDA.
Girls wanting to fit into the images in advertisements are not the only ones pulled into the disorder. Athletes, media personnel and employees of other trades are pressured to look thinner than their naturally healthy body. Actors Dennis Quaid, Billy Bob Thorton and singer Elton John are just a few of the men who shared their eating disorder struggles with the public. Athletes are known to have a higher than average chance of contracting a disorder. Flight attendants are pressured by their employers to loose weight.
In the past traumatic experiences such as rape, destructive relationships and mental distress, triggered behaviors of self-starvation, gorging food and distorted body image that required medical, psychological and psychiatric interventions. Today manipulated media images appear to be the catalyst of the disease for more and more people.
The epidemic is as world wide as body image media reaches. Other countries such as Canada and Australia have their awareness weeks at different times of the year. The REAL campaigns collaborate with the awareness weeks to correct perspective towards and celebrate the natural image of being truly and simply you.
SUBSCRIBE AND FOLLOW
Get top stories and blog posts emailed to me each day. Newsletters may offer personalized content or advertisements.
Learn more