Author M.J. Rose wears two hats in publishing with enviable panache.
As a former creative director at a NYC ad agency and the founder of AuthorBuzz.com, she spends her mornings helping other writers boost the sales of their books. Then each afternoon, Rose turns off the phone and writes her own acclaimed novels, such as The Hypnotist, her eleventh title, which Mira has newly published in trade paperback -- the hardback and ebook came out last year. It's one of three novels (The Reincarnationist, The Memorist, and The Hypnotist) that feature reincarnation at its heart, but as the author tells me, it's used as only as a trope.
Praising Rose's work in the Washington Post, Patrick Anderson wrote, "I don't believe in [reincarnation] but I do believe in good writing, and Rose is an unusually skillful storyteller. Her polished prose and intricate plot will grip even the most skeptical reader."
In a recent phone interview Rose explains, "Reincarnation is just another form of therapy. In my books, instead of going to a traditional shrink, my characters go to a therapist who practices past-life regression. They are just examining their past in order to understand their present and future -- it's just a slightly more distant past."
It was the author's culturally rich childhood that planted the seeds of her fictional landscape. "When I was three," she says, "I was at a family Seder, presided over by my great-grandfather, a Russian Jew who studied the Kabbalah. At some point I started telling a story about when my great-grandfather and I threw apples at his house and broke a window. I was only a toddler -- I'd clearly done no such thing. But my great-grandfather got very excited and told everyone that when he was a boy, he and a cousin had done just that and been seriously punished for it. He declared I was his cousin reincarnated.
"My mother thought it was pretty silly, but my great-grandfather was so adamant she did some research including reading the bestseller The Search for Bridey Murphy. She wound up becoming fascinated with subject of reincarnation and passed her interest on to me. Other mothers and daughters cooked together. We talked about past lives."
Another fictional motif from Rose's youth is her passion for art. She took classes at the Art Students League from the age of thirteen and was an art major at Syracuse University, where she earned her B.A. in 1976, and though she forged a career in advertising, first as an art director and later as a copywriter, she incorporates her knowledge of art in her books. It's the linchpin of The Hypnotist, in which Lucian Glass, a special agent with the FBI's Art Crime Team, uncovers a plot to steal "Hypnos," an ancient Greek sculpture owned by the Metropolitan Museum of Art.
"I grew up in New York," Rose explains, "and for the first ten years of my life we lived across from the Metropolitan Museum. When I was an adult I moved back to that neighborhood and lived there again. I still go to the Met at least once a month -- art is an important part of my life and the Met is like my second home. I never planned on using the museum as the setting for a novel, but during the early phase of the Iraq war I read several articles about how much Middle Eastern artwork was being destroyed by insurgents and how many countries wanted to go in and take the treasures out to protect them. That and the Getty Museum scandal, which was happening at the same time, kept bringing up one question, 'Who owns art?' That question became the idea for The Hypnotist. One of the best parts of writing the book was doing the research, which meant spending even more time in the museum than usual and working with the former head of the FBI's Art Crime Team, Robert Wittman."
In The Hypnotist, which Publishers Weekly called "A stunning page-turner," special agent Glass pursues an elusive list of "memory tools," one of Rose's inventions. These are meditation aids that help people access past-life memories. Lucian Glass goes undercover, posing as a man who wants to explore his previous lives, and accidentally finds the key to his own private angst.
"I might have created the phrase 'memory tools,'" explains Rose, "but people have always found talismans to help them meditate into a state of hypnosis where they can access their past lives. In my novels there are twelve ancient 'memory tools,' all now lost. Each of the Reincarnationist books revolves around a different tool. In The Memorist, for instance, the tool is a flute made of human bone that winds up in Beethoven's possession for a time."
When I ask how she finds the discipline to manage a thriving dual career as both marketing maven and novelist, Rose laughs. "It's hard. Using two different computers helps, one just for writing fiction and the other for the marketing business. I have to make a big effort not to stop and check my email. When writers stop to sharpen pencils or get up and make coffee to procrastinate, they still stay in their heads with their characters. But when you zip over to read email or check your Facebook page, you get zapped out of the fictive dream. It's brutal on my writing."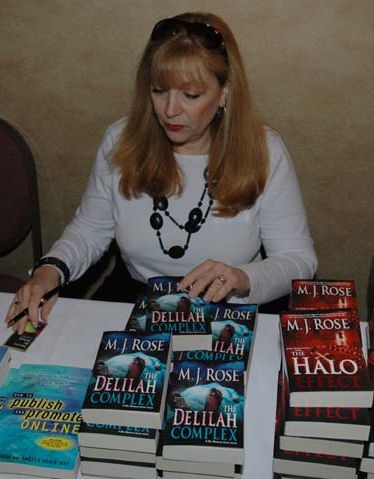 Rose lives in Connecticut with her husband, musician Doug Scofield, and her Maltese dog Winka. She often writes on weekends because, as she says, "I'm not good at taking time off. If I'm not preoccupied with a book I tend to worry, so what looks like discipline is salvation."
From consulting with clients via AuthorBuzz, she knows how difficult it is for most writers to attract a wide readership. "I try not to focus on the end result," she declares. "Even if there were no publishing industry, I'd still be writing because I need to tell stories. I need to have these characters in my life. Maybe I'd just do it a little slower."
Rose says that, for her, writing itself is like a memory tool. "I slip out of the world and for a few hours I'm not worrying about anyone or anything else."
For info about M.J. Rose's novels or to read her two insightful blogs, visit www.mjrose.com.
SUBSCRIBE TO & FOLLOW TRUMP'S FIRST 100 DAYS
How will Donald Trump's first 100 days impact YOU? Subscribe, choose the community that you most identify with or want to learn more about and we'll send you the news that matters most once a week throughout Trump's first 100 days in office. Learn more