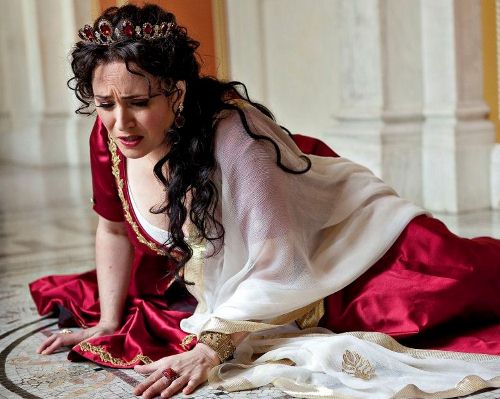 Patricia Racette, a soprano renowned for her vocal radiance and skilled acting, returns to Washington National Opera this Saturday as the company launches its first season under the aegis of the Kennedy Center. Making her local debut as Tosca, Racette will portray the beloved diva who lives for art and dies for love as Napoleon flees Rome, circa 1800. And whereas nine years ago Racette told author Eric Myers that she had no operatic niche, having staked out an eclectic repertoire that ran the gamut from La Traviata to Tobias Picker's Emmeline, she has lately come to regard two iconic Puccini heroines, Tosca and Cio Cio San, a.k.a. Madama Butterfly, as signature roles.
"Especially at the beginning of my career," Racette explains when we chat at WNO's Maryland
rehearsal studio, "I liked doing a lot of different things. I can do a lot of different things, so why not do them? This idea really appealed to my creative and intellectual sense about this art form. I remember early conversations with various officials in the profession who cautioned me to let people see who I was, and I did consider myself 'nicheless' because, well, 'Don't box me in.' But I think my Puccini and my Janacek [Jenufa and Katya Kabanova] are where I'm most at home and where my abilities most easily flow out of me."
Apologizing for her casual clothes -- "I'm thrown on the floor a lot," she quips -- Racette is a stunning woman with honey-blond hair and hazel eyes. Now a youthful 46, she's a trim, photogenic singer who will shine in her close-ups when Tosca is simulcast at Nationals Park on September 22, a gift of "Opera in the Outfield" to D.C. fans. Since Racette's a veteran of Met HD broadcasts, she feels upbeat about this outside-the-opera-house trend. "People love the informality. They can buy their popcorn, and it's a different experience."
For the most part, thought, she's focusing intently on her new outing in the Puccini role she introduced at Houston Grand Opera in January 2010 and sang at the Met in April 2010 when she stepped into the Luc Bondy production. "Patricia Racette is a deeply affecting and impassioned Tosca," wrote Anthony Tommasini in the New York Times. "She sang with uncommon richness, expressivity, and honesty... she captured both the dignity and despair of the character." Bondy's staging was offbeat and controversial, whereas Racette says the WNO production by David Kneuss will be traditional. But whatever the director's concept, Tosca's dilemma remains the same: she is told by the corrupt Baron Scarpia that becoming his mistress is the sole way she can free her lover, Mario Cavaradossi, whom Scarpia has sentenced to death for alleged political crimes.
"Tosca's a firecracker, and a woman of action who's facing real struggles," says Racette, "and I love playing all of that. It makes for fantastic theater. This is a woman who cannot quite keep her emotions lidded. When we see Floria, she's wondering, 'What does it take to be a singer? What does it take to live this life and portray these characters on stage?' Her aria 'Vissi d'arte' says, 'I've lived this life the best way I know how, so why is this happening to me?' She cannot believe the turn of events. Who could? There's a slight naivete that is quickly unveiled, and that's the magic of the scene: you think it can't get worse and then it does. I'll never forget a performance I did at the Met with Bryn Terfel. I didn't even have to act because he was absolutely frightening. But my view of Scarpia is that he's charming like Don Giovanni, but he's more evil. Scarpia enjoys his total power over Tosca."
When I ask how she keeps her work fresh when she repeats certain parts, she explains, "My feeling about any role -- any time I've come back to it -- is that I've had more life so there's something different about me. I pride myself on infusing my total being in what I'm doing, and also because of the richness of this art form, there are new ingredients -- different director, different conductor, different sets and costumes. All these things play a part in creating the piece anew. You can certainly have your favorites, but it's important to take what's there before you and use all of that." She adds that she looks forward to reprising Madama Butterfly in the acclaimed Anthony Minghella production at the Met in February 2012. She's also scheduled to do another Butterfly at Seattle Opera next May.
"Tosca and Cio-Cio San are 'big girl roles,'" Racette says, "and the journey Cio-Cio San takes is huge. But it's also nice to play a mature woman like Floria Tosca, a professional in control of her gifts and living life with a certain amount of command. Obviously, I have relevant experience to bring to that. She's going to be put in an impossible situation and she has no idea what she'll do. Usually in my kind of repertoire, I play the victim, but it's rewarding to play someone with great strength. When Tosca decides to take a knife and plunge it into Scarpia, it's self-defense, but at the same time she is traumatized by what she's done."
What's evident in our long conversation is Racette's desire to portray each character as truthfully as possible. But off stage she's no diva. In fact, her manner is refreshingly down-to-earth and she laughs a lot. A New Hampshire native who grew up in Bedford, Racette credits the stability of her "no-nonsense, blue-collar family" and her partnership with mezzo Beth Clayton for her equilibrium, even as she and Clayton pursue dual careers that "ask everything" and keep them away from their Manhattan apartment and house in Santa Fe for many weeks each year. They met when Racette sang Violetta and Clayton sang Flora in a 1997 La Traviata at Santa Fe Opera, and though they married in 2005, they prize their fourteen-and-a-half years of love and support. "The difficult thing is being apart," Racette says. "We are very harmonious together. If one of us isn't working, we join each other without question. Our suitcases are never very far away."
Though Racette is now at the top of her operatic game, she originally hoped to sing jazz, and she recalls fondly that her high school choir director took her to hear the great Sarah Vaughan. She cried for three days when her voice teacher at North Texas University told her she was destined for opera, but she was hooked after hearing Renata Scotto's recording of Puccini's Suor Angelica, a role for which she has recently won kudos at San Francisco Opera and the Met.
After graduation she was invited to join San Francisco Opera's Merola program. Her Met debut followed in 1995 when she sang Musetta in La Boheme, and in the intervening sixteen years she has sung at nearly all the top opera companies here and abroad. My personal favorite? Racette's heartbreaking portrayal of Emmeline, broadcast on PBS in April 1997 and recorded on the Albany label. "Talk about layers!" Racette says, noting that her hometown is near Manchester, N.H., a mill center similar to Lowell, Massachusetts, where Emmeline's tragedy plays out. "I had so much to bring to that process. I love doing the American operas because they're our stories. [Working on Emmeline] was so eerie; it was so close to home."
Even closer to her heart these days, though, is the artistry she brings to--and the fulfillment she gleans from -- performing cabaret songs. "What I found as I got more into it is that I really like the torch songs -- they're slightly different from Broadway or jazz. It's the Judy Garland and Edith Piaf stuff. For instance, I do one called, 'Guess Who I Saw Today,' and I love it when people come up and say, 'I haven't heard that for a long time.' She is eager to record this repertoire, so CD producers take note: when she's offered a contract, she's ready to hit the studio! Racette keeps polishing her cabaret act and will perform an evening of songs in Dallas next month and again at Pace University in March 2012. (You can sample clips if you search her name on Youtube.com.)
Two other pursuits Racette cheerfully mentions are the value of her ongoing vocal studies -- she takes lessons with her teacher, Trish McCaffrey, via Skype -- and her passion for cooking. One might assume from her comments that both feed her soul.
But as our meeting draws to a close, our conversation comes full circle and I remind Racette that it was Eric Myers who wrote in Opera News that "not every singing actress can turn up the heat so high without destroying the musical line." When I ask how she accomplishes this feat in Tosca, she laughs. "Some old-school singers say, 'You have to always stay one step back,' and for some people that is true. 'Know thyself,' is what I say. For me, I sing my very best when it's just an absolutely to-the-edge intense scene. That's when my mechanism works its best; that's when everything just falls into place just right -- so I say, the more heat the better. And I don't know why. I think it's a physical response to the energy of the breath, and there's obviously something cathartic for me, some release. And it doesn't disturb the vocal line. Quite the contrary, it aids it. It's like taking a car on the highway -- vroom, it's very happy. So what I love about Tosca is that almost immediately she gets intense. It's those roles that don't where I long for those moments."
Tosca runs from September 10-24 at the Kennedy Center and will be conduced by Placido Domingo. Bass-baritone Alan Held will play Scarpia and tenor Frank Porretta will sing the role of Cavaradossi. For information about all performances including "Opera in the Outfield,"
visit http://www.kennedy-center.org/wno.
The photo used here is by Scott Suchman for Washington National Opera.
SUBSCRIBE TO & FOLLOW CULTURE SHIFT
Every Friday, HuffPost's Culture Shift newsletter helps you figure out which books you should read, art you should check out, movies you should watch and music should listen to. Learn more