There's a new leading man in town--Canada's Paul Gross--who's appearing in the New York revival of Private Lives. Noel Coward's timeless comedy opened last week at the Music Box Theatre, and if you have the privilege of seeing Gross's long-awaited Broadway debut, you'll enjoy a nuanced, charismatic star turn. Acclaimed for his work in TV's Slings and Arrows and Due South, the actor commands the stage in the role originated by Coward himself, and it doesn't hurt that he's gorgeous besides.
Gross shares top billing with the gifted and equally gorgeous Kim Cattrall, known for playing Samantha in the Sex and the City franchise. Cattrall, also Canadian, hasn't worked on Broadway since her 1986 debut in Wild Honey, and judging from the warmth and vulnerability she brings to Coward's play, the theater has been poorer for her absence. She's an ideal match for Gross, and it's no wonder that Cattrall won raves last year in a London Private Lives, staged by Richard Eyre, the former head of Britain's National Theatre.
Broadway's new production, which had a fall run in Toronto, was also directed by the uncannily perceptive Eyre, and it offers a provocative and combustible mix of acerbic wit, style, visceral sexual yearning, split-second comic timing, and that elusive trait known as chemistry, which occurs between Gross and Cattrall, and also between their superb costars, Simon Paisley Day and Anna Madeley. Caroline Lena Olsson completes this fine ensemble as a hapless, sneezing maid.
Coward's 1930 plot bears repeating: Elyot (Gross), a wealthy bon vivant who feels "flippancy" is the best response to conflict, and Amanda (Cattrall), a charming free-spirit whose heart is "jagged with sophistication," ended a brief, stormy marriage five years earlier. It's a shock when they meet on adjoining balconies in Deauville, the glam seaside resort, while honeymooning with new spouses: priggish Sybil (expertly portrayed by Madeley), and stalwart, stuffy Victor (subtly and movingly played by Paisley Day).
Swept away by passion, Elyot and Amanda gleefully decamp to Paris, where they spend three blissful days and nights in Amanda's pied-a-terre. But soon--inevitably--their old problems and short tempers resurface, and verbal sparring morphs into slapping, then all-out war, at the exact moment Sybil and Victor arrive. Sobered by their situation, the two couples contemplate their ruined relationships and their prospects for future harmony.
It's likely that if Private Lives were written today, the author might end the turmoil by sending Elyot and Amanda to anger management classes while giving Sybil and Victor some books on codependency. But even when viewed in the spirit of a Thirties' screwball comedy, it's upsetting to hear Elyot tell Amanda, "Certain women should be struck regularly, like gongs." (At the performance I attended, Gross nearly winced while reciting that line, and the audience didn't laugh.)
Though the play contains some attitudes and behaviors that are not PC today, I think Noel Coward cared less about the casual violence between Elyot and Amanda, who know exactly how to provoke one another, than the elusive ties that attract and bind this couple, even as ennui and their need for constant drama threaten to break them apart.
Cattrall is at her winsome best when she tells Victor, "I think very few people are completely normal, really, deep down in their private lives. It all depends on a combination of circumstances. If all the various cosmic thingummys fuse at the same moment, and the right spark is struck, there's no knowing what one mightn't do. That was the trouble with Elyot and me, we were like two violent acids bubbling around in a nasty little matrimonial bottle."
And yet the "nasty" side of their relationship evaporates rather easily, and the fusing of those "cosmic thingummys" proves to be a deep, enduring connection that Coward's main characters lack with their "appropriate" new partners. Gross's Elyot humors Sybil, but he doesn't care about her feelings, and though Cattrall's Amanda knows Victor will always protect her, she's bored by his predictability. So the question Coward explores is more complex than, "Is love lovelier the second time around?" The playwright believes that white-hot passion, with its many contradictions and imperfections, is a person's main route to happiness, even if it leads to an occasional (and, in this case, consensual) smack.
Performing Coward's arch dialogue requires a deft touch. In the hands of less skilled actors, Elyot's "Don't quibble, Sybil" (which Gross delivers with brio), and Amanda's quip to Victor, "Don't be angry, it's all much too serious to be angry" (which Cattrall makes believable), the text might seem campy and over-stylized. But this talented cast tempers the playwright's cynicism with honesty and, often, helplessness in the face of their follies. Life may not be serious according to Amanda and Elyot, but finding and holding on to true love can be a life-or-death struggle.
Elegance is a linchpin of this show, and Rob Howell's costumes--from the ladies' smart traveling suits to the silk lounging attire in act two--are appealing. Howell also created the set, which is effective in act one but intrusive in acts two and three. Amanda's apartment resembles a futuristic loft in Soho rather than a pre-war Paris flat, and while Cattrall and Gross gamely work to display a sense of growing claustrophobia, the vastness of the living room with its sky-high ceiling thwarts them a little. The multi-globe fish tank is another distraction, even though it provides the evening's best sight gag.
But these are tiny flaws given the riches offered by Cattrall, Gross, Madeley, Paisley Day, Olsson, and director Eyre. It so happens there's a yacht in port as the couples chat on their balconies in Deauville, and the boat's presence seems an apt metaphor: Elyot may be perennially unmoored without his maddening Amanda, but this Private Lives is anchored by the truthful sheen of each performance. This sparkling revival is sexy, funny, and pulses with charm. If you miss it, you may be shouting "Sollocks!" (Coward's euphemism for "Bollocks!") when the show ends its limited run on February 5.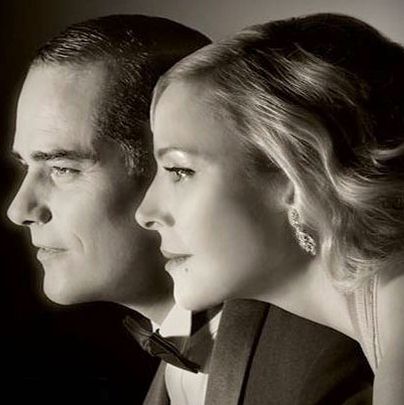 Paul Gross and Kim Cattrall as Elyot and Amanda.
Photo courtesy of Mirvish Productions.
This Blogger's Books and Other Items from...
SUBSCRIBE AND FOLLOW
Get top stories and blog posts emailed to me each day. Newsletters may offer personalized content or advertisements.
Learn more