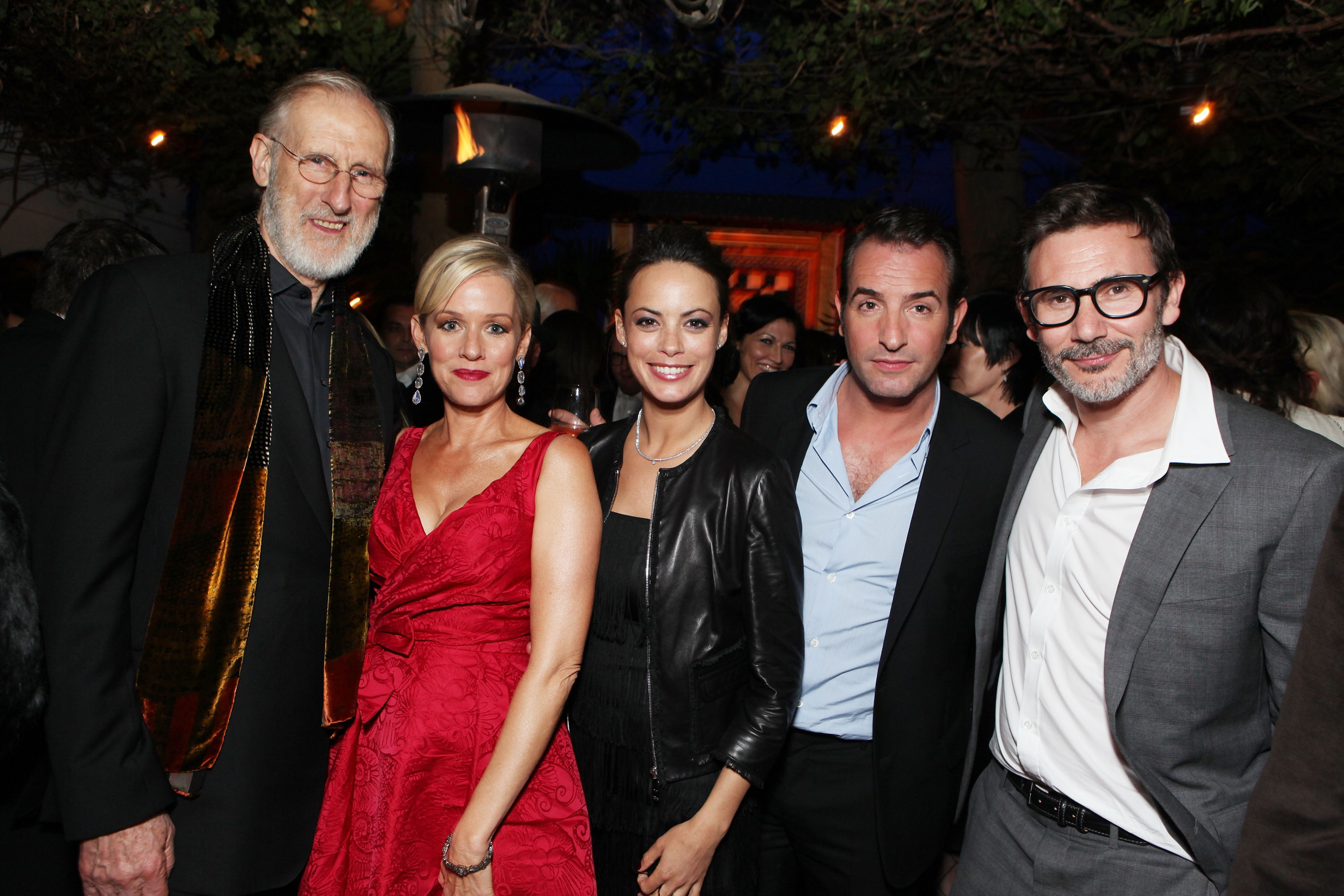 (James Cromwell, Penelope Ann Miller, Berenice Bejo, Jean Dujardin, Michel Hazanavicius)
Last week at AFI Fest in Los Angeles, The Weinstein Company boldly presented one of their most unusual films to date. The Artist tells the all too frequent tale of success -- that no matter how much talent stands behind it -- can still be blinded by ego and pride ...and ultimately that very fleeting success because an ugly ruinous downfall.
Of course this is the type of story we hear all the time -- so what is it about this filmic endeavor that charmed uber producer Harvey Weinstein enough to put most of his proverbial eggs into one big Oscar campaign basket? The film, starring French actors Jean Dujardin (who won Best Actor at Cannes) and Berenice Bejo, is in black and white. Okay, not such a stretch in this day and age -- just look at Good Night and Good Luck.
But it's also silent as in no dialogue. Yes, director Michel Hazanavicius decided to stay completely true to the era he chose to depict -- and never do we hear the utterance of a single word (except for one pivotal moment).
The after party for the film was held at The Little Door -- a very intimate restaurant for this kind of affair (and of course, French). The stars of the film turned out en masse, including the aforementioned Dujardin and Bejo, as well as the director, and stars Malcolm McDowell, James Cromwell, Missi Pyle and Penelope Ann Miller. For Dujardin and Bejo this was their first big Hollywood premiere -- and considering word on the street, it won't be their last turn on the red carpet.
The film is a beautiful and lyrical homage to the early days of Hollywood but also a cautionary tale that transcends eras. Dujardin is the embodiment of silent film star Douglas Fairbanks Jr., while Bejo's Peppy Miller is a cross between Parker Posey and Norma Shearer. It is also a tale of ridicule and reinvention -- something this town is famous for -- just look at how actors like John Travolta, Robert Downey Jr. and Mickey Rourke have found themselves once again immersed in bountiful careers when at point, all seemed lost. Hollywood can be forgiving, when it wants to, but it also depends on the subject having the gumption and the tenacity to turn themselves around. This is a film that everyone can relate to; and considering the events of the past few days, it is definitely something that Brett Ratner might want to check out.
SUBSCRIBE AND FOLLOW
Get top stories and blog posts emailed to me each day. Newsletters may offer personalized content or advertisements.
Learn more