On Election Day, a classmate-colleague asked if I would help him document the intensity of the day. "Keep your eyes open for the "dark side" (shootings, riots, bomb threats, etc.) but STAY SAFE!" read the email outlining suggested themes that were of interest for his journalism school project.
I wandered the city to see what was happening. Instead of reported long lines and/or a "dark side," I met a handful of people who were excited and hopeful about a change in administration. Two middle-aged McCain supporters who wore McCain-Palin campaign buttons didn't want to speak with me. I spoke with five people on the street,separately, but all of whom were unified in their support of Obama.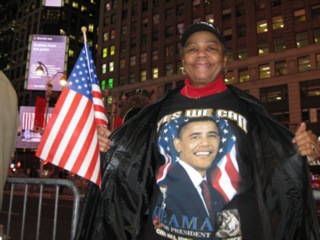 Willa Streeter, Times Square
My first stop was the West Village.
West Village Part 1; The Foreign Influence
Several precincts are combined into one polling place at the Lesbian, Gay, Bisexual & Transgender Community Center on West 13th Street between Seventh and Eighth Avenues. The entrance is across from the Integral Yoga Studio with its multicolored sign that reads, "Truth is one, paths are many.
James Hawkins, 35, a screenwriter, flew to New York from Los Angeles early Tuesday morning, 3am, "to vote. It was worth it," he said.
This was Hawkins' first time voting. "I took up my American Citizenship in the Summer of 2008 for this election. I'm concerned about gay rights, about ending the war, about a fair tax code, about access to education."
"I think my biggest achievement, though, was to have an on-going dialogue with my parents, who are Republicans in South Carolina. I encouraged them to become more informed," said Hawkins. "They voted for Obama."
Hawkins moved to the United States, from Canada, with his parents when he
was 15 years old. Though his friends told him the line to vote ran a block long, it took the tall, thin and baby-faced Hawkins 2-1/2 minutes to actually vote. He described the mood in the community as "border line giddy."
West Village Part 2; The Mouths of Babes
Blonde hair, blue eyed, Marian Price, 48, who wore a tailored black coat and black trousers exited the polling place with her 13 and eight year-old boys. After I introduced myself, she explained that this wasn't the first time the boys voted. "They've voted with me since they were in their strollers," said Price.
"Voting was cool," said the eight year-old "All the little switches and the sample ballot was funny. It had George Washington, John Adams, Thomas Jefferson and Abraham Lincoln."
When I asked which of the candidates he voted for, all three of them replied in unison, "Obama."
The older boy's main concern was the war (in Iraq). "They couldn't start a draft, could they?" he asked his mother. "They could but this election represents the end of Republican dominance, hopefully; the war and America's ruined reputation."
On the other hand, she recalled, " I remember going to sleep at 2 am in 2000 thinking that Al Gore won the Presidential election, I look forward to watching the results tonight." But before they headed home, the eight year-old told his mother, since she voted, she could collect a free coffee from Starbucks. Gotta love those informed kids.
Chelsea; In Secret or Foreign Influence Part II
Apart from the small "Vote Here" sign posted on the corner of the Fashion Institute of Technology on Seventh Avenue, unless you knew that the entrance was on 27th street, behind a sculpture, it would be easy to walk by without noticing this polling place.
Vadim Galperin, 35, a musician and computer programmer born in the Ukraine, entered the polling place dressed in a dark wool cap, grey combat pants and a matching jacket with a "Juror" badge pinned to his left shoulder.
"Why the juror badge," I asked.
"It's my duty," said Galperin half-smiling. "I was a juror last week. As I put on my jacket today, it occurred to me how these two rights, to serve on a jury and to serve as a voter, were connected," he said. "I admit it sounds a bit campy but there is something so real, so profound, so I left the 'ticket' on."
"Here we are just common people and this country has given us the right to pass judgment, which counts, for the present and for our future. It's incredibly important," he continued.
"I came to this polling station to deliver my verdict: Guilty, with exclamation points, just like the juror who deliberates and makes a verdict. Guilty to the Bush Administration and their corrupt policies."
Galperin moved to the United States with his parents when he was 20 and became a U.S. citizen 10 years ago. His English is flawless though a Slavic accent is easy to detect. He was hesitant to permit me to use his name. In the end, he told me to "go ahead. First name and last name. I want to take a stand."
Times Square: Making History
With daylight savings turned back to standard time, day turned to night and by 5pm, the mood in the streets was electric. Thanks to flashing lights from the jumbotrons, electronic tickers running constant newsfeeds and news crews and cameras from 42nd to 45th Streets, the place came alive.
Willa Streeter, 72, a retired clerk was in the area to "watch history in the making." Waving an American flag, Streeter wore an Obama baseball hat, Obama pin, Obama buttons, an Obama tee-shirt and fashioned an long-leather coat with an Obama emblem on the back. "I made it over the weekend. I got the poster at a rally in Harlem on November 3, cut it out and pasted it to the back of my coat."
Streeter didn't have to wait long to vote at her precinct on 53rd Street between 9th and 10h Avenues. "I arrived at the polls 15 minutes before 6 am. I was about the tenth person in line," said Streeter as passersby stopped to take her picture.
"I'm so proud of the first African-American to be nominated to become President," Although the news of Obama's win was five hours short of being announced,
Streeter was optimistic. "He's a winner. This election means the world to me."
Rockefeller Center; Last Stop
Rockefeller Center was transformed into "Election Plaza." NBC news projected a giant electoral map onto the ice rink, cleared of skaters. States lit up in red or blue as results were called.
But all eyes were on the climbing "banners" along the eastern façade of the 1930s Art Deco skyscraper known now as "30 Rock." The "banners" (window washer buckets) moved up towards red, white and blue signs bearing "270" representing Electoral College votes for Sens. McCain and Obama.
30 Rockefeller Center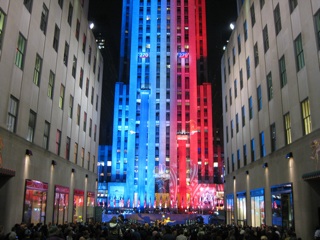 As the votes rose, numbers on the banners were changed manually. Quite different from CNN's holograms and other nifty technological treats broadcast on television by the networks and cable stations.
Onlookers like Christine Parry, 30, colored a United States map as the states were called. She was especially interested the big swing states.
"I moved to New York recently from Virginia." She voted in her Stuyvesant town precinct early in the day. "I waited in line to vote for two hours," Parry said. "The polling place had one booth. The mood was very neighborly, everyone was excited to get out and hopefully get some change."
And change it did.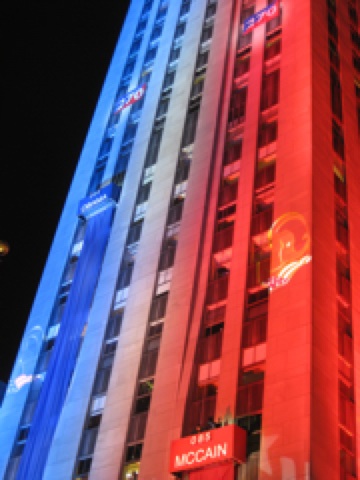 Read more reaction from HuffPost bloggers to Barack Obama's victory in the 2008 presidential election

SUBSCRIBE TO & FOLLOW LIFESTYLE
We're basically your best friend… with better taste. Learn more