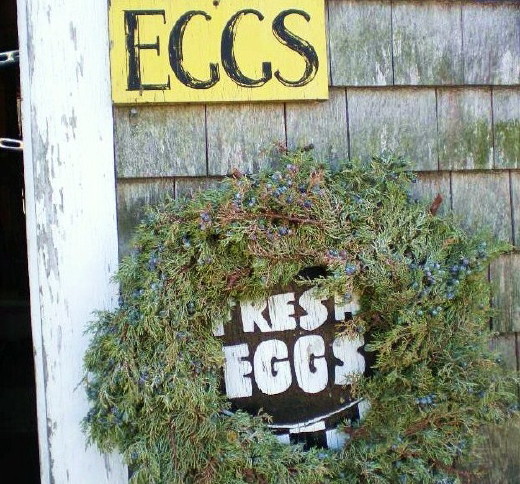 Some days I let gratitude slip away. I forget to be thankful for all the amazing little things in my new life. But most days I pinch myself when I wake up, just to make sure I haven't passed on to another world.
In a way, living on the island of Martha's Vineyard is like another world for me -- so different from the frantic Connecticut suburb I came from. Back there, to get anywhere, I had to encounter Route 1 - bumper-to-bumper cars, McDonald's, Kentucky Fried Chicken, TJ Maxx, Home Depot, and millions of harried people rushing, rushing, rushing. And Route 1 is where the giant Stop n Shop lives, where you go to get your highly processed, mass-produced, Big Ag-"farmed" food.
Here, on my way into town, I pass not one, but three farms where I can stop in to the barn, leave a few dollars, and help myself to a carton of fresh eggs. Often I get to say hello to the hens, or the farmers who keep them. I always peek inside the carton to see the colors of my eggs. Sometimes they're the color of last night's foggy spring twilight -- hazy grey and dusty blue all at once. Sometimes they're just brown and speckly; sometimes they're pointy, sometimes petite. But always their yolks are plump and perky and marigold-yellow.
I'm not sure I can adequately explain the joy that cooking with these eggs gives me, but for me, its grace. My idea of grace is an otherwise inexplicable gift in one's life, the gift of something you didn't know you needed so badly. For me, the malaise of my old life was watered by a disconnection from the natural world -- the world of where my food comes from. I can't say that I could articulate that then, but now, many dozens of fresh eggs later, I can.
I'm thinking about this a lot on Easter weekend, when we celebrate the power of rebirth, and the possibility for change. Three years ago, I would never have believed I had the power to make a whole new life for myself. But then, that's grace. Whether you celebrate Easter or welcome the amazing green rebirth we call Spring with some other kind of celebration, it's a good time to think about the tiny gifts you get in life -- and the power in accepting them.
I'll be celebrating tomorrow with eggs, of course. Another gift in my life is the willingness to accept treasures from the past -- to carry forward the best of my old life into my new. And my father's famous popover recipe is a childhood memory I will always hold close. In our house, making these puffy, custardy wonders has always been a Christmas morning tradition. But really, I think they're the perfect Easter morning celebration.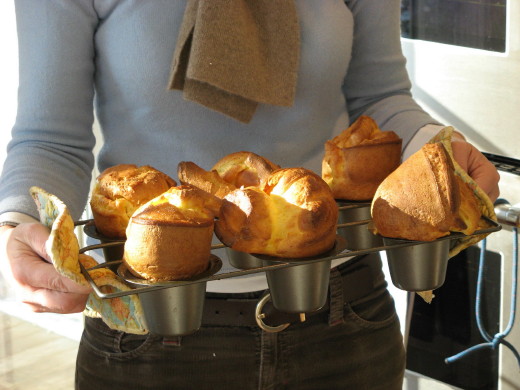 Popovers

For the lightest, puffiest popovers, put your eggs and milk out on your kitchen counter over night to let them come to room temperature. In the morning, the batter comes together very quickly in a blender.

1 ¼ cups whole milk, at room temperature
1 ¼ cups all-purpose flour (scoop, don't pack, when measuring flour)
½ teaspoon salt
4 large eggs, at room temperature
2 tablespoons unsalted butter, melted and slightly cooled (more butter for serving)

Heat the oven to 425°. Spray a nonstick popover pan with nonstick spray. Combine the milk, flour, and salt in a blender and blend thoroughly. Add the eggs to the blender and blend until smooth. Lastly (with the blender running, if possible), blend in the melted butter.

Divide the popover batter equally among the 6 cups. Bake for 20 minutes. Reduce the oven temperature to 325° and continue baking until the popovers are very puffed and a deep golden brown, about another 15 minutes.

Serve warm with more butter.

Makes 6 popovers.
Susie Middleton is the author of a new veggie cookbook, Fast, Fresh & Green (Chronicle Books, April 2010). Visit her at sixburnersue.com
This Blogger's Books and Other Items from...
FOLLOW HUFFPOST