 We hear this question more and more, especially since the bottom fell out of the U.S. real estate market.
To paraphrase: "With the price of real estate so low in the U.S. right now, why would anyone move abroad?"
Fair question. And if your only reason for considering a move abroad is to find inexpensively priced property, the answer is obvious... you really don't need to.
As everyone knows, in some specific U.S. markets real estate has been eye-poppingly cheap for several years. The word on the street right now is that prices are on the rebound, but this information seems to come mostly from real estate agents themselves. Any way you slice it, if you look hard enough you can find property in the States that is priced as low as almost anywhere else in the Western Hemisphere.
But when you do the research and run the numbers for yourself, make sure your calculations don't stop at the basic sticker price of real estate. Sticker price should be just the start of your numbers, whether you're a pure real estate investor or you're investing in your own long-term lifestyle, health and happiness. The numbers on the "Recurring Expenses" side of the ledger will mean more to you in the long run, no matter how low the initial cost of a property.
If you're looking for a house or condo or plot of land for any other reason than price alone, buying cheap in the U.S. doesn't really accomplish much. A beach home like this one in Panama can be very affordable -- and holding costs are minimal.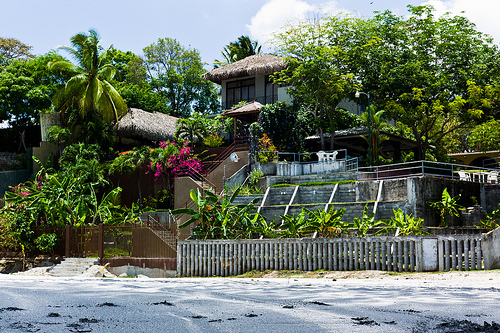 Your utility costs will still be higher than in most of Central and South America. Same with your property taxes, which cost us just $53.37 on our Ecuador condo for the entire year of 2012. Your medical care won't magically become as inexpensive as it is almost anywhere else in the world. Your selection of corporately grown and transported food at the local supermarket probably won't change into fresh produce from the local mercado.
And no matter which side of the fence you're on, it doesn't look like the tone of politics is going to change for you much in the U.S. either.
If you're a straight-up investor, none of the above may factor into your buying decision. But the costs of carrying a U.S. property until it can eventually be sold into a bottomed-out market can be prohibitive. (That's one reason pure investors still find overseas real estate so attractive. Taxes and utilities are often so low that it's affordable to simply buy and hold.)
However, most of the folks we talk to about moving abroad are interested in just that... moving. Affordable property is a huge plus, and it's available all over the world, but that's just the tip of the iceberg. In fact, some of the folks we talk to have run the numbers and found that renting in certain destinations abroad is actually a better idea for their particular situations. Owning property isn't even on their radar.
So, while it's nice to find inexpensive property, it's what happens afterward that makes the difference to someone thinking about moving abroad. And for most of the people we talk to, what happens afterward is all about quality of life.
That's why we find that for most people, the question isn't, "With the price of real estate so low in the U.S. right now, why would anyone move abroad?"
The question is, "Whether you buy or not, if you could live a happier, healthier, more stress-free life, including perfect weather and quality medical care, for half or less than you're paying right now... why WOULDN'T you move abroad?"
Of course, all things being equal, there may be compelling reasons to stay put, even if you take better quality of life out of the equation. Many people aren't in a position to make a major move anywhere, much less outside the country. And just as many people consider it a fair trade to deal with their current situation at home in order to be close to family, friends and the society and culture they're used to.
Everyone makes those decisions for themselves and for their own reasons. But cheap real estate? It's all over the planet.
The pursuit of long-term health and happiness at a price that suits your budget and weather that suits your clothes?
That, as far as we're concerned, should be your real goal.
Earlier on Huff/Post50:
Morgan Freeman turns 75 on June 1.

Andy Griffith turns 86 on June 1.

Ron Wood turns 65 on June 1.

Dr. Cornel West turns 59 on June 2.

Charlie Watts turns 71 on June 2.

Michelle Phillips turns 68 on June 4.

Kenny G turns 56 on June 5.

Robert Englund turns 65 on June 6.

Harvey Fierstein turns 60 on June 7.

Prince turns 54 on June 7.

Liam Neeson turns 60 on June 7.

Tom Jones turns 72 on June 7.

Keenan Ivory Wayans turns 54 on June 8.

Joan Rivers turns 79 on June 8.

Jerry Stiller turns 85 on June 8.

Johnny Depp turns 49 on June 9.

Michael J. Fox turns 51 on June 9.

Gene Wilder turns 79 on June 11.

Hugh Laurie turns 53 on June 11.

Dr. Mehmet Oz turns 52 on June 11.

Tim Allen turns 59 on June 13.

Ally Sheedy turns 50 on June 13.

Boy George turns 51 on June 14.

Donald Trump turns 66 on June 14.

Marla Gibbs turns 81 on June 14.

Jim Belushi turns 58 on June 15.

Helen Hunt turns 49 on June 15.

Joe Piscopo turns 61 on June 17.

Barry Manilow turns 69 on June 17.

Paul McCartney turns 70 on June 18.

Isabella Rossellini turns 60 on June 18.

Carol Kane turns 60 on June 18.

Roger Ebert turns 70 on June 18.

Paula Abdul turns 50 on June 19.

Phylicia Rashad turns 64 on June 19.

Kathleen Turner turns 58 on June 19.

Lionel Richie turns 63 on June 20.

John Goodman turns 60 on June 20.

Brian Wilson turns 70 on June 20.

Meredith Baxter turns 65 on June 21.

Kris Kristofferson turns 76 on June 22.

Cyndi Lauper turns 59 on June 22.

Meryl Streep turns 63 on June 22.

Jeff Beck turns 68 on June 24.

George Michael turns 49 on June 25.

Jimmie Walker turns 65 on June 25.

Ricky Gervais turns 51 on June 25.

Kathy Bates turns 64 on June 28.

John Elway turns 52 on June 28.

Mel Brooks turns 86 on June 28.

Gary Busey turns 68 on June 29.

Richard Lewis turns 65 on June 29.