A few years ago during a Christmas holiday in Mexico, we spotted Santa on the beach. Long beard blowing in the breeze and wavy white hair topped by the traditional red felt cap rimmed in fur.
Instead of spectacles, he wore Ray-bans. This was one cool Santa. And instead of the normal jolly Santa get-up, this one wore nothing more that a teensy weensy red Speedo. One cool (and confident) Santa, indeed, as he did have a round belly that shook when he laughed like a bowl full of jelly.
Of course, had he worn his biker boots and the red felt garb, he would have been one very warm Santa. The temperature that day was in the mid 80s. And that's exactly the way we like our holiday weather these days.
Don't get us wrong. There's nothing more romantic than cozying up by the fire with a cup of hot cocoa or mulled cider as the snow falls gently "outside" your window and the Christmas carols play.
But for the last many years, we've been content to sip margaritas instead of cocoa, lazing on the terrace beneath the palm trees instead of in front of a fireplace. And the only snow we can see is far atop the distant volcanoes that rim the valley where we live in the equatorial Andes of Ecuador.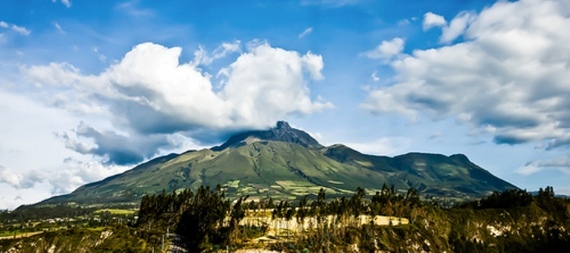 Although we enjoy a great climate year-round, we're not missing the Christmas spirit. There's no doubting that 'tis the season here in Ecuador.
Photo courtesy of Hugo Ghiara, InternationalLiving.com
We're a fraction of a degree from the equator and our weather here is just about perfect. Not too hot and not too cold. Jeans and a T-shirt during the day, throw on a sweater at night. Alas, not quite warm enough for Speedo Santa...
That's not to say we're missing the Christmas spirit. There's no doubting that 'tis the season here in Ecuador... the wreathes are hung and store windows twinkle with lights, a nativity scene shines in morning light in the town plaza, and Christmas music blares in the local supermarket, where two rows of seasonal items gleam... wrapping paper and plastic gift bins filled with cookies and candies on one side and on the other brightly colored toys stacked from floor to ceiling.
The supermarket flyer is full of ads for these toys ("buy now, pay later") and we watched a little boy pouring over its pages on his walk home from school the other day. It brought back memories of our own childhood years dog-earing the pages of the Sears and Montgomery Ward catalogs.
Christmas in Ecuador is very much like the Christmases we remember from our childhoods (but, as mentioned, with palm trees and no snow). While gifts are exchanged, it's not so much because you've been "naughty or nice" but because someone thinks kindly of you.
For the most part, children in Ecuador don't expect to be showered with gifts, and they may get one or two things selected especially for them. Some kids don't get much at all, of course. Our small expat community is putting together little gift bags filled with cookies and candy for some of the poorest nearby communities.
Last year, our neighbor who owns the little shop on the corner brought us a ceramic figurine and some candy. We returned the favor by baking her a cake. This year, we've been busy baking goodies to distribute to friends throughout our little village.
On Christmas Eve and Christmas Day, time will be spent simply enough, enjoying conversation and a meal with family and friends and being thankful to be right here right now.
And no matter where you are during this holiday season, here's wishing you a Feliz Navidad y Próspero Año Nuevo!
Related Articles:
Travel Adventures in Ecuador
Where Ecuadorians Go to Escape the City...
Why Ecuador Beats California