Part 2 Belize: Two Of The Most Popular Retirement Spots
Ambergris Caye is Belize's top tourist destination. And it's easy to see why. Turquoise waters, swaying palms... And the longest barrier reef in this hemisphere. The reef system is home to an underwater sinkhole called the Great Blue Hole, and to hundreds of other idyllic islands, snorkel and dive locations. And Ambergris Caye is the jumping off point to it all.
If you love water sports, this is the place for you. If you're a fisherman, you can hook a pretty big fish in these waters, but be warned that you may be hooked yourself. A growing number of foreigners are calling this island... and nearby Caye Caulker... home.
The larger of these two islands, Ambergris Caye is Belize's center for ocean sports during the day and for partying at night. It's the largest of the 200-plus islands off the country's coast. Most of the island's 12,000 residents (about one-third of which are expats) live in San Pedro, the only town on the island.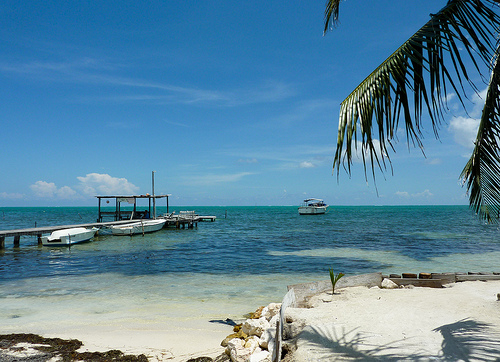 Caye Caulker, courtesy of Glynna Prentice, InternationalLiving.com
Don't worry -- it's easy to find your way around town. The three primary streets are called Front, Middle, and Back Street. And along them you'll find shops and businesses, and lots of fun bars, restaurants, and nightclubs.
Getting to the island is easy, too. You can take a ferry from the mainland for $15 one-way from Belize City and $22.50 from Corozal. The island is also serviced by hourly scheduled flights from Belize City's international and municipal airports and from Corozal. Flights take just 15 to 20 minutes and offer a breathtaking view of the Caribbean, including lots of little deserted islands.
The San Pedro airport is in the middle of town and it's easy to get from there to wherever you're going... either on foot or by taxi or by golf cart, the preferred means of on-land transportation.
What's life on the island like? No shirt, no shoes, no problem is the unofficial slogan here, if that gives you an idea...
For good or bad, development is well underway. New hotels and residential communities continue to be built both south and north of town. North Ambergris, separated from the south by a river channel, and now with a new bridge, is starting to achieve critical mass. Previously totally off the grid, there is now electrical power.
The new hotels are very up-market. It's not unusual to pay $400 per night or more in high season. And remember, everything is imported, including food... except fish, of course. For sure, this is not a backpacker island. Items in the grocery stores and the upscale wine shops are expensive... you may get sticker shock. Liquor and wine will cost you twice what it costs at home, although local rum is affordable -- usually less than $10 a fifth. And the local Belikin beer is inexpensive and tasty.
The march of progress has been good to San Pedro in that there is now a new medical clinic. The San Pedro Polyclinic II, on Manta Ray Drive, was opened thanks to the long-time efforts of the San Pedro Lions Club. There are several other clinics on the island, too, as well as pharmacies and doctor's offices, although for any serious medical issue you'll need to go to a hospital in Belize City or to nearby Chetumal in Mexico.
A couple of other things to know about life on the island: the climate is sub-tropical. Weather is much like south Florida, and most of the year, temperatures will range from the mid-60s to the mid-80s. Offshore breezes add to the comfort level, although it can be humid. But it never freezes or frosts.
And yes, Belize is in the hurricane zone. Hurricane season is roughly June through November, although September and October are the most likely months for hurricanes. Still, if it's of any comfort, the statistical odds of a hurricane hitting Belize are less than for the U.S.
So how much does it cost to live on Ambergris Caye? Ambergris Caye is the most expensive address in Belize. But still, it should cost you less to live here than most anywhere in the US, Canada, or Europe. If it were us, we'd budget $3,000 to $3,500 a month to live here comfortably, including rent of $1,200 a month.
If you choose to live on neighboring smaller island of Caye Caulker, your monthly budget will probably be lower -- perhaps as much as one-third less.
There's really not much to spend money on in Caye Caulker. Aside from a few gift shops, shopping is limited. For groceries, probably Chan's Mini-Mart, down from the public pier, is the largest. For medical care, a doctor and nurse are on duty at the Medical Clinic. Atlantic Bank offers an ATM machine. Restaurants and bars tend to be more casual and less expensive on Caye Caulker, too. And this is exactly why some people prefer this island--it's still a charming, laidback small village atmosphere with a Caribbean vibe.
Only about 1,400 people live on Caye Caulker. And the tourists who go there are definitely more of the budget, backpacker variety. Bicycles or walking are the preferred modes of transportation on this tiny island. And restaurants and bars, as we said, are definitely low-key.
What about crime? There's not much to be afraid of on either Caye Caulker or Ambergris Caye. Most crimes are petty theft or crimes of convenience so it makes sense to take care of your things and not to flash large amounts of cash or jewelry. Ambergris Caye has seen rising crime levels as more tourists come to the island. Unfortunately, that happens everywhere in the world. Just use common sense, and as with any place, you'll quickly learn the areas to avoid.
Both islands are a delight. We've been traveling here for nearly 25 years now and we always love our visits. But island living isn't for everyone. But if you love the water and want to be just a couple of hours from the U.S. by air in a place where the mantra really is "no shoes, no shirt, no problem," this very well could be your place.
Watch out for our upcoming blogs where we break down the country by destination and tell you what it's like to live there.

Related articles:
Belize Part 1: Why Belize is a Great Place to Retire
Affordable Island-Living in the Caribbean
A Water Lover's Paradise: Belize's Affordable Caribbean Island
The Five Places Everyone Should Visit in Belize
For many years Belize has attracted people from all over the world who want to live in the sun while taking advantage of the country's real estate bargains, low cost of living, protection of assets and terrific fishing and diving. (Photo courtesy InternationalLiving.com)

Over the last few decades, expats have flocked to Ambergris Caye, and there are good reasons for its popularity. Ambergris and the small neighboring islands are among the most beautiful in this part of the world. As their popularity grew, Ambergris became Belize's center for ocean sports during the day and for partying at night. (Photo courtesy InternationalLiving.com)

Caye Caulker is the island just south of popular Ambergris Caye. It's much smaller—only 5 miles long and 1.2 miles wide—and much less developed than Ambergris. Many of the residents—who number only about 1,500—like it that way. Photo courtesy of InternationalLiving.com.

Many people arrive in Caye Caulker by water taxi from San Pedro. The trip takes half an hour, costs $7.50, and is worth the money—skimming across the Caribbean's blue waves, you can watch the island's white-sand shores, fringed with palms, gradually grow closer. Photo courtesy of InternationalLiving.com.

Home to the longest barrier reef on this side of the world, Placencia has some of the best snorkeling, sailing, and fishing anywhere. Photo courtesy of InternationalLiving.com.

Driving down the Placencia Peninsula, a 19-mile spit of land that parallels the mainland, it's easy to see its appeal. The water here is vivid blue, the beaches white sand. The palms sway in the breeze. And with the vast open sea to one side of the peninsula and tranquil lagoon on the other, it offers waterfront property and vistas on both sides. Photo courtesy of InternationalLiving.com.

Punta Gorda, or PG—as the locals call it—is an easy-going place with the benefit of cool bay breezes. Photo courtesy of InternationalLiving.com.

Belize isn't the cheapest country in the Western Hemisphere, but it takes less to live well in Belize than in most places in the U.S., Canada, or Europe. A couple can live well here on less than $2,000 a month, including rent. Photo courtesy of InternationalLiving.com.