One of my biggest mentors, both with cancer advice and with rescue admiration, is my cousin Kris. She is a cancer thriver, and wellness warrior, not to mention, compassionate and informative also. I couldn't help reach out to her to have her share her compelling story about Buddy, who she found in the woods with her husband Brian Fassett. I have to say the journey was one of my favorite Intsagram feeds ever!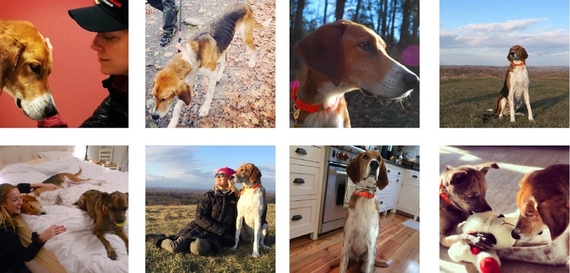 Kris: "Last October, my husband and I were on a hike when we found an extremely sick coonhound on the side of a mountain. He was severely malnourished and emaciated. In fact, the vet told us that we were his miracle as he probably only had a few days left of life. After weeks of searching for his owner, making countless trips to the vet, nursing him back to health around the clock, and showering him with love, we knew we'd never be able to give him up. Since that time, "Buddy" has blossomed into a beloved addition to our family. Older and sick animals are often overlooked in the adoption process.
Puppies tend to get most of the attention, naturally so, they're adorable! But as someone who has adopted both a puppy and an aging, wounded survivor, both bring a deep reservoir of love to our lives. And the older guys have such wisdom and perhaps even more appreciation. It's as if they know you gave them one last chance. If Buddy had gone into the adoption system, he might not have made it out, especially if he'd been transported to a kill shelter. I'm thankful everyday for that glorious hike that lead us to our cherished guy. He's taught us so much about compassion, resilience and healing." #gobuddygo #adoptdontshop
SUBSCRIBE AND FOLLOW
Get top stories and blog posts emailed to me each day. Newsletters may offer personalized content or advertisements.
Learn more