Just days before Halloween, when my daughter Zoe was almost 4, we found ourselves inpatient (again) at our local hospital. Fall had just arrived in Arizona, and though the days were bright and sunny, the weather in the desert was finally, deliciously cooling.
Zoe however was captive to the constant glow of hospital lights, in-and-out nurses and needle pokes. When Zoe would start to whimper or cry, I sang softly in her ear, pressing my cheek to hers, our tears would meet and mingle, as I held her tight against me. I held her still for the nurses, and I held her still for my own mother-love instinct to comfort and soothe. I whispered it's almost over and we will be home soon for Halloween.
Zoe understood. She knew the routine and within a couple of days she began to feel better. Her little body was resting against me one morning, our practiced hospital bed position, when a woman, pulling a little red wagon entered our room. She smiled, called Zoe by name, and reached into her wagon pulling out a large, heavy real pumpkin that she placed in Zoe's lap. Zoe immediately exclaimed, repeating "Happy Halloween" in her own way, as she began laughing and smiling, one hand holding the rough stem, the other clutching the pumpkin close to her chest.
Throughout our last day and night in the hospital, Zoe stayed physically attached to her pumpkin. She sang to her pumpkin, stroked it and slept with it too. This pumpkin that had no jack-o-lantern face, no soft confines, no sparkly glitter, just natural farm beauty, made my girl smile and smile. Celebrating the simple gift of this pumpkin, she made her own Halloween.
When Halloween came again the next year, I began to worry about balancing Zoe's special needs, her health during flu season, and the excitement for wearing her costume and trick or treating. Both of my daughters ran out of energy so early in the evening, and the dark of Halloween was a challenge for Zoe's vision. The gift of the pumpkin came back to me then, the reminder how Zoe happily had made her own Halloween, as she embraced the simple gift of her pumpkin.
That year I made our own Halloween, and we celebrated with an afternoon Halloween party. There were costumes and candy, amazing decorations and great fun and games -- all in the safety of our home.
Each Halloween after, I followed the fun, determining the most important factors. One year it was spooky, glow in the dark and lighted Halloween decorations, so we created a scary scene on our side patio, visible through our French doors from the kitchen table.
Last year, Zoe wanted to be comfortable and cute ( and wear makeup!) and use her manual wheelchair to go trick-or-treating -- it is too dark for her to drive her power chair independently, and so we designed a zombie cheerleader costume, that she totally rocked.
This Halloween Zoe wants to dress up, and hand out candy with her Dad from our driveway. She wants to see the kids in costume and she insists the front walk must be spookily lit and decorated. Zoe has been content crafting special decorations to set the scene. Buying her favorite candy to hand out guarantees the candy loot she is excited about, and for her, this makes her Halloween.
Like any celebration, Halloween is really about what's FUN for your family, and not the endless hype for the one night of dressing up in costumes and store-bought decorations. This is the lesson I learned long ago -- when I saw the light in my little girl's eyes, and the smile on her face, while her arms held tight her real Halloween pumpkin in her hospital bed.
From My Family to Yours: How to Find Your Halloween Fun
Talk About Traditions. What are your must-have's? Pumpkin pie after trick-or-treating? A trip to the Pumpkin Farm or to the Haunted House? Making pumpkin sugar cookies or crafting Halloween creations? Getting gory with the costumes or gooping on the make up? Ask your family what traditions really matter and spread them out throughout the season.
Hate The Halloween Hype? Host your own party with your own terms -- make that the main act for your Halloween, with Halloween night trick-or-treating the follow up festivity. From toddlers to teens, make it your own and keep everyone happy.
Make It a Harvest Halloween. Not into spooky stuff? Celebrate the Harvest season, with pumpkins, food and family fun. Check out Pinterest for inspiring ideas.
Embrace Everyone's Halloween. Halloween can be challenging for families with special needs kids; understanding, awareness and patience are appreciated. Be accepting, some children:
Need help reaching for a piece of candy; if possible be mindful of possibly severe allergy and dietary restrictions. Stay away from peanuts and consider a small toy/sticker or non-food option.
May not be in costume due to autism or sensory issues.
May not say "trick or treat" because they are non-verbal.
May not reach your front door and stop at a distance, due to special issues or mobility issues.
Candy Crush Secret Weapon. Are your kid's crazy about a certain candy? Consider making this the candy you hand out on Halloween. When Zoe's big sister starts slowing down on the trick-or-treat trail, all I have to do is mention there is plenty of her favorite candy at home -- and she's done for the night. Sneaky, I know.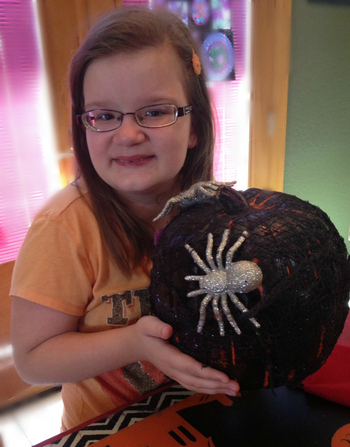 SUBSCRIBE TO & FOLLOW PARENTS
HuffPost Parents offers a daily dose of personal stories, helpful advice and comedic takes on what it's like to raise kids today. Learn more