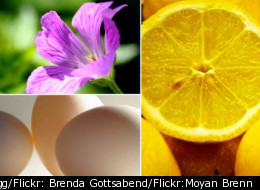 Beautiful skin starts with good nutrition. Eat a healthy, well-balanced diet high in fruits, vegetables, seeds, nuts and whole grains, including foods from all the basic food groups to make sure your skin gets the nutrients it needs. The most-recycled tip I hear from both my facialist and my clients is this one: Drink plenty of water during December and January to prevent excessive dryness.
I have put together a list of foods (that you likely have in your kitchen) for their nutritional benefits. They do wonders for your skin -- and, with the exception of crushed geranium, both internally and topically!
Natural Ingredients for Better Skin in the New Year
You can put strawberries directly on your face by mushing them into a mask, or by just rubbing them over your skin. They'll combat oil, work as an antioxidant, and brighten your face. Don't forget, they also whiten your teeth. So rub your teeth before you eat them up. Flickr photo by Sancho McCann

You can use the whole egg, or you can just use an egg white. The whole egg will offer a little more moisturizing, and the egg white alone will firm your skin and tighten pores. Just rub it over a clean face, let it dry, and you have a simple, easy egg white facial mask. Another idea is to beat one egg and stir in a teaspoon of olive oil. Smooth the mixture over your skin and allow it to dry completely. Then dissolve a teaspoon of baking soda in a small basin of hot water. Dip a cotton ball into the soda-water solution and use it to remove the egg mask. Flickr photo by Brenda Gottsabend

Lemon juice, a natural astringent, tightens up pores, cuts through oil and squeaky cleans your face to a nice, bright shine. You can put it directly on your face, as long as you wash it off within five minutes. You can treat acne with lemon juice mixed with rose water. The rose water acts as an antibacterial skin toner and it helps mitigate the acidity of lemon juice. GrannyMed.com recommends mixing the two liquids in equal parts and applying the solution directly to the face. You may feel a bit of a sting at first. Allow it to sit on your skin for 30 minutes before washing with warm water. Flickr photo by Moyan Brenn

These exfoliate almost unlike any other fruit or vegetable and give new life to a dull complexion. (Exfoliating is necessary to eliminating dead skin cells, toxins and other deposits, and helps the skin to get rid of dullness and brings back the lost glow.) Bananas also moisturize, and are great for all types of skin. Mush it up -- add a little honey if you'd like -- and rub it on your face. Leave on for 10 minutes. Rinse. Flickr photo by Ian Ransley

Grind 'em up into a fine powder, add some water so that the result is a malleable paste, and they make a really great moisturizing scrub. Or add some milk or honey and turn oats into a very luxurious and cost-effective way to soothe dry or sunburned skin. (Similarly, almonds work a lot like oats. You can grind them up, toss them in the food processor and turn them into a powder. Use them as a facial scrub -- they moisturize, exfoliate, and cleanse.)

The lactic acid in yogurt leaves your skin fresh and exfoliated. Yogurt moisturizes and brightens your face (a lot, so don't leave on too much for too long, unless you really want some lightening). Flickr photo by jenniferworthen

Olive oil is a centuries-old beauty staple. Moisturize your face with it, condition your hair with it, or add some salt or sugar to it to make the easiest scrub ever. A good rule of thumb when buying olive oils (or any oils, for that matter): Go for extra virgin, expeller-pressed, and organic when you can. Flickr photo by Flavio@Flickr

Flowers are not only pretty to look at, but some varieties have unique qualities that when extracted and used properly, make us pretty to look at! Geranium is used for skin hydration, wrinkle reduction, aromatherapy and even in aiding more serious conditions such as acne and eczema. Ilona Moldavon, a European esthetician for over 50 years, says that geranium has Botox-like capabilities by lifting the skin and minimizing the pores, which is why it is the star ingredient in her ARC Beauty skincare line. Flickr photo by Andrew Fogg

Internally, coconut water replaces lost electrolytes from intense workouts, such as hot yoga. Topically, it's great for the skin as an intense moisturizer. Licensed aesthetician and medical consultant Erica Zodtner says her favorite thing to do to pamper herself during the winter months is to sit in the bathtub and massage coconut oil into her skin. "The molecule structure is so large that it won't break you out, but penetrates just enough to hydrate your skin and plump it up a bit. Plus it's a natural antioxidant."
With these easy, everyday ingredients, you have no excuse not start off the new year with a fresh and healthy glow!
Spray-tanning expert Svetlana Feller is the innovative mind behind the first commercial spray tan treatment. In 2007 -- after many hours working with chemists and thousands of spray tan applications -- she opened Spray di Sole, the original "spray-only" spray lounge in Studio City, Califor-nia. In a few short years, Svetlana has become the most sought-after spray tan artist in Hollywood, perfecting the skin of stars from LeAnn Rimes to Sylvester Stallone. Using an organic high-grade vitamin-enriched solution that is nourishing to the skin, Svetlana combines specialty techniques that contour every body. She has been featured on "The Doctors" and "Good Day LA," and has written for or been interviewed in CoCo Eco, Genlux, Haute Living and Brides. Spray di Sole is featured on 5-Star ho-tel spa menus such as The Four Seasons Spa Hotels, Trump SOHO and MGM Grand in Las Vegas, and has affiliates across the United States and Canada. Visit Svetlana on Red Room, where you can read her blog.