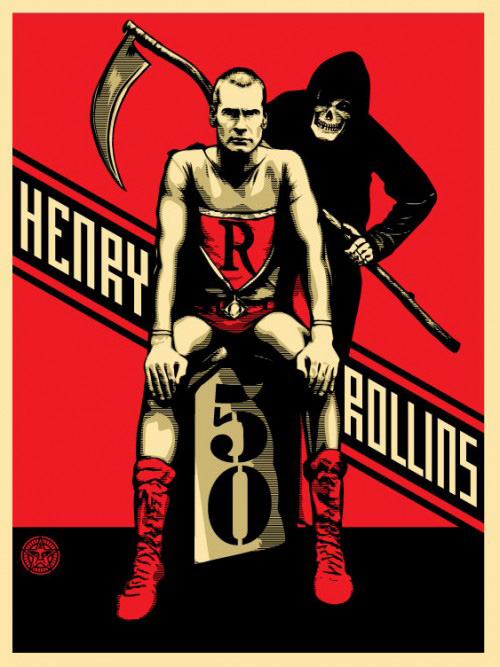 Henry Rollins stalks the earth. Tibet. Uganda. Mongolia. North Korea. The Costco in Burbank. He pounced onto the stage at LA's Largo to demonstrate relentless curiosity about the world and concern for it as he performed the first in a series of spoken word shows celebrating his fiftieth birthday. Hardcore/punk is a bell he can't unring. It is a mandate impossible to live, and a goad toward constant confrontation he can't ignore. Confrontation has been his lifestyle. At fifty it is his legacy.
He's all about politics. He opened with speculations about recent events in Egypt. He warned that too many Western governments have a vested interest in a demonized Muslim world and will attempt to misrepresent the Egyptian people's dignified demands for democracy as something terrifying and threatening as a ploy to keep their war policies in place. Then he reminisced about his times in 1980s LA when he was the frontman for Black Flag, sleeping on the floor of the SST record company office, breaking into a studio to rehearse, and wandering out to a 7/11 to get dinner that consisted of a single candy bar. Street artist Shepard Fairey (art shown above) was in the audience to hear about Rollins' "streetbombing" LA with Raymond Pettibon-designed fliers advertising Black Flag gigs and getting busted by the police. The cops turned belligerent when they saw the name of the band on the flier. Black Flag founder Greg Ginn told the officers a woeful tale of poverty and powerlessness, claiming he'd never heard of any band named Black Flag. Someone had hired them to hang posters. They were just trying to earn a few bucks. The cops confiscated the fliers. Ginn and Rollins had tons more and kept slapping them on signposts all the way west to UCLA.
Rollins' comic recounting of his visit to Kim Jong-Il's North Korea was his starkest example of his theme of how governments over-police their citizens. Rollins portrayed his Pyongyang tour guide Kim compassionately. The woman assigned to spy on him earned his contempt. He told about his time in the presence of the preserved corpse of Kim Il-Sung with the kind of hilarity that kept shining a light on the helplessness and hopelessness of the duped North Korean people. Rollins showed a link between them and the world's loneliest and shakiest man, whom he chatted with at the Burbank Costco. He tried to push back against that man's loneliness. And Rollins admitted that it isn't endless hours with sweet-bottomed babes that constitute his own push-back against loneliness most LA nights. He is, instead, comforted by evenings spent listening solo to Houses of the Holy in stereo followed by Houses of the Holy in mono.
All over LA and Orange Counties people are stuck in traffic and worried about their immediate and long-term futures. It is funny how listening to the punk music that was born in So Cal helps the helplessness because punk as a movement has been proved to have died almost before it began. (I'm obsessed with Nicholas Rombes' amazing book, A Cultural Dictionary of Punk from Continuum Books, and carry it everywhere.) But I still motor through Woodland Hills powered by the knowledge that Bad Religion has a new album and tour. When the Amtrak train I take from Van Nuys to San Diego pulls up to the Fullerton stop, I freak out every time with love for Mike Ness, Social Distortion, their new Billboard Top 5 album, all their old albums, and the whole Orange County music scene. I also always think about Jeff Buckley as we roll from Fullerton to Anaheim. I'm excited to know about new OC bands, like Fiction Reform, that carry on traditions of OC punk or a band called Kiev that has some of Buckley's grace. I salute KROQ's support of the upcoming Orange County Music Awards. I didn't know that I would keep needing music so badly. Or that you never stop being a Kid of the Black Hole. It still helps to slump against a wall in the dark and play the Adolescents or Black Flag or the Minutemen or stuff by new bands. And, as Rollins insists, as Shepard Fairey insists, it also helps to get out and confront the world, to paste something a little better over the incomprehensible acts of nations and corporations. Punk is dead yet there is some kind of power, still pretty raw, in seeing Social Distortion, Bad Religion, Suicidal Tendencies, Greg Ginn and The Taylor Texas Corrugators, Fiction Reform, or Henry Rollins live. The contradictions don't stop. Slumping against a wall in the dark actually cracks open real daylight.
Henry Rollins performs at Largo through February 21, 2011. Contact largo-la.com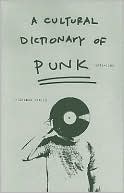 Check out A Cultural Dictionary of Punk here
SUBSCRIBE TO & FOLLOW THE MORNING EMAIL
The Morning Email helps you start your workday with everything you need to know: breaking news, entertainment and a dash of fun. Learn more