Are animal rights any more or less important than human rights? While foreign affairs dominate the front pages of America's newspapers, some might think that concern about the welfare of animals is secondary to the events in Japan, Libya and the rest of the Middle East. I beg to differ.
From its first stirrings in our country in the 19th century, animal protection has always been deeply connected to the broader principles of justice and fairness and the rights of the individual.
This was my second year attending the Genesis Awards, an event that pays tribute to major news and entertainment media for producing outstanding works that raise public awareness of animal issues. At the event, "Sex and the City" star Kristin Davis was honored for the media attention she brought to the plight of orphaned African elephants harmed by the increase in elephant poaching for their ivory tusks.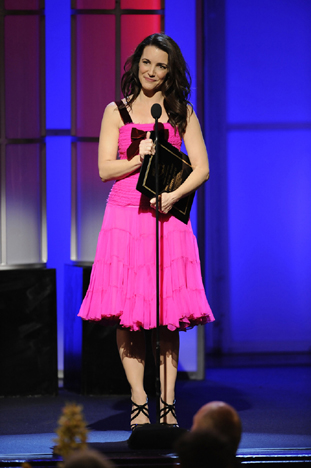 Kristin Davis received The Wyler Award, one of HSUS' most prestigious honors, in recognition of the media attention she brought to the plight of orphaned African elephants impacted by the increase in elephant poaching for their ivory tusks. Photo credit: Tim Long/Long Photography
"Ultimately as a society, the better we treat animals, it says a lot more about us," said actress Constance Marie, in an interview with me. Constance has been a vegetarian for 25 years. "I understand if people choose to eat animals, but you don't have to treat them cruelly."
Are animal rights and human rights interrelated?
You betcha. We are all connected. We know this by now. If you still doubt this, just hop on Facebook for a few minutes and see how you can connect with people from most anywhere in the world. Doesn't it make sense that if we are treating an animal cruelly or hurting it in some way, that it's a reflection of how we are treating each other?
As Wayne Pacelle pointed out on Saturday to a roomful of animal rights activists, so many of us in American society have different passions. "Some are deeply committed to curing diseases that afflict people, or protecting the environment, or sheltering the homeless or fighting poverty. And so many of us here are deeply concerned about fighting cruelty to animals." He remarked that it is in that pluralism of concerns, that we have the matrix of a civil and compassionate society.
Think about how the movements to end slavery, to provide women's suffrage and to promote civil rights happened in the United States. People gathered together, organized themselves and spoke collectively about what they knew to be humane. Since animals can't speak for themselves (at least not in words readily understood by most people), we need to gather for them, organize ourselves and use our voices to speak collectively to end their abuse through such common practices as factory farming, puppy mills, animal fighting, elephant poaching and seal clubbing.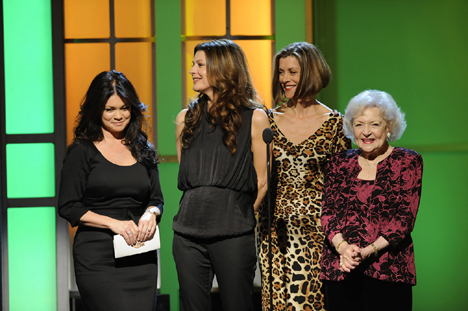 "Hot in Cleveland" stars Valerie Bertinelli, Jane Leeves, Wendie Malick and Betty White present the Sid Caesar Comedy Award to "The Colbert Report" for satirizing bullfighters. Photo credit: Tim Long/Long Photography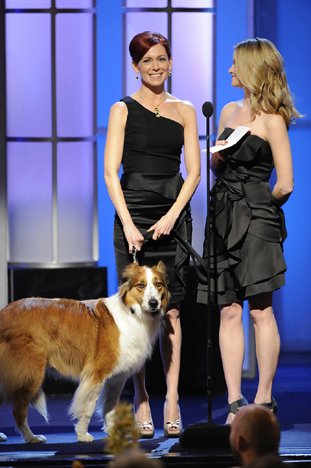 "True Blood" stars Carrie Preston, Lindsay Pulsipher and Dusty get ready to present the Genesis Award for Reality TV Series. The Winner: LAST CHANCE HIGHWAY "The Great Escape" produced for Animal Planet. This series looks at one woman's effective approach to rescuing, rehabilitating and finding loving homes for unwanted dogs. Photo credit: Tim Long/Long Photography
HSUS works to improve the lives of animals by advocating for better laws; investigating animal cruelty; encouraging corporations to adopt animal-friendly policies; conducting animal rescue and emergency response; and providing direct care for thousands of animals at our sanctuaries, emergency shelters, wildlife rehabilitation centers and mobile veterinary clinics.
After 20 years of being a vegetarian, I think I am finally ready to call myself an animal rights activist. I am ready to do more on my part by using my voice to increase awareness of animal cruelty and share steps that can be taken to make animal rights every bit as important as human rights. Ultimately, it's about more humane treatment of all beings.
To see a full list of Genesis Awards winners, click here.
If you think someone in the media should receive a Genesis Award next year for their work in increasing public awareness of animal issues, please see details here for how to submit.
Click here to find out how you can get involved with the Humane Society of the United States.

SUBSCRIBE TO & FOLLOW TRUMP'S FIRST 100 DAYS
How will Donald Trump's first 100 days impact YOU? Subscribe, choose the community that you most identify with or want to learn more about and we'll send you the news that matters most once a week throughout Trump's first 100 days in office. Learn more