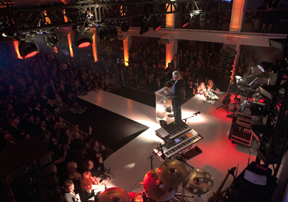 Last night in Hollywood, President Clinton hosted a Millennium Network event where hundreds of young professionals, philanthropists, students and a handful of celebrities joined together in support of the work of the William J. Clinton Foundation.
"I really believe that this generation of young people has more power than any before it to change the world for the better," said Clinton to an excited room at Boulevard3 on Sunset Strip.
Inspired by President Clinton's vision to encourage the next generation of leaders and philanthropists to address global challenges, The Clinton Foundation Millennium Network invites individuals age 45 and under to get involved in the work of the Clinton Foundation. This includes building and promoting economic development in underserved communities and developing nations, combating the childhood obesity epidemic in the United States, fighting global climate change, furthering sustainable development, and building health systems around the world.
The Foundation says that at its core, the Millennium Network is a platform for action, giving emerging philanthropists a way to support a foundation that has already achieved measurable, positive results.
One example of a project with measurable results that the foundation funded is an organization started by actress Maria Bello and three other women called WE ADVANCE.
"It's a project against gender-based violence in Haiti for women's health, safety and well-being," Maria told me in an interview last night. WE ADVANCE was founded in the aftermath of the Haiti earthquake, and in February 2011, they spearheaded a movement to open a women's clinic in one of the poorest slums in Port-au-Prince. "It's the only women's clinic ever, and The Clinton Foundation gave us the first grant to start it," she said.
Soon after the clinic opened, they developed a training program for nurses and midwives, and today the clinic serves more than 200 women per day. They offer services ranging from gynecological care to the reporting of gender-based violence and referrals for the women most at risk.
"To see the strength of this women's movement, to see how that is really filtering down to grassroots organizations made up of women, leading up to the [Haitian] elections on Monday has been incredibly empowering," said Bello.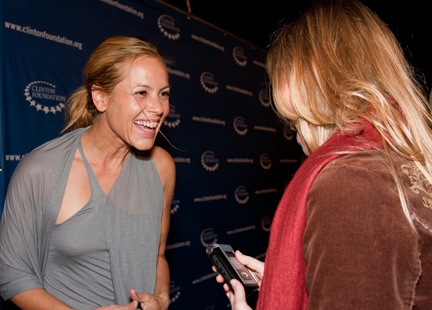 "I think the more we care -- whether it's in our country or another country -- the more we care in general," says Bello. Photo credit: Lee Schneider
The Clinton Foundation has helped two million people living with HIV/AIDS access lifesaving treatment, 40 cities fight global climate change and more than 10,000 schools promote healthier educational environments. Additionally, since 2005, the Clinton Global Initiative Annual Meetings have brought together 125 former and current heads of state; 15 Nobel Peace Prize Laureates; hundreds of leading CEOs; heads of foundations; major philanthropists; and directors of the most effective NGOs to make Commitments to Action to improve lives around the world. In that time, nearly 1,700 Commitments to Action have been made, valued at $57 billion to improve more than 200 million lives in 170 countries.

"In many ways, it is one of the most rewarding things I have done," President Clinton has said about starting the Millennium Network.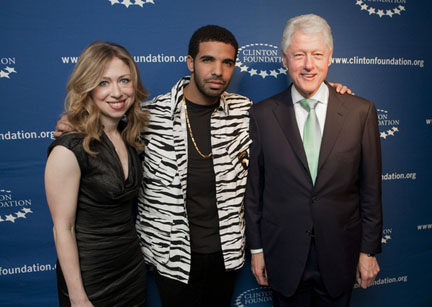 Thursday's event featured a special performance by Drake, who closed the ceremony. Chelsea Clinton was also in attendance, with her husband Marc Mezvinsky. Photo credit: Adam Schultz/Clinton Foundation
The Honorary Ambassadors of the event's hosting committee included Will Arnett, Kristen Bell, Bradley Cooper, Jamie Foxx, Matthew McConaughey, Amy Poehler, Adrian Grenier, Adam Levine, Will Forte, John Krasinski and Michael Strahan.
Previous Millennium Network events have been held in San Francisco, New York City, London, Chicago, Brooklyn and Miami.
To become involved in Millennium Network, register for an upcoming event, join a host committee or visit the Clinton Foundation website for more information: www.clintonfoundation.org/mn.
First photo is courtesy of Adam Schultz/Clinton Foundation
SUBSCRIBE TO & FOLLOW TRUMP'S FIRST 100 DAYS
How will Donald Trump's first 100 days impact YOU? Subscribe, choose the community that you most identify with or want to learn more about and we'll send you the news that matters most once a week throughout Trump's first 100 days in office. Learn more