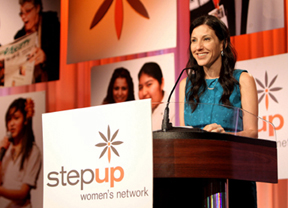 Thirteen years ago, Kaye Popofsy Kramer posed a challenge to a small community of women in Los Angeles. As the circle of women sat in her living room, supporting Kaye after her mom's recent breast cancer diagnosis, Kaye asked: How can we take a more proactive role in our community ... how can we make a difference?
"My mother taught me that repairing the world is not an abstract concept," said Kaye. "It requires us to take action, and in doing so, forces us to confront our fears, to push our boundaries, and to act across lines of race, gender, religion and class."
Inspired by the wisdom of Kaye's mom, the 30 women in Kaye's living room decided it was time for them to take action on that day and create something that could better their future and the future of other women. The result: Step Up Women's Network.
Last Friday I attended the Step Up Women's Network Inspiration Awards at the Beverly Hilton in Beverly Hills. The event showcased the inspiring work of this non-profit organization that connects professional women with teen girls living in poverty who can benefit from their love and guidance. The program is active in Los Angeles, New York and Chicago.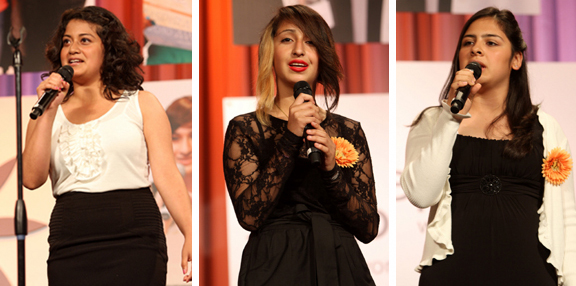 Isidra Favela (L) of Gertz-Ressler High School, Ali Vidrio (C) of Environmental Science & Technology High School, and Bany Guardado (R) of Los Angeles Leadership Academy speak about how Step Up Women's Network has changed their life. photo credit: Amy Tierney/Elevation/PictureGroup
"Girls my age usually talk about getting married and having kids after high school - living under a man. They don't talk about being independent, and doing more than what everyone else is doing." - Step Up Teen
With violence, abuse and addiction inside their homes and bullets, drugs, and gangs outside their front door, these girls are at risk for a dismal future. "I realized if I was going to make anything of my life, I needed to get out. I had to leave," said one Step Up Teen.
Another young woman said: "A lot of time I've been told to just give up because of my race or because of statistics." Yes, the statistics are disheartening. Did you know that one in three students nationwide drops out from high school?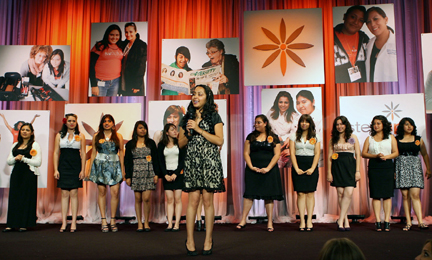 photo credit: Amy Tierney/Elevation/PictureGroup
"They are the next generation of leaders." - Jenni Luke
The way Step Up works is that the girls promise Step Up in the ninth grade that they'll stick with them through their senior year, and Step Up promises to the girls that they will graduate high school confident, college-bound and career ready, "These girls are strong and resilient, and they are eager to overcome their circumstances," said Jenni Luke, Step Up Women's Network CEO.
"Our daughters our the future. They are the workers. They are the leaders. They are the mentors. They are the mothers. It's vital that we give them the tools. We can not leave it to chance." - Kaye Popofsky Kramer
Through mentorship, after-school programming, internships, college tours, and support throughout the entire college application process, Step Up has seen a great success rate with the girls. In 2010, 100 percent of the Step Up teens nationwide graduated from high school and 100 percent got accepted to college. The same can be said for the class of 2011.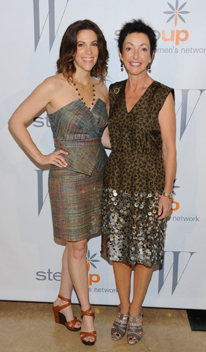 Step Up Women's Network CEO Jenni Luke (L) with Dermalogica Founder & Owner Jane Wurwand (R). Jane was honored at the Step Up Inspiration Awards for her exemplary commitment to investing in the community through finances, mentorship, and teen internships at Dermalogica. photo credit: Amanda Edwards/Elevation/PictureGroup
Today Step Up Teens are attending some of the top colleges in the country including Yale University, Barnard College, UCLA, Dartmouth, Vassar College, and studying to be leaders in the fields of communications, economics, animation, foreign affairs, medicine, and law.
As each new generation of Step Up women succeeds and gives back, it provides a cycle of inspiration and philanthropy that advances women and girls everywhere. As Lulu, a junior in high school said: "It's important for my sister to see me go to college because I want her to see that I made it. And when I graduate from college, I want to show her that she is going to make it."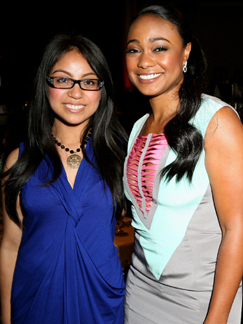 Yoselin Melgar (L), winner of 2011 Step Up Teen Scholarship, with actress Tatyana Ali (R). "Through Step Up, I have become authentic, passionate and most of all, courageous. I won't let anything destroy my dreams," says Yoselin. In the fall, Yoselin is heading off to Kenyon College in Ohio. photo credit: Amy Tierney/Elevation/PictureGroup
The truth of the matter is that the cycle of poverty, violence and abuse that these girls face will not end unless we give them the opportunities and the tools to bring themselves out of it. In Kaye Popofsky Kramer's words: To mentor is a privilege. It is also a responsibility, and an obligation. Today, Step Up has a network of over 50,000 supporters nationwide.
To get involved with Step Up Women's Network, please visit www.suwn.org.
SUBSCRIBE TO & FOLLOW TRUMP'S FIRST 100 DAYS
How will Donald Trump's first 100 days impact YOU? Subscribe, choose the community that you most identify with or want to learn more about and we'll send you the news that matters most once a week throughout Trump's first 100 days in office. Learn more