Hotels For The Tech Geek (PHOTOS)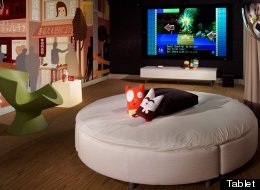 The arms race to wire hotel rooms with the latest, highest-tech toys means there's no shortage of options for the gadget geek, the telecommuter or even the gamer. But the best hotels go further than simply plugging in the newest electronics. Instead they blend high technology with high design, resulting in rooms that are greater than the sum of their screens.
Here are our favorite Tablet hotels for the tech geek.
Want to check in? Our Magazine features a wide range of hotel and travel content.
Conceived in part by electronics artist Rafael Lozano Hemmer, Blow Up Hall is as much a participatory, real-time video art installation as it is a high-design boutique hotel. The live goings-on in the public spaces are incorporated into the video projections, and there are no room numbers, just interactive screens outside each door, with hotel-issued iPhones to lead the way and let you in.

The geothermal power plant in the basement of the Kameha Grand does most of the hotel's heating and cooling, making the striking modern building nearly emission-free. For some smaller-scale technology, the Games suite has a Nintendo Wii and the Hero suite has all the gadgetry required of a modern office.

Hard to believe the high-tech, anime-themed Hotel Tomo was a Best Western before the Joie de Vivre group took over. Now it's got murals by anime artist Heisuke Kitazawa, video-art installations, a vending machine in the lobby selling Giant Robot toys, and a Player's suite equipped with an eight-by-five-foot LCD screen, Nintendo Wii and Sony PS3.

At The Mira, each guest is issued a specially equipped phone, with calls transferred directly to the handheld and one-touch access to the concierge — helpful when you're lost, or need someone to explain the hotel's address to a taxi driver.

Andaz Wall Street doesn't just do away with the old-fashioned, wait-in-line check-in process; they've gotten rid of the front desk altogether. When you arrive, you're handed a tablet that checks you in and creates your key-card as you make your way to the room.

The LCD screens and Skype phones might be the more practical gadgets in the rooms at The Icon Hotel and Lounge, but it's the fingerprint-activated safes that set the hotel apart — good for travelers with some electronics of their own to protect, even better for those who can never remember their passwords.

Set against all the stately old Indian palaces is the modern, high-tech Vivanta by Taj - Whitefield in Bangalore. Geometric forms abound, and the rooms come with IP phones, thirty-two-inch home theater systems with surround sound, interactive LCD TVs and extremely fast wi-fi.
Follow Tablet on Twitter: www.twitter.com/TabletHotels