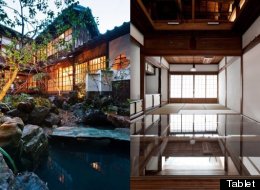 When it's time to really get away, there's nothing quite like the intimacy of a place all your own -- a hotel whose only other guests are the ones you brought along. These one- and two-room hotels run the gamut from a rural New Zealand farmhouse to a royal Roman residence, and they all come with maximum privacy.
Here are our favorite Tablet hotels for personal space.
Want to check in? Our Magazine features a wide range of hotel and travel content.
The intimate, upscale lodge in the middle of some stunning nowhere is something of a New Zealand specialty, so it's not for lack of competition that the one-suite Lodge at Tikana makes our list. This South Island farmhouse positively glows with warmth, and it's all the more welcoming under the guidance of your hosts Dave and Donna, who stock the fridge and stoke the fire, then pretty much give you the run of the place.

Housed in a palace owned by a princess, with scaled-up opulence to match, the Residenza Napoleone III can't exactly be called "intimate." To reach the Napoleon suite, you pass through a pair of massive wooden doors off Via Condotti, walk through an arcade lined with Doric columns, and climb a staircase stacked with antique marble busts — and that's before you've even reached the room, which couldn't have been any more impressive the day the emperor himself checked in.

Set in an oasis amidst the vast red Atacama desert of northern Chile, Atacamadventure feels a bit like an outpost on Mars — albeit a fairly cushy, design-conscious one. The eco-lodge's two rooms are decorated in the local style, with rustic natural materials and a color scheme straight out of the desert. The real point, though, is to get out and explore the landscape, either by foot or by horseback.

If you're after an experience of rural Japanese hospitality, it helps to have an entire ryokan to yourself. Kiya Ryokan takes just one booking per night, though it's a whole house, sleeping up to eight. Located in the sleepy city of Uwajima on Japan's southern island of Shikoku, Kiya has been hosting Japanese literary figures since 1911 — and after a recent renovation, it's as inviting as ever.
Follow Tablet on Twitter: www.twitter.com/TabletHotels