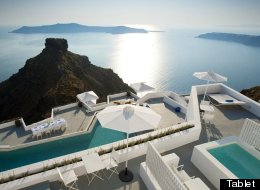 Everyone loves a beach hotel, but for an added bit of drama -- and a much improved view --
there's nothing like a cliffside perch. Here are 10 Tablet favorites.
Want to check in? Our Top 10 lists feature a wide range of top 10 hotel lists for any theme or purpose
No list of classic cliffside dwellings could possibly be complete without a mention of Santorini — it's got plenty, but Grace Santorini, with its tumbling terraces and minimalist-modern décor, might just be the most picturesque.

Perched at the northern edge of New Zealand's North Island, Kauri Cliffs feels like the edge of the known world — though one suspects that life at the actual edge of the world would be a bit rougher than it is here.

Bali may be known for its sea level splendor, but at Ayana the cliffside views offer a welcome change in perspective (literally). With pools and dining alcoves tucked into varying perches along the cliff, the views range from dramatic to even more dramatic.

Rio is a town that gives you plenty to look at, but few hotels have anything that can match La Suite's view: from this cozy residential enclave above Joatinga Beach you can look back up the coast and admire Ipanema from afar.

It's been a Madeira classic for generations, and while his palace is certainly something special, it's arguably Reid's Palace's taste in seaside real estate that's been the key to this hotel's extraordinarily long-lived appeal.

The views of Walker Bay would be extraordinary enough, even were the Marine Hermanus not positioned at a crossroads for migrating Southern Right Whales — so close you can watch them from the privacy of your room.

A Jamaican hotel without a sandy beach sounds unthinkable, but The Caves will show you a new, higher angle on this island paradise, where the Caribbean practically laps at your cottage's front door.

Seven-tenths of the earth's surface is covered in water, so it's only sensible that the bulk of The Earth Hotel's surroundings should be aquatic as well, with the primeval forest at its back and Toba Bay straight ahead.

The mythological Sirens lured sailors close to the cliffs with the promise of love; Le Sirenuse lures travelers to the cliffs of Positano with the promise of one of Italy's most extraordinary hotel experiences.

In spite of its coastal location the greater Los Angeles area has something of a shortage of hotels and resorts with proper, up-close, front-row ocean views — something that Terranea is doing its best to fix.
Follow Tablet on Twitter: www.twitter.com/TabletHotels