Many people have been coming in to Sprout over the last couple weeks with a flower in their hand and an important question -- what is the name of the blooming trees in the neighborhood that I see all over the place and can I buy one? These highly adaptable heavily flowering trees whose blooms scatter across yards and street boulevards are the Malus, or more commonly known as crabapple.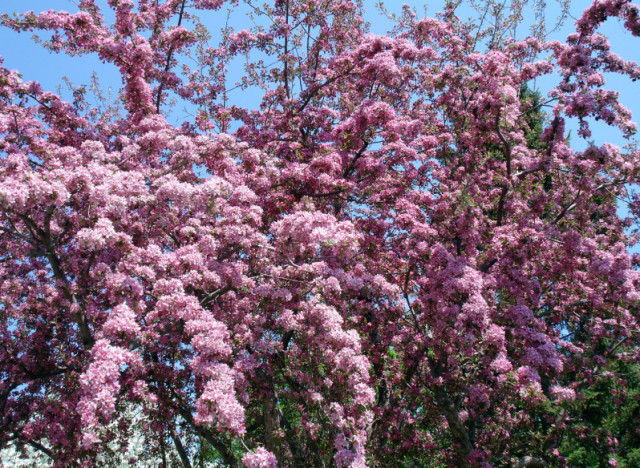 Flickr photo by daryl_mitchell
Sweet, happy, forever giving trees with no 'malice' -- the crabapple's prolific bloom is one of many reasons why this tree is so popular. The flower color ranges from white to fuchsia, blanketing the tree limbs normally from April to May, and starts with an interesting bud form (before they open) that can allude to the flower color being different than what it is. The crabapple puts so much energy in to blooming that you do not see many of the leaves until they are done with their bloom. They have all season interest as well, with some varieties exhibiting a colorful leaf display, contorted trunks and fruit.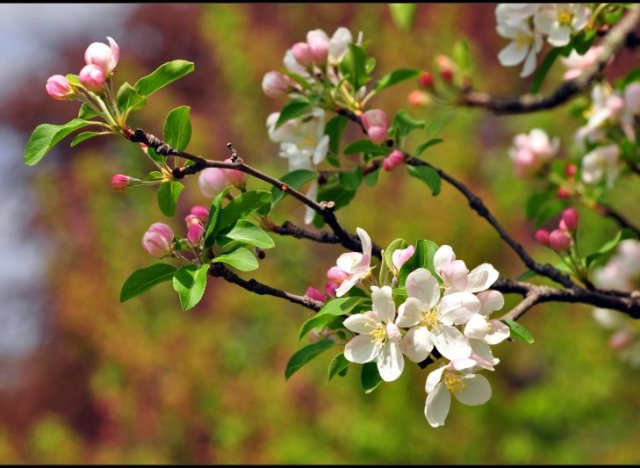 Flickr photo by TumblingRun

Crabapples are closely related to apple trees, the only major difference is that the crabapple fruit is 2" in diameter or less whereas traditional apples are over 2". The fruit can actually be used for jams or jellies but generally too tart to eat without preparation. If you are a canner and/or want to foster your edible garden select a crabapple variety with larger fruit. If you are concerned about the fruit making a mess, and are not one to can or bake a pie, select a smaller fruiting variety of crabapple. There are many newer and smaller varieties available where its fruit persists well in to winter versus dropping its fruit in the fall. So, you will not be dismayed by the 'mess'. They do best in full sun but can tolerate part shade. If in partial shade keep in mind that the bloom will not be as heavy. The crabapple tree can be quite drought tolerant once established and needs little care other than basic pruning for shape. Low maintenance, versatile and an overall pretty easy going tree, the crabapple is an ideal candidate for an urban yard where space can be an issue.
Crabapples are available in many different tree forms, in regards to shape, so pay attention to how the tree will grow when selecting one for your space. Since many varieties do stay small and have a fibrous root system they do quite well in containers to provide height to a deck when no yard is available. If you go the container route try under planting with late summer flowering annuals to contrast the bloom time of the Malus. Welcome spring, it has been a long time coming.