To make a fabulous presentation in your backyard or deck you don't have to spend big bucks on designer plants. What's old is new again and anything vintage or retro is back with a vengeance. By that we don't mean pot lucks with scary side dishes and jello molds, though you're welcome to if you want. Instead, we're talking about color blocking. It's popular in the world of fashion and what's cool in your closet is also cool in your garden.

Unless you live in a major metropolitan area usually the plants that will be available to you each season will come from a big box hardware or even grocery store. Although there's nothing wrong with these plants, some might feel a little lackluster about plain old marigolds or pansies. Sure they're tried and true, but when used in large blocks of colors in the same space, they have a whole new feel and can kick your design presence up a notch.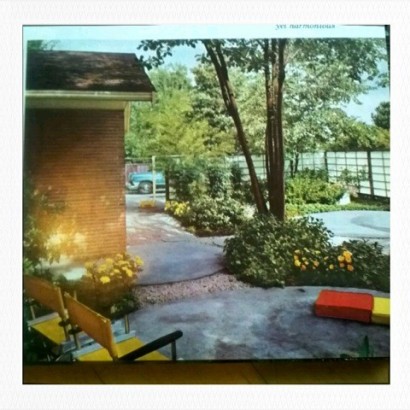 Everything from the decade of casseroles and the Brady Bunch was done with bright colors in big ways. In your garden you can easily fill an entire 4'x2' area with all of the same type of flower. Make it scream yellow or even red! Solid pops of color look great against industrial and modern elements alike and pair up well with wood, aluminum, iron, concrete and more. Annuals will give you the most bang for your buck and even if you have to replant them every year, they're often sold for a steal of a deal as bulk retailers purchase so many of the same plant they're able to pass the savings on to you.

Even if you're digging in your heels and dreaming of jewel toned floral patterns, we promise that your backyard won't look like a rerun. To help continue on the look, try painting side tables all a solid coordinating (not matching) color to help bring the space together. Maybe you're brave enough to paint your back door teal and have a solid run of white petunias nearby, or possible only have the ability to pick out a solid color planter or bistro table. The idea is to take colors you love and go all out -don't be scared to simplify and block it out.
Click through the slideshow below for more color inspiration.
All photos from Better Homes & Gardens 'Landscape Planning' book, Meredith publishing company, 1963
PHOTO GALLERIES
Sprout Home Color Inspiration