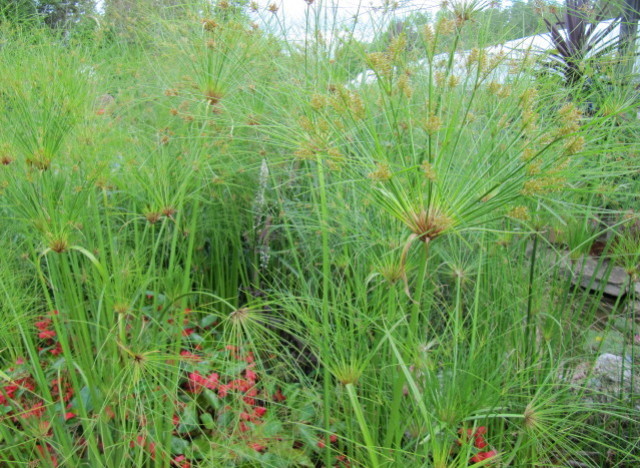 There is a Cyperus plant that has been gracing my living room for about five years now and not only does it differentiate itself in form,  but it has proven itself to be one of the easiest plants to
care for. Cyperus are vigorous aquatic/bog plants that produce clusters of erect green long stems tipped with  whorls of grass like bracts. It is as if you are looking at a group of upright small umbrellas, thus its most commonly used name--umbrella grass. Cyperus is a large genus of about 600 species of sedge and can be labeled with many different names including Cyperus Papyrus, Dwarf Papyrus Grass, Baby Tut, Umbrella Sedge.
No matter what variety of umbrella grass you select, this tropical plant has very easy care instructions. They enjoy warm conditions and do not tolerate frost very well.  If you live in a cooler climate make sure you take your plant inside before winter starts to set in. You can keep umbrella grass in its growers pot placing it in shallow water or plant it in a container making sure to keep the soil moist. If your umbrella plant goes a little too long without water the umbrellas will turn yellow and the leaf tips will start browning--cut off the brown umbrellas to allow new shoots to pop up. Umbrella grass also thrives in high humidity.  Take measures to increase the humidity when planted inside the home with an occasional spritz.  It grows best in bright filtered light but can handle some low intensity direct sun.
Native to Madagascar in Africa, the Cyperus sets a tropical tone whether it is outside or  planted inside the home. Try utilizing a larger Cyperus variety outside potted in a container or in your pond for drama and height. If you live in a warm climate be forewarned about planting it in the ground,  under the right conditions this vigorous grower can be invasive. Since it is an aquatic/bog plant it is impossible to over water it, making it is a perfect candidate for potting in a container that has no drain hole. Dwarf varieties of Umbrella grass such as 'Little Tut' can be potted in smaller sealed containers and used as a tabletop centerpiece or vertical screening on a windowsill. Plant with gravel on the bottom of the container and then just a normal potting mix is needed.  Finish off the top soil surface around the base of the plant with decorative stone for a polished look. You will not regret adding this no fuss aquatic king to your plant arsenal.
SUBSCRIBE AND FOLLOW
Get top stories and blog posts emailed to me each day. Newsletters may offer personalized content or advertisements.
Learn more