While citizens simmer down after a climactic election season and a euphoric Inauguration, the economic crisis continues to heat up -- and foreclosed victims are directly under the fire. There's certainly an aura of urgency being felt around the country, especially now since so many citizens are in the midst of this crisis.
We know who these folks are; they're our neighbors two doors down from us, our uncles and sisters who live in other states, our friends we grew up with, our co-workers. They're also strangers, in fact, 2.3 million families (in 2008), and while we don't know them personally we simply can't deny the severity of their situations. Considering how the banks, mortgage firms, and sheisty Wall Street panhandlers continue to operate as usual, it's no wonder victims of foreclosed homes feel utterly slighted.

But down doesn't mean out in the case of those fighting to save their homes. We're now seeing a surge in citizen uprising across the nation. People coming together protesting and demanding their voices be heard, refusing anything less than solutions to the foreclosure epidemic that lies at the very heart of the broader economic collapse

Leading the fight is the Association for Community Organizations for Reform Now. ACORN seeks to bring about an entirely new level of consciousness, ushering in homeowners to the center stage of the debate. ACORN wants to put a human face on a crisis that is largely understood in abstract economic jargon and lofty quantitative analysis. For ACORN, "[e]verything is one the table: disruption of sales, disruption of banking business, even refusing to be evicted or moving families back into their foreclosed homes."
In fact, actions have already been taking place across the country.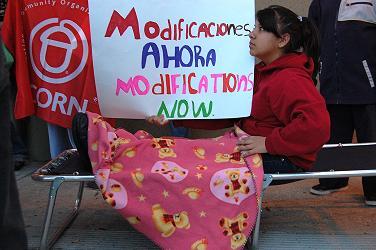 Brave New Foundation is also very much a part of these efforts by providing an interactive platform so that people whose homes have been foreclosed on can tell their stories and be key players in the debate currently going on in Washington, D.C.
Starting next month, Brave New Foundation will launch a website that will feature these stories from around the country. If you, or someone you know, are willing to be more than just a statistic of this crisis, tell us your stories. We are collecting video stories 2-3 minutes long. Below is a 'How To' video showing the simple steps of creating an online video.
If you don't have video capturing capability, no worries, you can tell us your story through the written word (about one paragraph long), and include a photo of your home.
As a guide, please choose one of the prompts below:
1) Tell us a story of a favorite moment, memory, or occasion you celebrated in your home, and how foreclosure would affect it.
2) Tell us some of the things you've done to try and save your home.
3) What was the main issue, problem, or situation that caused you to face foreclosure?
4) What can President Obama to do to help you keep your house?
5) Who do you think is most responsible for your situation -- the banks, the lenders, realtors, the government?
Enough of lunatic CEOs spewing nonsense. Enough of arrogant bankers and hedge fund managers committing crimes of the century. Enough of wishy-washy politicians who are so far removed in their understanding of fighting for livelihood. It's time the folks had the final word. It's not like we haven't had the final say before by electing a new and improved Administration to the White House. There's no reason why we can't speak out in the same way for our communities and neighborhoods in need.
SUBSCRIBE TO & FOLLOW TRUMP'S FIRST 100 DAYS
How will Donald Trump's first 100 days impact YOU? Subscribe, choose the community that you most identify with or want to learn more about and we'll send you the news that matters most once a week throughout Trump's first 100 days in office. Learn more