We were certainly not prepared for the frenzy surrounding shoe designer Christian Louboutin's personal appearance at Saks Fifth Avenue at Bal Harbour Shops on an otherwise quiet Monday afternoon. Had we been, we would have purchased our red-soled stilettos at pre-sale and gotten in line for the shoe signing hours early, not unlike anticipating a Justin Bieber concert.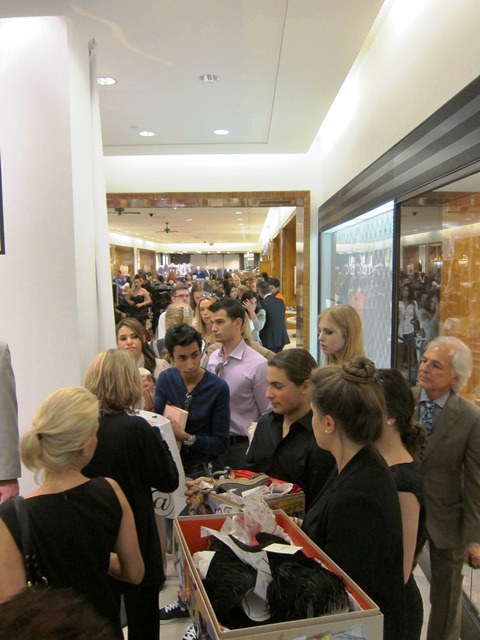 The throng of Louboutin devotees at Saks Fifth Avenue Bal Harbour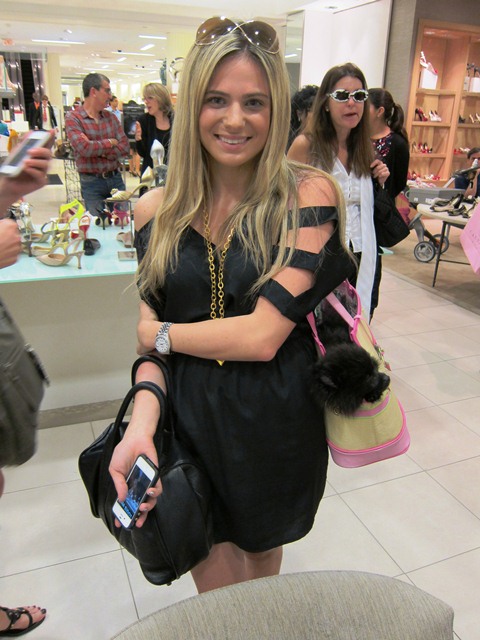 Black is the new black: Paris Dorfman with ebony Pomeranian pup, Merlin, in tow

Mr. Louboutin, the undisputed rockstar of footwear designers, made a stop in celebration of his brand's 20th anniversary. The event, which was called for 4:30 p.m., started like clockwork when the designer, escorted by a phalanx of Saks officials, handlers and security, descended on the elevator with the majesty of a royal. The crowd's hush was followed by wild applause as he was shuttled through the throngs to take his place at a white lacquered signing table.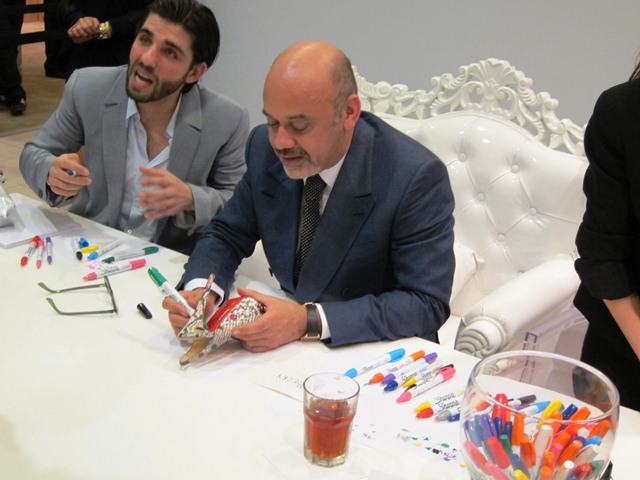 His Majesty Christian Louboutin signs a signature red sole for one of his many adoring subjects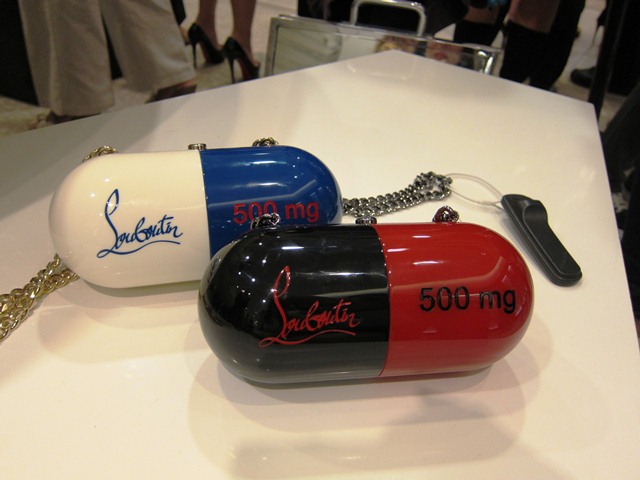 All dolled up: Christian Louboutin minaudieres from the 20th Anniversary Capsule Collection

Armed with candy-colored Sharpies, Mr. Louboutin took his time signing soles of shoe purchases while the sizeable line grew even longer. Among the standouts -- and there were many, with a collection of special anniversary shoes on display -- were a pair of pill-shaped minaudieres, not unlike giant celluloid Excedrin capsules, cheekily emblazoned with Mr. Louboutin's signature and '500mg' -- at $6,995 a pop. That's a high dose of glamour, indeed.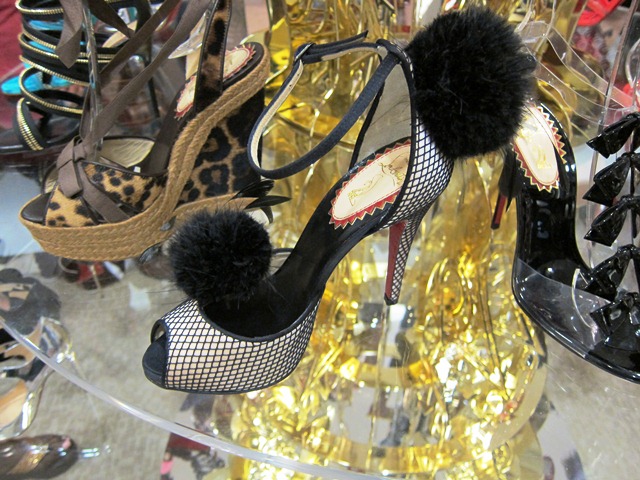 The cabaret-inspired Pluminette, part of the 20th Anniversary Capsule Collection
Susset Cabrera and Tatiana Santos, ever photo-ready
Later in the evening, a private dinner was held in the designer's honor at The Dutch at W South Beach.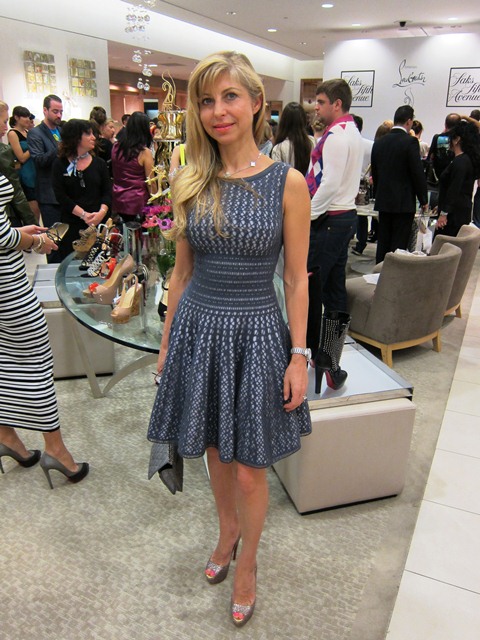 Galinda Dean, looking very Mad Men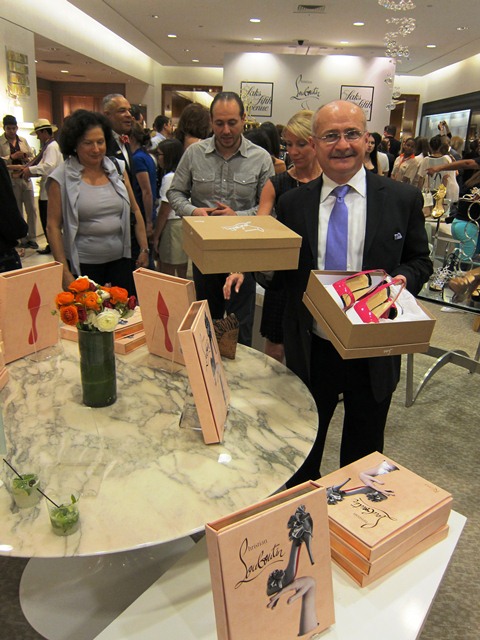 Saks shoe salesman Willy Ferrin feeds the hungry masses with box after box of Louboutins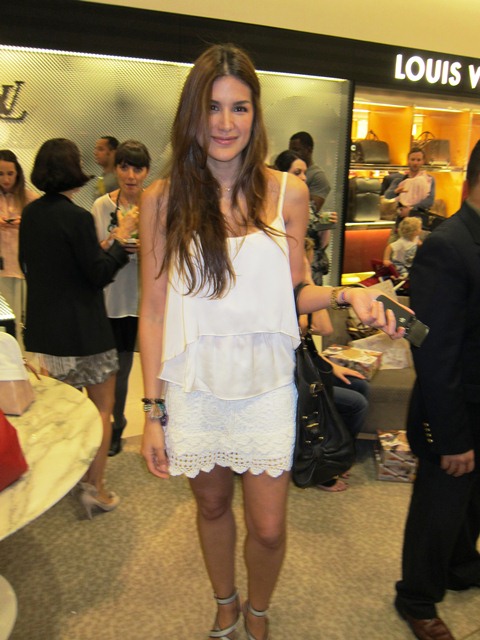 Model Penelope Sosa in leather and lace
SUBSCRIBE TO & FOLLOW THE MORNING EMAIL
The Morning Email helps you start your workday with everything you need to know: breaking news, entertainment and a dash of fun. Learn more