Last week I shot an ad for Wall-Mart yoga. This has to be by far the most impressive work I've done, if you ask the folks back home in Illinois. European designers, fashion magazines, and famous photographers are all a bunch of hoo-ha to my small-town family clan. My relatives have been paying attention to all things Tara Stiles ever since my first TV commercial for Illinois Tourism. In the dead of Chicago winter I was twirling on my pointe shoes in white leotard and tiny skirt. I thought I would never regain feeling in my feet, but eventually I thawed out and kept at it.
If you're from the Midwest you've been a Wal-Mart shopper probably since before you were born. Mom was slinging rollback-priced baby goods in the cart while you were swimming in her tummy. Every small town American knows the slogan, "If you can't get it at Wall-Mart you don't need it!" It's probably true.
I'm not praising all of Wal-Mart's practices and company history. The largest ever sex discrimination lawsuit was filed against them in 2001. Then in 2005 a federal jury returned a verdict of $7.5 million against Wal-Mart and an individual manager for discriminating against a disabled man with cerebral palsy. That verdict is one of the largest ever handed down under the ADA and has received worldwide media attention. And of course, how do they really make all these things we're enjoying so cheaply?
Still, there are good things, and Wal-Mart has made some changes in recent years. Health insurance coverage and minimum wage have been boosted. Wal-Mart has launched an ambitious environmental program. This is important because when you're Wal-Mart, cutting one-third of your plastic bag use drops 133 million pounds of plastic waste and 678,000 barrels of oil a year - a program they just launched with the Clinton Global Initiative and the Environmental Defense Fund. Probably it's a good sign that Wal-Mart is receiving criticism from conservative groups who argue the company's new activities are hurting business. Which of course is silliness.
The facts, history, and issues of Wal-Mart can be discussed passionately for hours. I've already heard strong opinions for and against my appearing in a Wal-Mart ad from people who think on all sides of the issue. When it comes to Wal-Mart people have a strong beliefs.
Honestly, I'm more concerned with helping people's lives on an individual and personal basis then spending too much effort digging into all the reasons why or why not I should be involved with each company I work with. If I spent too much energy finding out the negativities every time, I would be alone in my apartment sitting on my yoga mat wondering how I'm going to pay the bills. There has to be a balance. And in this case, the people win.
The people I am referring to are the Wal-Mart shoppers. I talked to the designer of the yoga clothes on the set of our shoot. She told me that the highest selling size at Wal-Mart is XXL. Number 2 is XL and you can figure out the rest. People need to exercise and pay more attention to their health. When Wal-Mart puts their focus on a workout line, it's going to reach a huge number of people. If I get to be a part of that, helping them hit the gym instead of hitting the drive-through on the way home, then I'm in!

Obesity Facts from the CDC
Fact: Obesity rates are soaring in the U.S.

Between 1980 and 2000, obesity rates doubled among adults. About 60 million adults, or 30% of the adult population, are now obese.
Similarly since 1980, overweight rates have doubled among children and tripled among adolescents - increasing the number of years they are exposed to the health risks of obesity.

Fact: Obesity is already having an adverse impact on young people

Type 2 diabetes - once believed to affect only adults - is now being
diagnosed among young people.
In some communities almost half of the pediatric diabetes cases are type 2, when in the past the total was close to zero. Although childhood-onset of Type 2 diabetes is still a rare condition, overweight children with this disease are at risk of suffering the serious complications of diabetes as adults, such as kidney disease, blindness, and amputations.
Sixty-one percent of overweight 5 to 10-year-olds already have at least one risk factor for heart disease, and 26% have two or more risk factors.
And now for the fun obesity comparison chart 1987-2007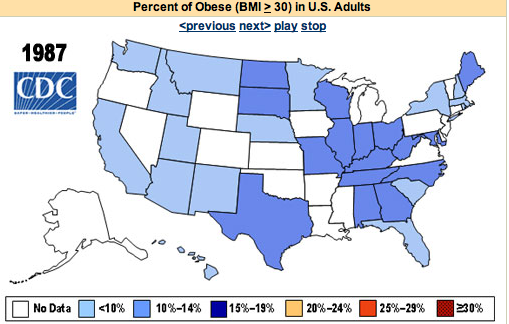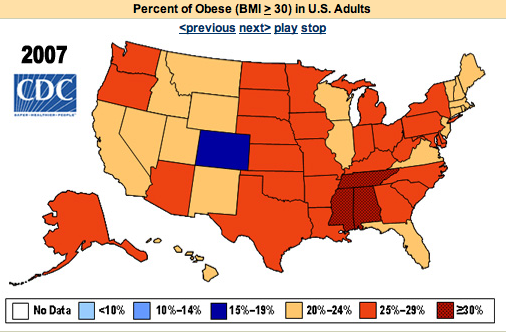 So you can say Wal-Mart is the devil and it's wrong to promote anything that comes within 200 yards of them. But they have a huge distribution network with the ability to influence millions of people. There's large potential for good here. Wal-Mart is like a physical version of YouTube. You can find anything you want on YouTube. It let me access millions of people online who maybe wouldn't have tried yoga. Wal-Mart carries a similar heavy weight in its ability to reach people. The more health-oriented products they carry, the better the chances are of shrinking obesity rates and bringing back a healthy balance to people's lives. Where we are now, there's really a desperate need for kicking a healthy trend into the mainstream.