I went on a date with Austin Scarlett to the Frick Collection's Young Fellows Ball Thursday, Feb, 26, 2009. It was a Cinderella story beginning to end.
I was introduced to Austin through a mutual friend, Patrick O'Leary. Patrick was involved in a cover shoot I did for CITY magazine by Phil Toledano. Patrick reps top photographers at Art Dept, a title that makes him uber cool, creative, and in-the-know with people doing good work. Patrick told me that his good friend Austin was attending a ball at the Frick and needed a fun girl to go with and wear his dress, so I got the gig.
I have a bit of peripheral history with Bravo TV and its stars (surrounding Queer Eye for the Straight Guy), which adds to a developing theory involving a magnetic force and myself to all things Bravo. I've got a stellar idea for a yoga makeover show. Just putting it out there Bravo people. Call me.
Now I'm not a big viewer of reality TV, but most everyone says that, while still keeping up with one or two shows (myself included). A long time ago, way back in 2004, a friend of mine convinced me that Project Runway, the first season, was worth watching. I'm not admitting that I was glued to the premiere of every episode, even if I was, but I did catch a few shows and found myself interested in the designers more than I expected to be.
It was obvious from the show that Austin Scarlett was one to watch and one to buy. He is a talent that only needed an outlet, and a TV show seemed to fit just fine. He knew what he was doing and had a fresh and dramatic creativity that made him stand out.
Notably, Austin has had a productive life before and after his reality TV debut. Originally from Eugene, Oregon, Austin Scarlett (yes that's his real name) received a degree in fashion design from the Fashion Institute of Technology, where he specialized in couture and eveningwear design. Austin's designed for clients, film, Broadway, dance, and opera. He produced couture collections under his own name for fall 2005 and spring 2006 when he signed on to be the creative director of the Kenneth Pool label.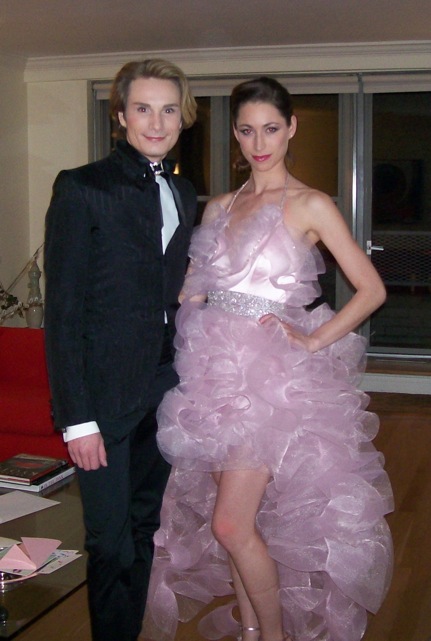 Austin invited me to a couple fittings to try the dress on before the big event. The Frick is Austin's favorite museum. He had recently joined the museum as a young fellow, and this was his first formal ball as a member. Hanging on the mannequin in his studio was a ballet pink dramatic start of a gown constructed out of haircloth, the stiff fabric typically made from horsehair. I thought it would probably be really itchy but it wasn't, and was surprisingly fun to wear. Austin and his helpers made a bunch of adjustments, taking things in and pinning everything into Austin's desired shape. The dress was short in the front and cascaded down the back in tiers. Wearing it I felt edible, like something sweet and gooey.
On the night of the ball I went to Austin's downtown apartment to get ready. He lives on a high floor, not typical in my New York downtown apartment experiences. He answered the door in his pajamas, Billy Holiday was playing through the speakers, city lights and the Empire State Building sparkled in through the windows. Living in New York, I seem to forget or skim over experiences that are specific to New York glamour, and this was one of them. I felt like I had walked into a present day Breakfast at Tiffany's. This is how Hollywood sees New York. Living in New York, we often forget its charm.
A car picked us up and drove to the Frick, where ball goers poured out of cabs and cars to make their grand entrance. Little did they know, that this dress, Austin's dress, was about to steal the show. We walked in with a loose plan. Look dramatic, and have a good time. Photographers flocked to Austin and me, snapping away when we reached the front steps. It was pretty fun. We socialized with socialites and exchanged a few business cards. All the women were glammed up more than usual for this event. A fun couple was dressed in 18th century duds. We chatted with them for a while. Everyone wanted to know all about the dress and what Austin was up to these days. I'm sure he was a little tired of hearing the frequently offered: "You should have won."
No one was on the dance floor, probably because the music was Bar Mitzvah ready. YMCA and Baby Got Back at the Frick? I was confused, but in the mission of getting Austin's dress the exposure it deserved, we took to the dance floor and shook it. Later in the evening when the champagne was flowing more freely, the dance floor was packed like a high school homecoming dance, but with much nicer dresses. It was all a bit surreal.
It was quite amazing to peruse the 18th century portraits at night when the museum was closed to the public. It was a bit "Night at the Museum," the Ben Stiller movie where the animal displays come to life. In our version the guests wandered around the Frick like it was their living room, dressed and mannered to properly accompany the decor. Photographers snapped away like we were a live performance. It felt a bit like we were players in the game Clue, photographic evidence of "who, what and where" to be revealed late that night on Wireimage, Fame Game, and other websites and newspapers. Austin surely would have won if there was a best dress award. It all seemed quite a success. And fun too.
Shortly after the stroke of midnight, the party started to wind down. We were about to turn into pumpkins! Austin plucked some oranges from the display and told me to take the flowers. "They're just going to throw it away." We hopped in a cab with our party favors and were whisked back downtown. At Austin's place I changed out of my gown and back into my Urban Outfitters getup. The hairspray and eye makeup didn't go with my new look. Within minutes Austin was back in his pajamas ready to get some beauty sleep. We hugged goodnight and I walked a few blocks home, over-stimulated by the events of the evening. I could get used to that kind of glamour. Thanks Austin!