I arrive early for my afternoon appointment at interior designer Jayne Michaels' Sutton Place co-op. It's a sunny May afternoon, uncharacteristically hot and humid, but Jayne's pre-war two bedroom, two bath feels cool and relaxing. Jayne buzzes me up, offers me a seat and sits on the sofa across from me. Jayne and I were introduced by a mutual friend, and we've never met in person. I contend that there are two kinds of people -- the kind whose e-mails "sound" just like them and those who don't. Jayne's e-mails were friendly, smart, curious and direct; I liked her e-self, and I had a feeling I'd like her in person.
Jayne and I start chatting, and she tells me about the space. She and her boyfriend, Todd, an attorney who owns a Manhattan law firm, have owned the co-op for two years, but they moved in just eight months ago after completing a lengthy gut-rehab. While they immediately loved the unit's layout, fireplace, floors and French windows, it required a massive updating. Working with architect Jeffrey English, the couple designed their future home, a project that allowed them to add a second bathroom and to remove a dumb waiter and garbage chute. While the undertaking required two engineers, the extra space afforded them more options to modify the original kitchen's layout.
To complete the project, Jayne chose a neutral palette with bold pops of color to create interest and to distinguish the rooms. The living room's blue and green accents flow into the adjacent den with its slate-blue walls, gold sofa and rug. In the separate kitchen, Jayne used apple green tiles for the back splash, which she expertly contrasted with upholstered red leather stool seats. Todd and Jayne's finished co-op exemplifies how color can be used to complement architecture and work with a home's layout to delineate space; the final product feels serene but exciting.
Continued . . .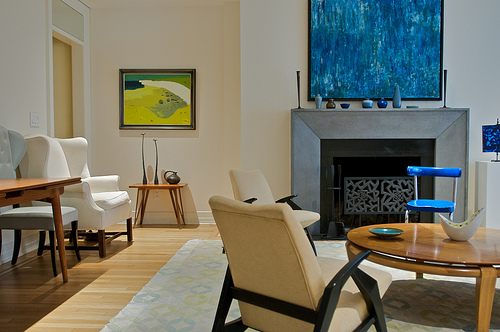 The buzzer rings, temporarily interrupting our chat. "That's our partner Larry," Jayne says casually as she presses the button to let him in. Last year Jayne and her twin sister, Joan, partnered with historian and Lin/Weinberg Gallery owner Larry Weinberg to open the mid-century modern boutique 4PM, which is located in NYC's midtown antiques market Center44. Larry writes a blog for Interior Design Magazine, and the subject quickly turns to the media, blogs and shelter magazines. Jayne hands me an issue of Manhattan Magazine, and I notice her space is prominently featured. It's odd reading about her home while visiting it for the first time.
Design seems a bit glamorous in that way -- the magazine spreads, the parties and all that visual stimulation. But it's just life for Jayne and Joan, who also own 2Michaels Design, a firm which specializes in residential and commercial work. The sisters grew up in Palm Springs but developed their sparse, luxurious design sense while living and modeling in Italy. Exposed to the world of high design, the future designers also developed an appreciation for mid-century furniture pieces by designers like Franco Albini, Gio Ponti and Carlo Mollino.
In danger of losing the gorgeous filtered afternoon light, I start shooting. Jayne works on her computer and we continue to chat. "A tattoo convention?" she asks while catching up on her Strange Closets. She continues to read and asks me about this story or that one. She seems friendly, smart and curious, just like her e-mails (and her decor). But is she direct? Where's the punch of color?
"You're eccentric," she says, chuckling.
I knew I was going to like her.
Click here to read past Strange Closets Open Houses. And read Strange Closets Monday through Friday for weekly tours, trend spotting, interviews and store profiles.