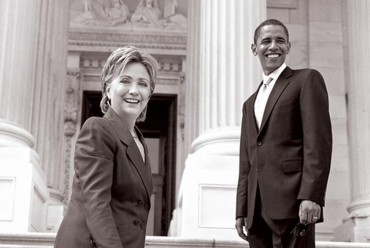 Had the opportunity to be one of a couple of bloggers and reporters privy to a conference call that just happened with Senator Hillary Clinton, as she announced her new general election push, "Hillary Sent Me," which is specifically geared towards Clinton supporters, to get everyone working to elect Obama-Biden. "This is so important," said Clinton during the call. Senator Clinton has already raised $5 million for Obama-Biden, with much more to come, with the focus not only on electing the top of the ticket, but also down ticket Dems to turn the Congress deep blue.
Capricia Marshall, the director of HillPAC, was on the call, as were volunteers, delegates and many other Hillary supporters, with few reporters invited on.
Ann Lewis began the call today, who introduced Senator Hillary Clinton, who began by thanking HillPac, as she began to introduce a "new program."
The "historic journey you have made with me and your continued support" means everything to me, said Clinton. "I've been traveling for Senator Obama since June." A lot of excitement about Obama, but many are "hurting," said Hillary, speaking of Americans across the country she's met who are suffering under Bush policies.
"Unprecedented" intervention in the market today. "We have the Democratic Party offering the positive ideas... on the other we have John McCain and Sarah Palin offering little in the way of solutions. ... the same old policies. ... The stakes in this election are the highest ever. ... Stand up. Hit the Road. Elect Barack Obama. This is a call to action."
"Hillary Sent Me" is a grassroots program. HillPAC will supply the information on this grassroots effort to elect Obama-Biden, but also Democrats to Congress. Every week HillPac will focus on a different down ticket race.
Clinton is "going to Michigan, been to Florida twice, to events from Boston to San Francisco for Obama," continued Clinton.
"Head to New Hampshire on Sept. 27 and 28th. That will be our kick off day. You can say 'Hillary sent you!'" said Clinton.
"I want to make sure as many people as possible are engaged and involved in this election. ... No matter who you supported in the primaries, Democrats come together ... to change our country. ... Excited to make the case for Obama and Biden..."
New Hampshire is the first "Hillary Sent You" stop. Hillary then introduced Governor Jeanne Shaheen, who spoke about the "Hillary Sent Me" grassroots program. "We have a wonderful time to take this seat away from John Sununu," Shaheen said.
Lewis and HillPAC continued on the call, talking about the importance of taking Hillary's leadership forward to fight hard for the Democratic ticket, as Clinton campaigns across the country for Obama-Biden.
It's off to HillPAC for more info, which will be updated regularly.
Great to hear Senator Clinton on the call today, her determination evident. She's a real leader with real gravitas, unlike a certain wanna be who's trying to use Clinton's coattails to act like she's something she is not.
This Blogger's Books and Other Items from...
SUBSCRIBE AND FOLLOW
Get top stories and blog posts emailed to me each day. Newsletters may offer personalized content or advertisements.
Learn more