In honor of Teacher Appreciation Week, Teach Plus interviewed six of the many inspiring teachers we know. Meet them right here in the Teach Plus Teachers' Lounge throughout the week.
In the Lounge today, meet Darren Burris, a middle school instructional coach and high school math teacher at Boston Collegiate Charter School in Boston, Mass. He is an alumnus of the Teaching Policy Fellowship.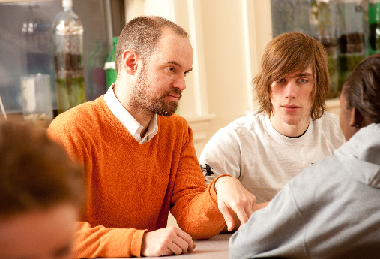 So, it's Teacher Appreciation Week. What inspired you to become a teacher?
I fundamentally love learning and I loved the teachers who broadened my horizons and challenged me to think deeply about myself, others, and the world around me. Coupled with this love of learning was an upbringing centered on the unshakable belief that inequity is wrong. So, while there are many places where injustice occurs, I think my gratitude for the learning I received directed me to the challenge of seeking justice in public education. The simple knowledge that education is distributed inequitably and therefore, opportunity is doled out to some and not others, inspired me to enter the classroom.
I hear you're a dad. How do you balance being a teacher and being a parent?
I don't think I ever balance it just right, but I am constantly working at balancing it. The big three keys to my sometimes precarious balancing act are: Working harder with the time I have at school and playing harder with the time I have at home; relying more on those around me to accomplish tasks (I have awesome colleagues); and operating a smartphone.
What do you do when you're not in the classroom?
I'm usually at home, the grocery store, the playground, or doing some other kid-related activity. The biggest difference between school and not-school is my wife. I actually have one! I do very little without her and we live life hand-in-hand.
Tell me about a former student who made you proud.
When I taught in Philadelphia about six years ago, I had a wonderful class of students that I am still in touch with on a nearly day-to-day basis. One in particular has kept in touch over the years and I think exceeded her own expectations. Samira was a 12th-grade student of mine. She and I talked and talked and talked about her next steps after high school. We talked about college, what it could mean for her, and about all the things she wanted out of life. She went on to college, graduated, worked in health care, and is now pursuing her master's degree. I am so proud!
You're known as the social media guru around here. Why do you think it's important for educators to use social media tools?
Social media is how I learn, connect, and understand. I don't know how one does the amazing yet deeply challenging job of teaching without learning from and with many others, and being engaged in the world as my students are. Social media tools connect me to a network of people and resources that push me to better, encourage me to innovate, and provide support and direction when thinking through the next step.
Can you answer all of these questions in 140 characters or less? Just kidding. Your Twitter profile includes the coordinates N 42°20' 0'' / W 71°4' 0''. What's that about?
That just tells you where I work -- Boston!
What is one thing you would like to change about the current state of the teaching profession?
Increasing teacher voice at every level in the sphere of education. I would like to see schools incorporate teachers in decision-making, as well as provide teachers with career ladders that bring classroom and leadership roles together. I would like districts to listen to teachers and assure teachers that they have a seat at the table when they are buying textbooks, evaluating principals, adopting new after school programs, and more. I would like teachers to crowdsource their experiences of curriculum, professional development, webinars, and other products to hold vendors accountable and responsive to teachers. I would love to see an EdYelp, PDYelp, Angie's List for Educational Service Providers, and more!
What's your favorite lesson to teach?
The tipping point lesson where the pencil-and-paper, algebra-only viewpoint of polynomials meets the graphical, technological side of polynomials. This moment (usually!) is where some bright light bulbs come on, new connections are made, great questions start to bubble to the surface, and new horizons open up for students.
You've written previously about the Common Core. How should teachers be getting ready for this shift?
Teachers should get ready alongside each other both near and far. It starts with something as easy as finding another who will read the standards with you. Find others at your grade level or in your subject area who have already started working through the new standards. Find an aspect of the standards you like or find an aspect that challenges you. Stay informed, critical, open, and engaged, and rely on your experience and the experiences of others to discern how to make the shift in your classroom, school, and district. Lastly, participate in the larger conversation. There are myriad interests at play and perspectives on the Common Core, and teachers need to be part of it. Start shifting, start working together, and start influencing the conversation.
Here's what Teach Plus Boston Executive Director Maria Fenwick has to say about Darren:
I just think Darren is so cool! As someone who is relatively new to the social media world (it's called the "Twitterverse," right?), I see Darren as a true pioneer in creating spaces for authentic teacher voice online. I admire his entrepreneurial, can-do spirit. It's contagious and while his students might interpret it as "nerdiness," they are bound to be positively influenced. The same goes for other teachers. Darren's call to action is right on: "Start shifting, start working together, and start influencing the conversation."
Follow Darren on Twitter (@dgburris) if you want to keep up to date on the latest Common Core news, as well as all the other great resources he shares.
SUBSCRIBE TO & FOLLOW THE MORNING EMAIL
Start your workday the right way with the news that matters most. Learn more