Do reporters like John McCain better? Can Captain Straight Talk Express even complain? And should Obama sidestep his rep as the Anointed One? Plus, Teresa talks Jordanian blogs looking to paint Obama into Israel's camp...
On this week's W&W show, Greg Mitchell, author of the new book So Wrong for So Long and editor of Editor & Publisher, stops by to give a brief look into last week's Netroots Nation, and he joins two-time Pulitzer Prize-winning cartoonist David Horsey of the Seattle Post-Intelligencer to discuss the brouhaha over the New Yorker cartoon, editorial judgment, and Obama's big trip overseas. Mitchell talks the war, and the discrepancy between public opinion and candidates' talking points, while Horsey takes some time to address his own approach to portraying McCain and Obama in cartoon-form.
Below is Horsey's response to the New Yorker cover, lampooning the attacks on Obama: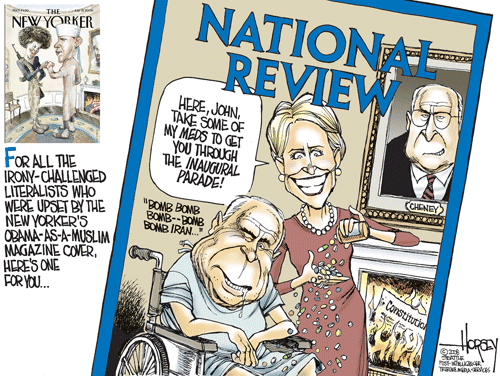 www.davidhorsey.com, Originally published on Tuesday, July 15, 2008
Wilshire & Washington, the weekly Blog Talk Radio program that explores the intersection of politics, entertainment, and new media, features co-hosts Ted Johnson, Managing Editor of Variety (www.wilshireandwashington.com); conservative blogger Teresa Valdez Klein (www.teresacentric.com), and liberal blogger Maegan Carberry (www.maegancarberry.com). The show airs every Wednesday at 7:30am PST on BlogTalkRadio.com.
Follow Ted Johnson, Maegan Carberry, Teresa Valdez Klein on Twitter: www.twitter.com/maegancarberry