The following article about a Kindergarten class building a wind turbine was written by Kate LaPine the Director of Communications at The Park School in Brookline, MA for the Spring 2010 addition of "The Park School Bulletin."
Raine Miller's classroom is a veritable Fibber McGee's closet, albeit one designed to delight five- and six-year-olds. For the last several years, Raine has been collecting old radios, cassette players, VCRs and the like for her students to take apart. "They love exploring how these gizmos function," Raine says. "We're not putting them back together, but they can distinguish between a radio circuit and a motherboard."
This winter, Raine learned about a remarkable boy from Malawi who shared her love for tinkering and spare parts! Now internationally recognized, the young William Kamkwamba used his own ingenuity, an eighth grade American textbook called Using Energy, a broken bicycle, tractor fan blade, old shock absorber, and blue gum trees to build a 16-foot high windmill for his family to generate power. "When I read about William to my class," Raine recalls, "they were transfixed." Her students made the leap immediately. 'William took apart radios; we take apart radios.' 'William made a windmill; can we do that too?'
Energized but in need of an engineer, Raine reached out to Mike Massauro, Park's director of operations. With a background in mechanical design, Mike worked for years as a machinist before a previous economic downturn necessitated a move to the stable world of school maintenance. Together, Raine and Mike hatched a plan for the kids to design and help build their own windmill out of recycled parts. "This sounded like a great project! I was happy to serve as a catalyst to bring it to life," Mike remembers.
Mike visited the classroom to explain how a windmill works. After he described the blades, motor, driveshaft, bearings, and directional fin, the Kindergarteners began to sketch their designs. Next, the class visited the shop to craft blades out of an old downspout. Mike had precut the pieces and let the students flatten them out with rubber mallets. He attached the homemade blades to the windmill, but when they whizzed through the air too quickly, Mike swapped them for old fan blades that were better weighted. Finally, at the end of January, the windmill was ready to be installed on the playground.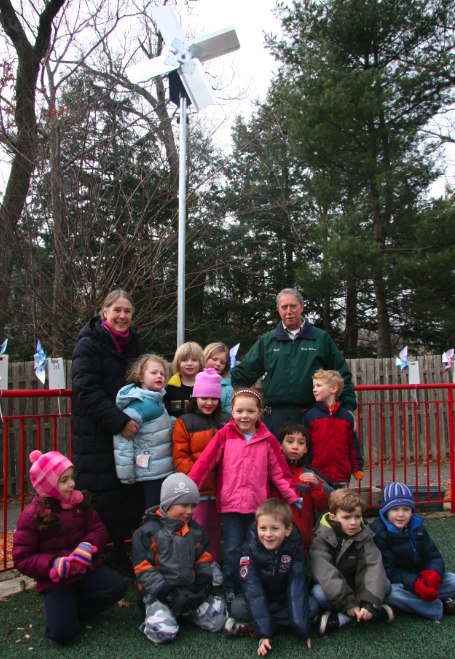 Enthusiasm for the windmill project spread throughout the grade. When a student begged Mike for a windmill of his own, "I knew I couldn't make just one, so I made one for every child." A few weeks later, Mike oversaw the installation of personal pinwheels on wooden bases for all 52 Kindergarten students.
SUBSCRIBE TO & FOLLOW THE MORNING EMAIL
The Morning Email helps you start your workday with everything you need to know: breaking news, entertainment and a dash of fun. Learn more