Women Win When They Choose Their Own Path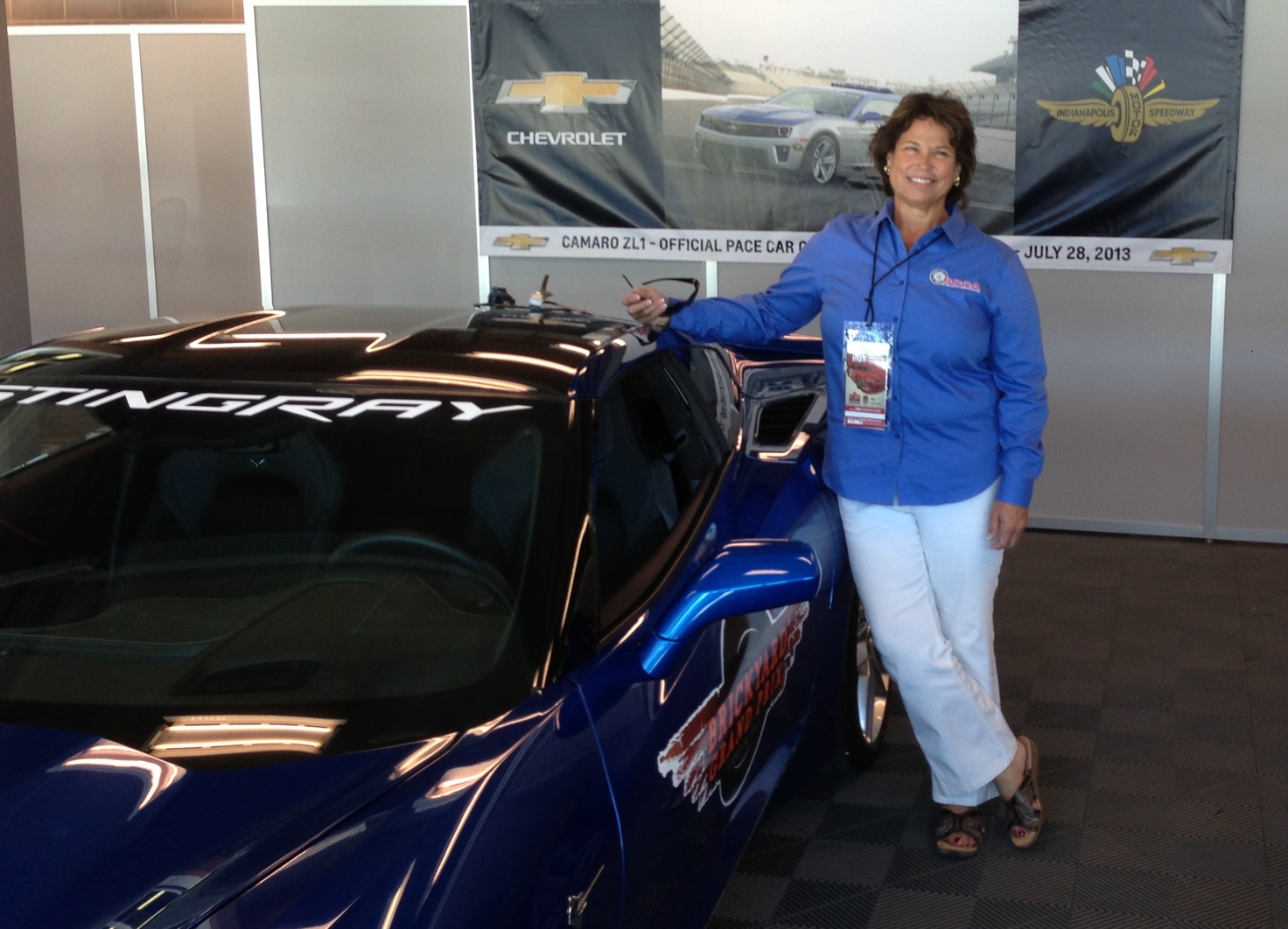 "I could have been a stay-at-home mom. But really, think about it. Join the PTA versus drive the tow truck and race trailer to Monterey, California to compete in a Valvoline ProVee? No contest," says Lisa Noble, a 58-year-old race car driver from Kansas.
Noble considers herself to be a rogue woman in the man's world of sports car racing. She fell in love with racing during her teens. "At the age 14 I was asked to go to a race," Noble remembers. "It was the Lake Garnett Grand Prix. I literally walked through the gate, stopped and said out loud, 'This is what I want to do the rest of my life.'"
She wasn't thwarted by the very real challenge of walking into a sport dominated by men although she admits she has had to make adjustments. "It truly took decades for me to be accepted on the track and as a subject matter expert in the race shop and boardroom," she says. "I've had men who, after beating them in a race, refused to shake my hand. For years, I didn't put my name on the side of my race car as it seemed to be waving a red flag in front of a bull in many instances on track. So I served the time paying my dues, both on track and off."
Noble began racing in 1978 when there were less than a handful of female women racers. After breaking her shoulder during a crash a few years after her introduction to the raceway, she had to give racing a break.
By the time she reentered racing in 1992, Noble believed she was racing in the shadow of her late husband's success. For most of her racing career she worked with her late husband Bill to build one of the premier formula car engine businesses, Engine by Noble.
"There was a time when most every call I took was from guys who would prefer to talk to my husband about a car's mechanics," she says. "What they didn't realize was that we were a team working together on all aspects of the business from day-to-day operations, to developing new products, to working as crew chief for a six-car team. Again after decades, I was able to establish a reputation of skill and knowledge that the racing community couldn't deny."
After her husband's passing she decided to continue the race engine shop for several reasons, one being a desire to keep his name in the spotlight and to prove that she could do it herself.
After nearly a decade of honing her skills, in 2000 she won the Sports Car Club of America (SCCA's) Kimberly Cup award for the most improved driver in the club. All of her fear dissolved and she quickly became a driver to beat, setting many track records and was regarded as a highly respected on-track competitor racing in the toughest events in the country. "Now, many of those guys who wouldn't acknowledge my presence are some of my best fair-fought competition," Noble says.
Although she has never thought of herself as a "woman race car driver", Noble admits it has been a part of her racing dynamic. "I'm no Danica Patrick, but I do believe that if not for me, and the very small handful of women paving the way before me, that Danica might not have been possible," she says.
As Noble ends a six-year stint on SCCA's Board of Directors as Chairman of the Board, she easily reflects on what a fast and exciting ride she has had while in the drivers seat. Her love of racing led her to meet her husband, and helped her to develop a strong social structure which infused itself in the way she raises her child.
"My daughter Jaime has also been incredibly supportive," Noble says. "She was raised at the racetrack. I took her to her first race at nine days old over a Fourth of July weekend when the temperature was over 100 degrees. She was a trooper then and continued to be one as she became the team crew chief in charge of four and five car teams' service schedules, car service and set-up at the track years later."
During one particularly nerve wrecking race day Noble had qualified 3rd for the National Championship Runoffs race, her best result to date. She was on the grid, strapped in and ready to go when the officials gave the 'one minute start your engine' order. Her daughter Jaime leaned down into the cockpit and said, "Rip their heart out Ma."
"I know that sounds kind of cold blooded, but it shows her support and recognition of what was important to me," Noble remembers fondly.
Noble has a favorite saying, "Opportunity dances with those already on the dance floor." She has been dancing the Cha Cha with the big boys on the race way and in the boardroom of the Sports Car Club of America. "Participating at different levels in the Sports Car Club of America (SCCA) has been my life, and has opened up opportunities for me to make that statement a reality. I have purposefully made myself available and taken advantage of those opportunities, which has lead me to my executive position in this 70-year-old, 65,000 member organization," Noble says.
The SCCA 50th National Championship Runoffs are Sept 16-22nd at the Road of America track in Plymouth, Wisconsin. Noble will be participating in the races, more than 3 decades after her first race.
"We have a responsibility to set the bar high for others, not just women," Noble encourages. "We must strengthen and enable them to meet that bar. Once they have, we go back, do the work it takes to raise the stakes and do it all over again. For me, making that challenge a life style is integral to being successful."
To read more about women who choose their own path and are winning in life because of their brave decisions browse through The Winner's Circle on MySavvySisters.Com.
Earlier on Huff/Post50:
Post 50s Declare Their Independence
"I realized that I didn't want to spend the second half of my life the way I had spent the first." In 2004, Mark Noonan was a 52-year-old executive in the high-tech industry who routinely worked 60-hour weeks. After his wife died in a freak accident, he turned his life around. For the full story click here.

"I've always been that sort of person who enjoys kidding around and having fun." After a kidney disease diagnosis, Kathe LeBeau, 50, found a flier in the mail promoting a 12-week clowning class at a local community college. And that's how she found her calling. For the ful story click here.

"Suddenly, I had landed in heaven." Eight years ago, John Kerr, 74, had no idea what to do next when he retired from his job as a public television executive in Boston at age 65. After flummoxing around for about a month, he put his belongings in storage, loaded up his camper truck and drove west to Jackson Hole, Wyoming. He landed a job as a park ranger. For the full story click here.

"I'm able to look forward." A few years ago, Amy Voelker was enjoying a getaway with her extended family at a rental house in Redington Beach, Florida when her husband and three sons were killed in a car accident. Through exercise and training and the support of friends and family, Voelker has found a new vision of herself. Full the full story go here.

"Sometimes I'd joke with my friends about creating a Bloody Mary company... But then reality would set in, Monday would come along and we'd all go back to our advertising jobs." Stephanie Sanoja left an unfulfilling job in her forties to take a gamble on turning her great-aunt Gladys' Bloody Mary recipe into a career. Today you can buy Garden District Bloody Marys throughout Texas and Louisiana. For the full story click here.

"My dad called tonight. He said I did a good thing and I was a go-getter like my mom. This is the best day of my life." At age 46, Teresa Pitts challenged herself to go back to school, and earned her bachelor's degree from UCLA with honors. Read the full story here. photo courtesy of UCLA fan page

"Up came the lights -- just in a different area." At age 70, David McGiffert declared his independence by walking away from Hollywood to help his daughter achieve her own dreams of competing on the U.S. National Team for rhythmic gymnastics. He now accompanies her to competitions and training camps, and helps her manage an otherwise impossible schedule of school, training and competition. Read the full story here.

"I work in my own style, on the schedule I want; if I write what I want, people will sense the fun in it." This 61-year-old Kentucky novelist was the first self-published author to sell more than a million digital books on Amazon.com with his pulp fiction series "Donovan Creed," which follows a former CIA agent. For the full story click here.

"No matter how old you are, it is not too late to change." At age 52, Linda Tabach ditched her lifelong couch potato lifestyle for a healthier alternative. Tabach began eating a healthy diet, hit her goal weight and ran her first half-marathon. For the full story click here.

"I am here to tell women, you are never too old to pursue your dreams. I never felt better in my life. I am 60, hear me roar." After a life spent on the other side of the lens, first as a stylist and later in commercial photography, Robin Bobbé decided to "[reconnect] with that exciting part of myself," and became the new face of 60 as a model. For the full story click here. photo courtesy of WomenYouShouldKnow.net

"The girls at the rink say I'm the only one on the East Coast doing death spirals at my age... This is a part of my soul..." Although she knew from childhood that her heart lay in figure skating, Paula Shuman was convinced it wasn't a realistic career path and became a radiographer instead. She kept skating though, and when an old friend offered to coach her 20 years later, she fulfilled her childhood dream. For the full story click here.

"Just do one little thing that's meaningful to you. Break out of the box and you'll see, it can change your life." Margaret Miller started by ending an unhappy marriage, then trained for a marathon -- then began travelling the world. "Part of me was hidden away for so long. It was almost like I was introducing myself to my family," she said. For the full story click here.

"I am living proof that anything is possible." Tipping the scale at 320 pounds, the former chain smoking talent manager took hold of his life and health and underwent gastric bypass surgery seven years ago. Now he's the very picture of health, exercising and working with a trainer to keep off the weight. Read the full story here.

"Everybody in the world thinks I am a total nutcase. I just want to support our troops." Coast served in the Navy from 1982 to1993, leaving the force to raise her son. But when she accompanied her son to an Army recruitment office so he could enlist, Coast asked to sign up as well. At 51 she became one of the oldest people to complete basic combat training. Read the full story here.
Follow Te-Erika Patterson on Twitter: www.twitter.com/MySavvySisters