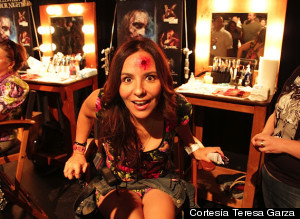 Una vez más el viento otoñal trae consigo los escalofríos y pesadillas vivientes de"Halloween Horror Nights" en Universal Studios Hollywood donde los visitantes se sumergen en un mundo tri-dimensional, como de película, en el que se vive, se respira y se siente... "Terror".. pero terror del bueno...
Pero para recrear la carnicería humana, caos, dar vida a cabezas cortadas, heridas supurantes y gargantas acuchilladas se encuentran los artistas del maquillaje extremo.
Universal Studios Hollywood nos invito a una visita para darnos una idea de los preparativos para recibir esta fiesta de horror que es ya una tradición del Halloween Hollywodense.
Tuvimos la oportunidad de someternos a una demostración con la talentosa Kim, que me dejo una herida de bala.
Es impresionante ver el trabajo de estos artistas que recrean expresiones, heridas o apariencias extremas, dramáticas e inquietantes que solo conocemos en el mundo del terror.
Este es un preámbulo de lo que nos espera en los laberintos de The Walking Dead, The Texas Chainsaw Massacre, Welcome to Silent Hill, Alice Cooper, Universal Monsters Remix, y por supuesto, ........ ¡La Llorona!
John Murdin, director creativo del evento, nos informó que esta experiencia comienza el 21 de septiembre y continúa por 19 noches específicas hasta el 31 de octubre. Para más información: http://www.halloweenhorrornights.com/
Pero mejor mira el video y las fotos de esta sesión de espanto:
PHOTO GALLERY
BEFORE YOU GO
Maquillaje de terror Universal Studios Hollywood
PHOTO GALLERY
Maquillaje de terror Universal Studios Hollywood
Me encantó ser parte de la experiencia, ¡Gracias Raúl Becerra por la invitación!
Mira qué opinan otros y deja tu comentario aquí