Yes, many wonderful cities around the globe host annual events that beckons travelers to visit and partake in their celebrations. Pamplona, Spain clears the streets for the Running of the Bulls, Rio de Janeiro throws on the feathers and glitter for Carnival, and Monte Carlo rolls out the red carpet for the Monaco Grand Prix. Here, in my hometown of San Francisco, once a year the big rainbow flags are triumphantly raised on poles around the city, while proud gays and lesbians from around the world pack their boas and leather and descend on the city for Gay Pride Weekend.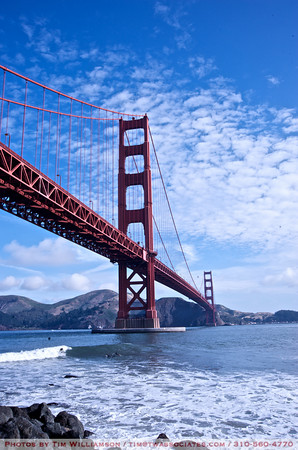 On June 27-28 San Francisco transforms into a kaleidoscope of culture and color as the gay and lesbian population puts on a events and shows that rivals the best performances in Las Vegas - and it's free! The parade is Sunday, June 28th, and it kicks off at 10:30 a.m. at Market St. & Beale and ends at City Hall, where other gay-centric events continue throughout the day.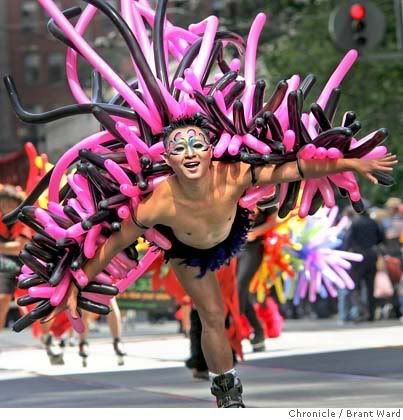 Many heterosexuals are a bit frightened by the thought of a visiting a city during this weekend. I can understand how a squad of 6 foot 5' transsexuals wearing white vinyl stiletto boots and skintight hot pink latex outfits can be scary. But, beyond the glittering queens and dikes on bikes, there is a tantalizing hetero vibe that blends perfectly with the rich sauciness of Gay Pride.
Depending on your (sexual and martial) status, here's a list of some top San Francisco restaurants in local neighborhoods that can give you a truly San Francisco experience sans the gold lame and spiked collar:
NEIGHBORHOOD: Upper Fillmore
On Fillmore Street, between Jackson Street and Geary Street, you'll find a cornucopia of darling boutiques, vintage shops and quaint restaurants.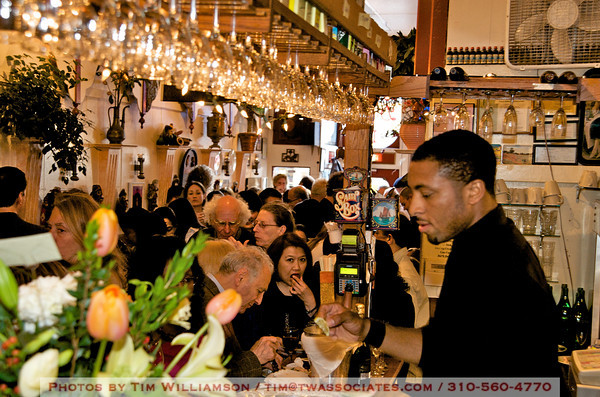 For those who enjoy the sensual flavors of cinnamon and pomegranate:
La Mediterranee
2210 Fillmore Street
415-921-2956
Fragrant Mediterranean cuisine served with wine from the Middle East - they don't take reservations.
For carnivorous couples who like french food:
Florio
1915 Fillmore Street
415-775-4300
Juicy hanger steak frite to die for served in a romantic setting that rivals any bistro on the Left Bank of Paris.
For singles who want to pick up young, intoxicating urbanites:
Harry's Bar
2020 Fillmore
415-921-1000
Drinks aren't cheap, nor is the crowd.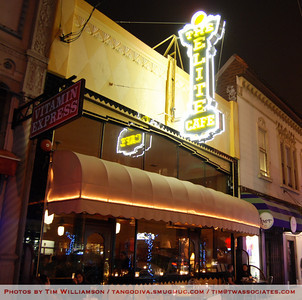 For those who drank too much Saturday night:
Elite Café
2049 Fillmore Street
415-346-8400
The best spicy Bloody Mary and biscuits in town - the place for Sunday brunch.
NEIGHBORHOOD: Hayes Valley
Tucked away just blocks from Town Hall (the main area for the Gay Pride festivities) this quaint neighborhood is home to some delectable eats.
For mind-altering cocktails (great for first dates):
Absinthe Brasserie & Bar
388 Hayes Street
415-551-1590
The bustling locale of acclaimed Executive Chef Jamie Lauren and star of 'Top Chef' show.
For lovers of all things sweet:
Citizen Cake
399 Grove Street
415-861-2228
Some of the best desserts in the country are created here: try After Midnight Chocolate Cake or Mocha Mi Su.
NEIGHBORHOOD: The Embarcadero
Wrapping around the city's edge is The Embarcadero. These restaurants serve up great food and incredible views of the bay.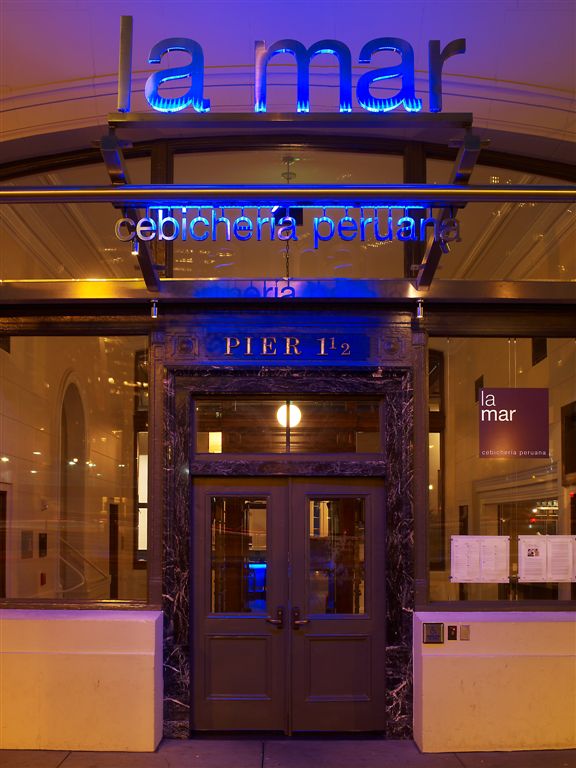 For friends and families who want a fun, energetic venue:
La Mar Cebicheria Peruana
Pier 1 1/2
415- 397-8880
An impressive assortment of cebiches and pisco cocktails. The outdoor patio is a must.
For the couple celebrating something special:
EPIC Roasthouse
369 Embarcadero
415-369-9955
Pinot Noir Tasting and pig roast on the 27th from 1-4. Yum.
For young lovers who enjoy fine seafod and even finer champagne:
Waterbar
399 The Embarcadero South
415-284-9922
$1 Local Oysters everyday from 11:30-6pm.
After 6:00 pm, this area transforms into a quite place where you'll find some interesting venues hidden within its alleys and side streets.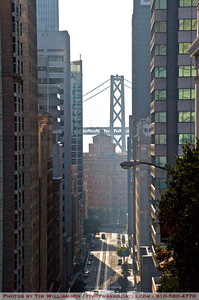 For single heteros looking for a successful professional:
Aqua
252 California Street
415-956-9662
If you are looking for an investment banker who still has a job -- this is your place.
For hipsters who like strong, dry martinis:
Bix
56 Gold Street
415-433-6300
This is one of San Francisco iconic venues hidden down a tiny alley and always filled with San Francisco's society.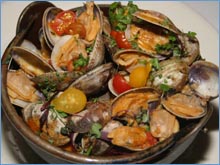 For jetsetters who want a European experience without the jet lag:
Plouf
40 Belden Pl
415-986-6491
The mussels mariere are to die for, don't forget the side of French fries.
For those who can't resist a little bit of Cirque du Soleil with there supper:
SupperClub
657 Harrison St
415-348-0900
www.supperclub.com
An interactive evening of magnificent food and over-the-top performances.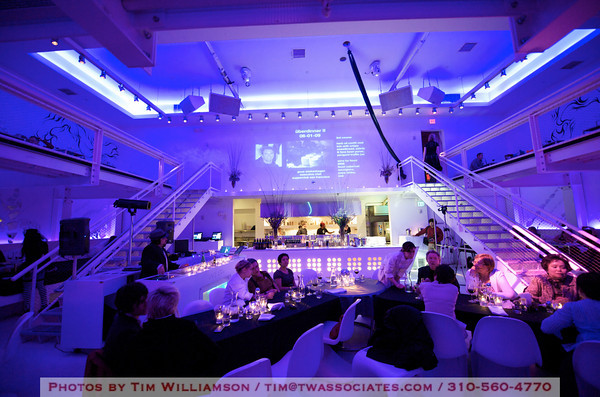 And, finally, for those who want a truly quintessentially "Pride" experience, I had to rely my favorite, beautiful gay man, PR Guru and Urban Culturalist, Shaun Saunders for some advice. Here's what he has to say, "To really experience Pride with style you must do it: fashionably, with a joie de vivre and on a budget. You can explore San Francisco's rich nightlife locations, rendering you: hip, cool and 'metro' (i.e. straight but cool). No cover, RSVP or guest list at these super-sassy locale, anyone can join the diverse crowd of A-gays (the A-listers of the gay community) at Trigger, Lime and Blue Restaurant. These venues offer up a subtle sexiness that allows you to socialize and expand you social/cultural/sexual horizons. Each venue lets you to tap into your inner-ubanista and explore a different facet of what it means to be fabulous and have Pride."
Many of the local hotel chains are offering some magnificent deals for visitors to San Francisco during the festivities. Kimpton Hotels & Restaurants are offering a special "PRIDE" rate code for guests to receive a complimentary weekend night when they book two nights at the best available rate. Kimpton is spicing up the offer with the addition of a $50 dining credit for use at participating restaurants, adjacent to Kimpton hotels. CLICK HERE FOR DEALS.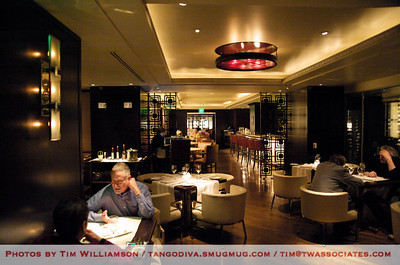 Enjoy the Pride Weekend in VIP Style at the Hotel Palomar, located in the heart of the shopping district and right on Market Street-just stpes from the parade. Rate includes (for 2): Continental Breakfast, Festive Pride Cocktails per night, Reserved Grand Stand Seats for the Pride Parade, 15% Discount at Jonathan Adler, Champagne or mimosa upon arrival, Private consultation and personal shopper, Town Car transportation to Jonathan Adler from Hotel Palomar. You don't have t be gay to enjoy the special, but this deal will make you smile. CLICK HERE FOR SPECIAL.
The not-so-fancy three-star hotel Mark Twain Hotel is offering $20 off the room rate or free valet parking. Call them directly at 415-673-2332 and ask for the GAY PRIDE rate.
Hip hip hurray to all those folks who came out of the closet and brought with them their rhinestone-encrusted tank tops and sparkling tiaras, so once a year, us heteros could get a chance to sing along to the likes of Cher and Streisand.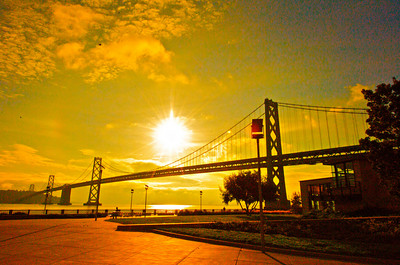 FOLLOW HUFFPOST