In March, a few of my Persian friends from the band Shams Ensemble asked me to join them on their trip to Tehran. Three of the band members live in California, while the others live in Iran. My friends planned on staying a month to celebrate Narooz, the Persian New Year, and I planned to go for a few weeks to meet the other band members, their families, and to submerge myself in their beautiful Persian culture.
Narooz is a 13-day celebration that begins each year on the first day of Spring. The weeks leading up to the holiday are saturated with sights, smells, and the sounds of revival: pastries are baked, seeds sprouted, and troubadors -- known as Haji Firuz -- dress up in makeup and brightly-colored free-flowing outfits parade through the streets, singing and dancing with tambourines, kettle drums, and trumpets. Like other cultures and religions that celebrate the Spring Equinox, Iranians focus on family unity -- hence the length of festivities -- and designate the season of rebirth as an opportunity to reconnect with each other.
I felt honored that my friends would invite me to share in this holiday with their families and dreamt about an authentic introduction to Iranian culture. I Googled the Azadi Tower and spent nights fantasizing about symbolically entering this gateway into the country. I was walking around the structure with my friends, enjoying the warm Tehran nights and learning a few words in Farsi. My darling friend Shahab smiled when I told him this, and in his endearingly broken English he spoke of eating sweet medjool dates and sipping mint tea with his mother. He plays percussion in the band, and in his spare time, he plays the cello.
My friends talked about the beautiful Mashhad countryside, which is home to the ancient and opulent Astan Quds Razavi library. Constructed circa 937 A.D. , this gilded splendor is considered the most important library in the Islamic world. It is home to hundreds of thousands of original books, manuscripts, and priceless relics. An unabridged bookworm, this was one of my definite must-dos. For weeks I dreamed about this trip.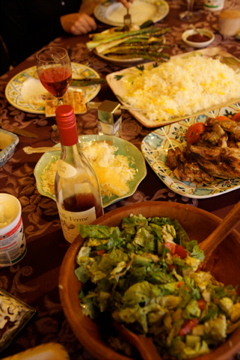 My friends were as excited as I was. They looked forward to showing me their homes, introducing me to their families, and - as tradition demands -- on kebob and saffron rice. They laughed at the thought of me covered, and initially I was intimidated by the prospect of concealing my hair -- which I spend a fortune on, by the way -- but my friends assured me I could still wear my Manolo Blahniks under my Hijab, and that was encouraging. After doing a bit of research I found there are many.... um.... ways to wear a Hijab. Take a look:
But then I got busy, and I forgot the warm smiles of my Persian friends who so graciously offered to take care of my visa and book my flights. They all -- every one of them -- offered their homes to me. But I ran out of time, and never cleared my schedule. Instead of focusing on the incredible opportunity I was given, I worried about my business and my bank account.
My friends did visit Iran -- without me. They returned with stories of a peaceful and happy reunion with their friends and family. This was before the terror of the election nightmares. Before tear gas and riots, before innocent people were shot at point-blank. Before something as personal as Facebook accounts were shut down. I missed an incredible opportunity.
In light of everything that happened I regret not having gone to Iran with my friends. And am sad to think I don't have a chance to go back for a very long time. And if, or when I do, things won't be the same.
Thankfully most of my friends left Tehran before hell broke open. But a few are still there, and I am happy to report they'll be in California next week. Together again, we will eat kebob and sip on mint tea. But it won't be under the warm Persian sun. Instead, an invisible weight will hang over us -- a distorted reality that has cloaked the country in outrage since the election -- and, coupled with my own regret at not having gone with them when I could have, we will wonder whether we missed out on a shared experience we cannot ever have.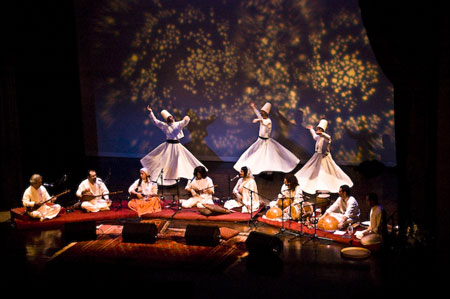 This has taught me a great lesson: When given an opportunity, seize it! I can always make more money. But I can't make more time -- and I certainly won't always be given such once-in-a-lifetime opportunities.
Yes, my friends are coming to the United States to perform three concerts. They can't perform in Iran, after all, they have women in the band, and they did write the song that became the anthem for the Green Revolution.
The concert they are performing in San Francisco is to raise money for Amnesty International.
Here are the details of their US concerts:
What: Shams Ensemble presents "Voices of Freedom"
When: Sunday, September 27th, 2009 @ 7 pm
Where: Davies Symphony Hall
201 Van Ness Ave.
San Francisco, CA
New York: Rose Hall at Lincoln Center
October 3, 2009 @ 8 pm
For ticket info visit www.jalc.org or call 212.721.6500
Los Angeles: Royce Hall at UCLA
October 10, 2009 @ 8pm
For ticket info visit www.uclalive.org or call 310.825.2101
SUBSCRIBE TO & FOLLOW WORLD POST