For the MidAtlantic Wine and Food Festival's Grand Finale, seven contestants representing all three seasons of Chef Gordon Ramsay's MasterChef TV show on Fox got together and wowed the hungry guests with their fabulous cooking. The MasterChefs included Christian Collins, Suzy Singh, Dave Miller, Tracy Kontos, Becky Reams, Derrick Prince, and Jennifer Behm, winner of season two.
Over the next few weeks, I will be sharing recipes from the MasterChef stars. This week, the spotlight is on Chef Tracy Kontos. Chef Kontos stepped into the kitchen at the tender age of 8. Raised to enjoy and appreciate local ingredients, she found her passion and began to pursue her calling in the culinary world.
Tracy's opportunity to test her skills came when she was selected for season two of MasterChef with Gordon Ramsay. Leaving her corporate sales job behind, she climbed her way to top six by providing the judges with dishes focused on fresh seasonal cuisine. Since her successful run on reality television, Tracy has launched her own private chef business in Los Angeles.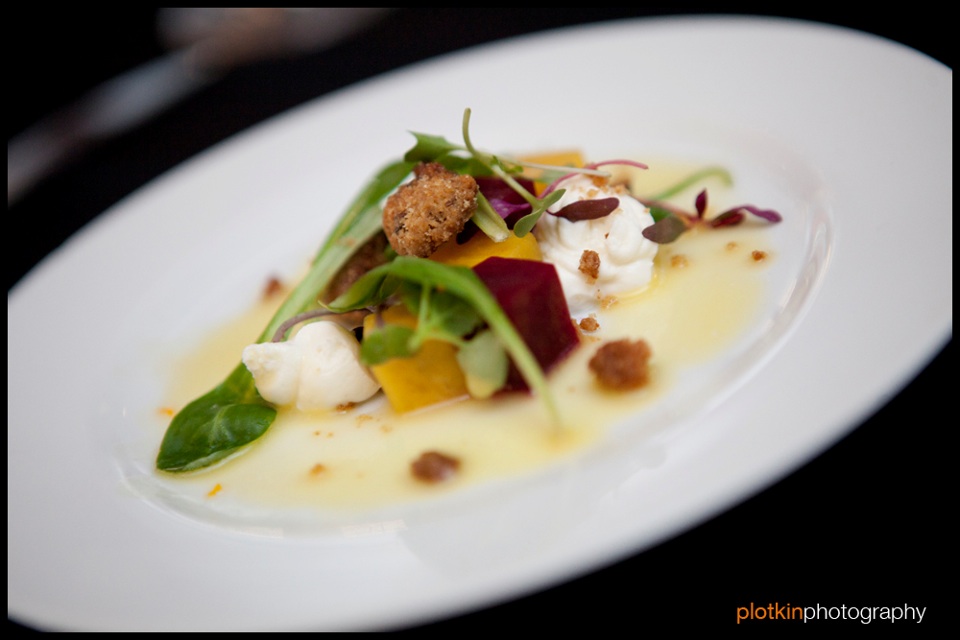 Here's her recipe for Slow Pickled Beet Salad with Caraway Crumble & Shallot Goat Cheese Mousse
Serves 6-8
Slow Pickled Beet
Ingredients:
6 beets (red and golden if you like)
½ cup sugar
1 cup apple cider vinegar
1 cup water
1 tbsp. kosher salt
1 tsp. mustard seeds
1 tsp. coriander seeds
1 tsp. peppercorns
½ tsp. whole cloves
Preheat the oven to 400 degrees F. Wash beets & peel beets and place in small separate roasting pans by color (or else the red will ruin the golden color) trim off top and bottom. Make pickling mix of herbs/seeds, sugar, apple cider vinegar and water; stir until sugar is dissolved. Pour liquid into the two pans. Cover the pan with foil, and place in oven for 30 minutes. Remove then flip over and cook covered for another 30 minutes. Remove the beets from the pan, rest and cool. Next dice into cubes and plate with dressed arugula, goat cheese, & caraway crumble.
Caraway Crumble
Ingredients:
½ cup soft butter
½ cup sugar
1 egg
1 tbsp. buttermilk
1/8 tsp. baking soda
1 cup flour (sifted)
1 tbsp. caraway seed
1 tsp. mustard seed
1 tsp. freshly ground pepper
1 tsp. salt
½ tsp. ground cinnamon
1 stick of melted butter
½ cup brown sugar
Cream butter and sugar together. Add unbeaten eggs, one at a time, beating after each addition. Add buttermilk with soda and flour. Add caraway seeds, mustard seeds, pepper, salt, & cinnamon. Chill for 2 hours.
Roll out to ½-inch thickness and bake 20 minutes (or until golden brown) in a preheated 350º oven. Remove and let cool. Once completely cool break up into pieces with hands or pulse in food processor. Then pour into a bowl and toss well with melted butter and brown sugar so that mixture is crumbly. Put back onto cookie sheet and bake until crumbles have a crunchy texture (approx. 15-20 minutes).
Goat Cheese Mousse & Greens
Ingredients:
6 oz. goat cheese (room temp)
2 tbsp. heavy cream
1 tsp. minced shallot
Salt & Pepper
Using a hand held blender (or chop shallots even finer and use sturdy whisk), and blend together until smooth. Season with salt and pepper to taste.
Greens:
2 cups Arugula (washed and dried)
1 ½ tbsp. Champagne vinegar
¼ cup olive oil
Salt & Pepper
Whisk the olive oil into the vinegar, toss with arugula and season with salt and pepper to taste.
For more info about Tracy, visit her website HERE.
Facebook
Twitter: @TracyKontos
photo courtesy of Joel Plotkin