On Wednesday night, October 13th at LAX, love may not have been in the air, but fun certainly was.
Last summer, Air New Zealand launched a Matchmaking website in connection with the flight. Kiwis, Canadians and Americans have been messaging each other through the website all summer. Kathryn Gregory, Director of Marketing for North America for Air New Zealand says the airline's ultimate goal is to make flying fun again. The opportunity to be the first airline to offer a matchmaking flight and see if love can be found at 30,000 feet was a good fit for the airline. ABC's The Bachelor Jason Mesnick and Molly Malaney accompanied the singles on the flight to provide dating/matchmaking tips.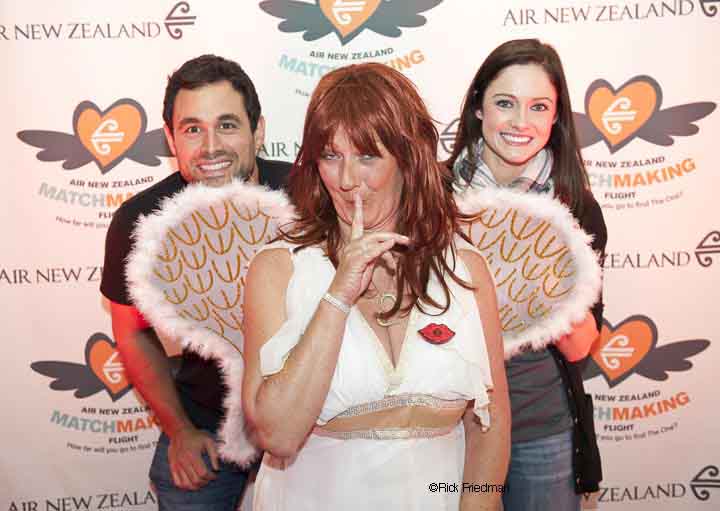 Photo by Rick Friedman (Courtesy of Air New Zealand)
Our Matchmaking Flight on Air New Zealand (Flight NZ5 from LAX to Auckland) had 100 seats set aside for matchmaking. The airline threw a preflight party for matchmaking passengers from 7:30 p.m. until boarding for the 10:30 p.m. flight. During my matchmaking reports, I'll use only the first names to afford the single love seekers a modicum of privacy.
The ages of the singles headed from LAX to Auckland ranged from 20 to possibly 80.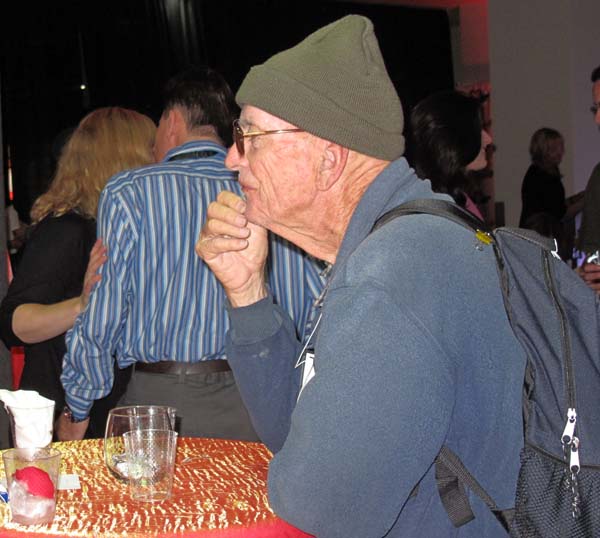 Photo by Terry Gardner
Don was definitely our most senior reveler. I wasn't bold enough to ask his age, but I couldn't resist asking whether he was looking for a match on the flight. Don replied: "No, I wrote a book, The Great Recession. Puzzled, I asked: "Are you hoping to sell your book on the flight?" He nodded. Stunned, I said: "It's not a very romantic title." Don told me to look it up on Amazon.
Party guests played an "ice breaker" game in which you ask someone a question hoping to get a "no" answer. If they say "no," they must surrender a matchmaking card. We each started with 5 cards. I had snagged about two cards when I began asking whether people had ever bungy jumped. Everyone I asked was already a jumper, so I headed for more risque territory. I sized up a gentleman who appeared tame and innocent. I asked the most obvious question prior to a matchmaking flight: "Are you a member of the mile high club?" Imagine my disappointment when he answered "yes" with a prior wife. Instead of breaking the ice, I felt I'd fallen through the ice and wrapped up that conversation quickly.
The highlight of the party was a special performance by flight crew led by the Captain of our flight, Bryan Tourell. Even though the matchmaking passengers were seated in the 100-seat rear cabin of the plane, the entire crew performed Beyonce's "All the Single Ladies." The shimmying, booty-slapping flight crew helped us get airborne long before our plane ever left the ground.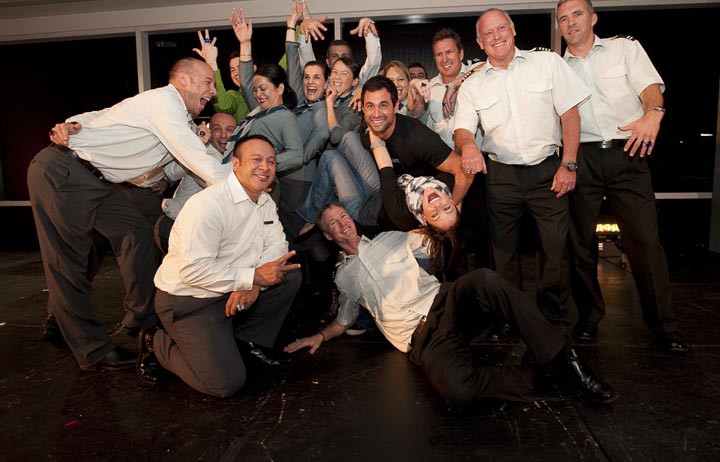 Photo by Rick Friedman (Courtesy of Air New Zealand)
As for Don, after landing, I looked him up on Amazon. His book is listed and almost sold out.
Married couples may want to take a Matchmaking Flight with Air New Zealand just to experience a great Kiwi preflight party. There's nothing like a specialty cocktail made with 42 Below Vodka to take the sting out of any TSA line at LAX.
Stay tuned for a recap of the Matchmaking Flight itself and the Matchmaking Ball in Auckland.
In the meantime, enjoy the Flight Crew Dance