Or Cinderella's Bag Misses the Ball
Unlike Cinderella who got a pumpkin and mice to substitute for a coach and six horses, Robin Kennedy of Jacksonhole, Wyoming came up bagless the night of Air New Zealand's Matchmaking Ball on October 16, 2009.
When I first heard about her missing bag, I thought "Maybe she didn't check her bag tag." But Kennedy did question the Delta agent at the Jackson Hole, Wyoming airport when she saw her bag tag read "Auckland, MHB." She thought the initial MHT looked wrong (and she was right).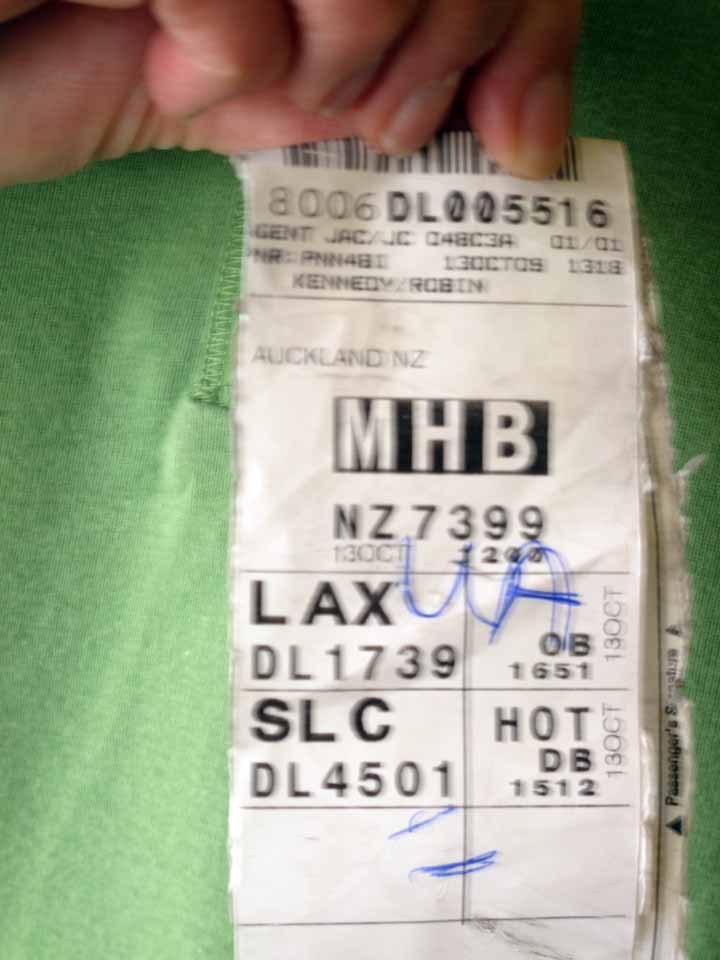 The Bad Tag (Photo by Terry Gardner)
The Delta agent pointed out that the tag read: "Auckland" and assured Kennedy that her bag was correctly tagged. Kennedy boarded her first flight (Jackson Hole to Salt Lake City) and hoped for the best. She changed planes to fly from SLC to LAX and hoped her bag changed planes too.
Kennedy then had a four hour wait before the Air New Zealand flight was scheduled to depart LAX, so both Delta and Air New Zealand had plenty of time to make sure her bag boarded the right flight. Sadly, on October 15th, Kennedy landed at Auckland Airport but her bag was nowhere in sight and needed to be found.
Two things were working against Kennedy from the time her bag was mistagged. Her bag was incorrectly tagged MHB rather than AKL. Second, and perhaps more significantly, she was flying with carriers belonging to two different airline alliances. It doesn't seem like that should matter, but it does -- especially when it comes to landing with your luggage.
Delta is part of the Skyteam Alliance (which includes Delta, Air France and Alitalia). Air New Zealand is a member of the Star Alliance (which includes United, Continental and Lufthansa). Since the majority of her travel was going to be on Air New Zealand, Kennedy and her bag might have fared better if she had flown United or another domestic airline that belongs to the Star Alliance. It doesn't seem fair, but airlines work better with their airline partners than their competitors. Most airline industry representatives recommend when a passenger has to fly different carriers to reach a destination that they fly within an alliance.
In the summer of 2007, I had a bag go missing on my return flight on Delta from Jackson Hole to LAX connecting through Salt Lake City. Kennedy's situation was eerily familiar except that I was home when my bag was delayed, the preferred scenario of any traveler. When your bag goes missing at the start of a trip, and you have a Matchmaking Ball the next night, it's a worst case scenario. I reached out to a contact in Delta's PR department for assistance, and I believe Delta did its best to reunite Kennedy and her bag, but at that point the odds were against her getting her bag in time for the Ball.
By the morning of the Ball, Kennedy's bag had been located in Melbourne, Australia. The trick was getting it onto one of three flights out that day bound for Auckland. The bag arrived about 5:30 p.m., the night of the Ball, but because it was unaccompanied by a passenger, it took hours to go through customs. At that point, it seems like someone could have expedited the process to re-unite Kennedy with her bag in time for the Ball. But that didn't happen.
Kennedy did not receive her bag until the morning of the October 17th just as she was checking out of the hotel to go spend the weekend at Waiheke Island.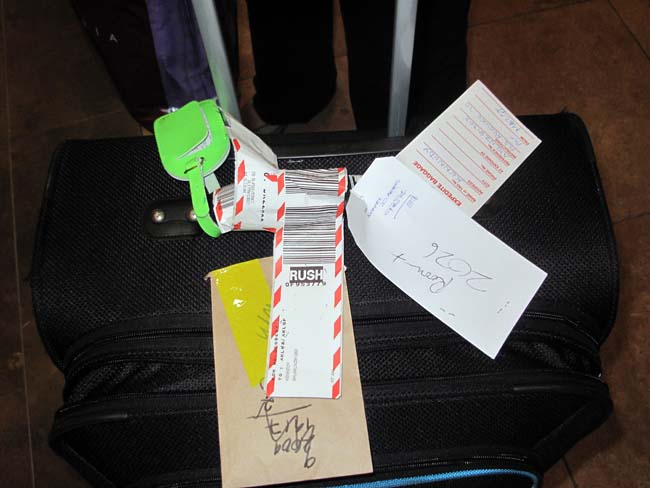 The Bag with All its Tags (Photo by Terry Gardner)
On the upside, Kennedy may have been the most comfortably dressed woman at the Ball in newly purchased blouse and slacks and the cushy black tennis shoes she had worn onto the plane. I didn't lose my bag and my feet were worse for the heels the next day.
Tips for Landing with Your Luggage
1. Know the Call Letters for Your Destination Airport (you can find these at: http://www.world-airport-codes.com/.
2. Check the bag tag. If it looks wrong, question the ticketing agent. If you are certain the call letters are wrong, ask for a supervisor. Be pleasant, but firm because the agent wants you to land with your bag too.
3. Fly within an airline alliance. The three major alliances are the Star Alliance to which Air New Zealand belongs, Sky Team to which Delta belongs and One World to which American Airlines belongs.
4. Allow sufficient time between flights to make sure your bag makes all connections.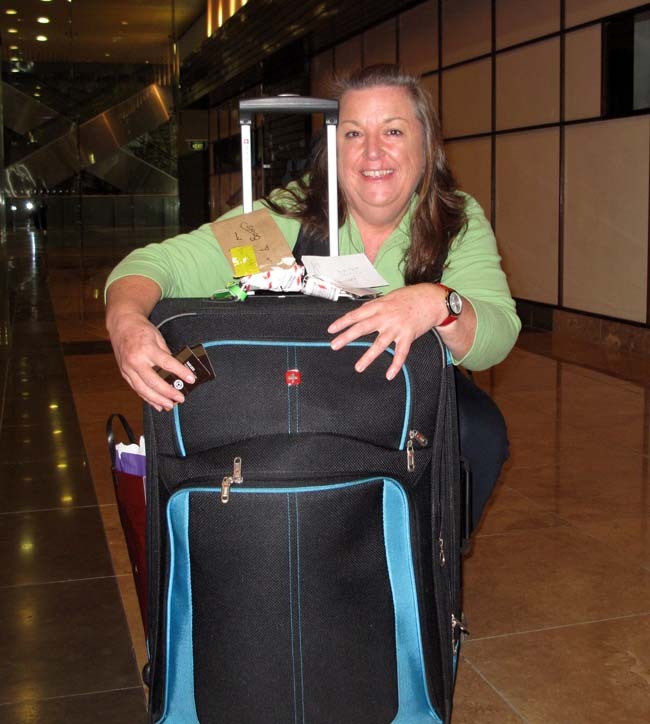 Robin Kennedy Reunited with her Bag (Photo by Terry Gardner)

SUBSCRIBE TO & FOLLOW WORLD POST