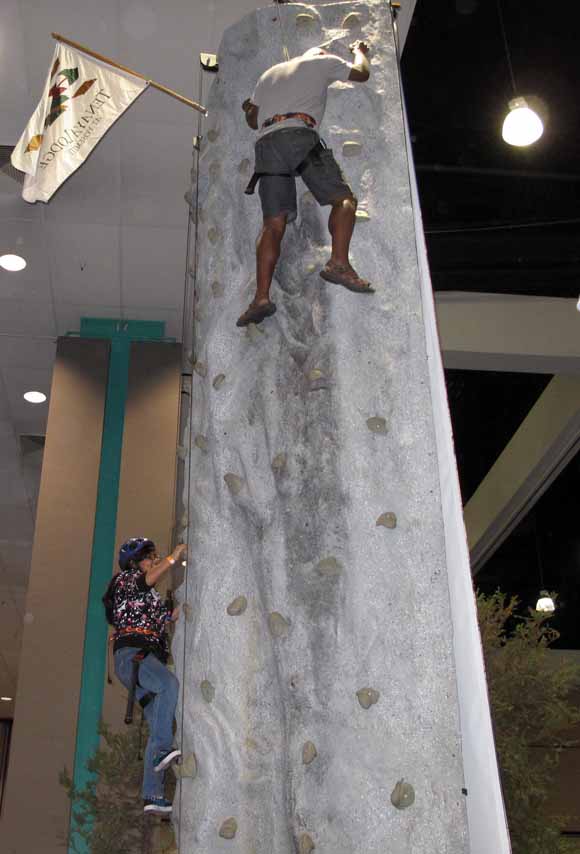 Two Climbers on the Tenaya Lodge at Yosemite Climbing Wall (All photos by Terry Gardner)
After bungy jumping in New Zealand last year, I thought the Yosemite climbing wall looked like a "piece of cake." But finding the footholds and handholds isn't as easy as it looks when you're actually ascending the wall. I'm may not be ready to rock climb at the real Yosemite yet, but the Yosemite Experience made me want to visit Yosemite and Mariposa County.
The LA Times Travel Show featured panels with travel experts such as Rick Steves, Arthur Frommer, Pauline Frommer, Huell Howser and many more. It also offered land, air and water adventures from the rock wall and roping lessons to the zipline and a scuba diving pool. Attendees also could enter drawings to win trips to Taiwan, Sweden and many other great destinations.
I wound up attending both Saturday and Sunday because there was so much to see and do. Here are some highlights.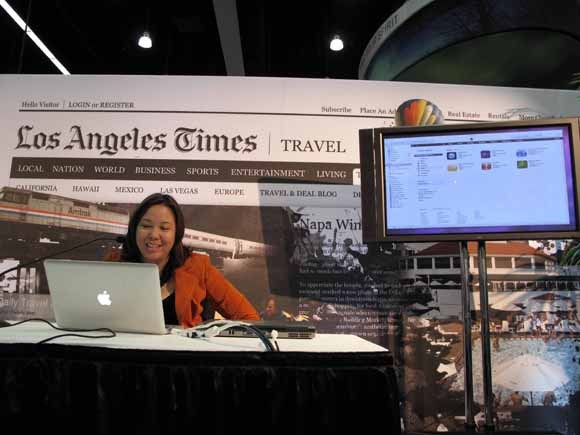 Jen Leo
Jen Leo, the lead travel blogger for the Los Angeles Times Daily Travel & Deal blog generously provided the audience with Twitter travel tips and many of her favorite iPhone apps for travel. A television monitor was linked to Leo's computer, so we could see how to work with Twitter in real time on the internet. I learned how to tweet a picture by using HootSuite.
The Travel Deals panel with George Hobica of Airfarewatchdog, Johnny Jet and Sam Shanks of Deal Base (which had a standing room only audience on Saturday afternoon) offered helpful websites and insider tips. One hour seemed insufficient. All three panelists stressed the value of following tweets and signing up for deal alerts with airlines and hotels to find the best deals. And your opportunities for deals increase when you can be flexible about your travel dates and times. George Hobica said if you're not finding the deal you want to Costa Rica, and Airfarewatchdog or another fare monitor alerts you to a cheap fare to Belize, why not head to another tropical vacation spot? Johnny Jet and Sam Shank both recommend using Twitter when you travel. If you're visiting Las Vegas, sign up for your hotel's tweets or texts to receive special offers during your stay.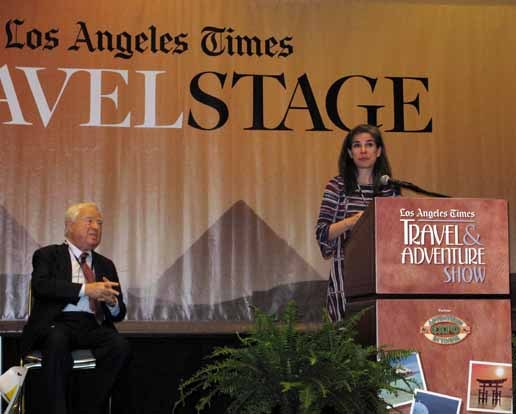 Arthur Frommer and Pauline Frommer
The Los Angeles Times Travel Editor, Catharine Hamm, introduced Arthur Frommer as the Godfather of Travel and his daughter, Pauline, as the Fairy Godmother. Both have been pioneers in budget travel, and these are just a few tidbits they share.
Three developments in travel that Arthur Frommer welcome are:
Proper funding for Amtrak (through The American Recovery and Reinvestment Act of 2009) which will improve public transportation options;
The increased elimination of admission fees to museums around the world which increase cultural opportunities for travelers. (Arthur said Tony Blair launched this trend in the U.K. when he was Prime Minister. Blair believed museums should be equally available to low income citizens); and
The survival of budget airlines such as Southwest Airlines, JetBlue, Frontier, AirTran and Virgin America (to a lesser extent). Frommer had the highest praise for Southwest (2 bags fly free) and JetBlue (first bag flies free) for their passenger-friendly luggage policies
.
Three of Pauline Frommer's favorite travel trends are:
The expansion of Home Exchange programs as well as couch surfing opportunities that provide travelers with opportunities for more authentic travel experiences by staying in residential neighborhoods rather than commercial districts where most hotels are located;
Alternative accommodations through vacation rentals and non-commercial Bed &Breakfast's (B&B's) where residents rent out a room or two, and travelers pay hostel rates but have greater privacy and comfort; and

The glut in cruise ships is creating amazing deals. Pauline recommends booking through a reputable cruise agent rather than directly with a cruise line for better pricing and more perks.

Pauline said her father might not share her enthusiasm over cruise deals and Arthur smiled.

Arthur Frommer

When he reclaimed the podium, Arthur lamented the Disneyfication of cruise ships. Las Vegas at Sea is not his idea of a good trip. Arthur remembers when cruise ships comfortably transported travelers to amazing destinations rather than trying to be a destination in themselves. He said the Oasis of the Seas has a six days cruise from Ft. Lauderdale where travelers spend three days solely at sea, then two days on a private island where they only meet other passengers from their ship rather than meeting any locals. The only real port is Cozumel, which Arthur also laments.

When Pauline returned to the podium, she expressed her fondness for Cozumel (even though it's not her Dad's cup of tea).

After an hour with the Frommers, I wanted to head home, pack and hit the road by plane, train or ship. I also realized the value of a buying guidebooks that are thoroughly researched rather than relying on online reviews which may or may not be reliable.

If your city has a travel show, you might want to check it out. The next cities that will have a Travel & Adventure Show are Washington, D.C., Chicago and New York.

Christopher Reynolds, Los Angeles Times Travel Writer,
shares video and photography tips

Cowboy Eric Rideout from Yosemite Teaching Roping

Terry Gardner dressed up in an Antler helmet, paws and coat
(supplied by Alberta Canada Tourism)
SUBSCRIBE TO & FOLLOW LIFESTYLE
We're basically your best friend… with better taste. Learn more